Chiapas is a state located in southern Mexico. It is bordered by the states of Oaxaca to the west, Veracruz to the northwest, Tabasco to the north, and Guatemala to the east. It is known for its rainforests, ancient ruins, and colonial cities.

Sadly, this city is known for its high levels of poverty and indigenous populations. However, it is also home to some of Mexico's most popular tourist destinations.

---
From Waterfalls to Ruins: The Top 8 Places to Visit in Chiapas, Mexico
Chiapas is a popular tourist destination for both Mexicans and foreigners. Some of the most popular places to visit in Chiapas include the following: San Cristobal de las Casas, Palenque, Sumidero Canyon, and Agua Azul.
Off the beaten path in Chiapas, here are the top 8 places to visit for the adventurous traveler:
1. San Cristobal de las Casas
San Cristobal de las Casas, Chiapas, Mexico is a top place to visit. The colonial city offers a unique mix of indigenous and Spanish culture.
Visitors can explore the city's many churches and museums or shop for traditional Mexican crafts.
San Cristobal is also a great base for exploring the surrounding area, including the nearby Maya ruins of Palenque.
---
2. Palenque Chiapas Mexico
If you're looking for an amazing place to visit in Chiapas Mexico, look no further than Palenque.
This ancient city is one of the most popular tourist destinations in the country, and for good reason.
From its stunning Maya ruins to its lush rainforest setting, Palenque is a must-see for any traveler. Here are just a few of the reasons why
Palenque
is one of the top places to visit in Chiapas Mexico.
---
If you're looking for breathtaking views and an abundance of culture, Chiapas, Mexico is the place for you. In particular, Sumidero Canyon is a top spot to visit.
This canyon is home to an amazing variety of plants and animals, as well as many archaeological sites. Visitors can take in the stunning scenery by hiking, biking, or even taking a boat tour.
Sumidero Canyon is a truly unique place and should not be missed if you're traveling to Chiapas, Mexico.
---
4. Agua Azul Chiapas Mexico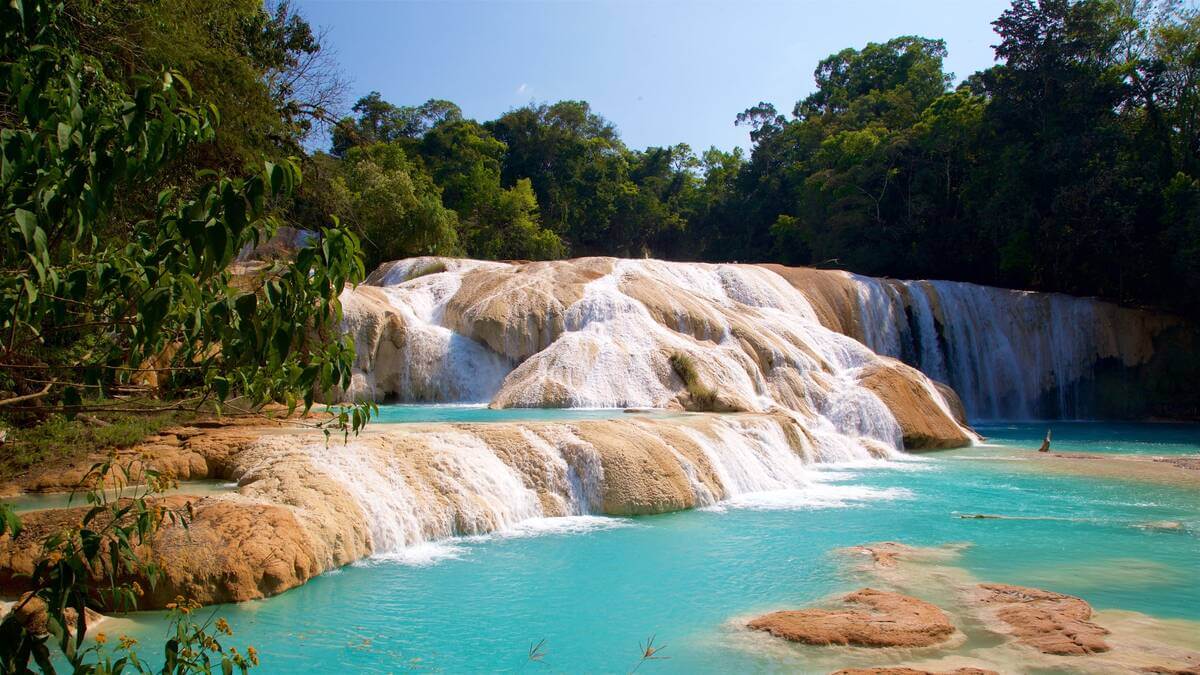 Agua Azul is a top place to visit in Chiapas, Mexico. The azure-blue waters and cascading waterfalls make it a popular spot for swimming, picnicking and hiking.

The Agua Azul Waterfalls are located about 120 km northwest of Palenque in the Selva Lacandona rainforest. The best time to visit is during the rainy season from June to October when the waterfalls are at their fullest.

Visitors can hike to the top of the falls or take a dip in the refreshing waters. There are also several restaurants and hotels in the area if you want to make a day of it.


---
5. San Juan Chamula
San Juan Chamula is one of the best places to visit in Chiapas, Mexico. The small town is located in the Sierra Madre Mountains and is home to about 50,000 people.
The town is known for its traditional Maya culture and customs. Visitors can learn about the history and culture of the Maya people at the San Juan Chamula Archaeological Museum.
---
6. Zinacantan
Zinacantan is a small town located in the Mexican state of Chiapas. It is best known for its traditional textiles and handicrafts. Visitors to Zinacantan can also enjoy the town's beautiful scenery and friendly people.
There are many reasons to visit Zinacantan, but chief among them is its rich cultural heritage.
The town is home to a number of traditional textile workshops, where visitors can see firsthand how these beautiful fabrics are made.
Additionally, Zinacantan's handicraft market is the perfect place to pick up some souvenirs for friends and family back home.
But it's not all work and no play in Zinacantan! The town is surrounded by stunning natural beauty, from verdant mountains to rushing rivers.
---
7. Las Nubes
Looking to get away from the hustle and bustle of city life? Then look no further than Las Nubes in Chiapas, Mexico.
This hidden gem is the perfect place to unwind and enjoy some of the best views in all of Chiapas.
Here you can find peace and quiet as well as plenty of activities to keep you busy. So what are you waiting for? Pack your bags and head to Las Nubes for the vacation of a lifetime!
---
8. Misol-Ha Chiapas Mexico
Misol-Ha is one of the most beautiful and biodiverse waterfalls in the world. It is located in Chiapas, Mexico and is a popular tourist destination.
Misol-Ha waterfall is one of the tallest free-falling waterfalls in Mexico. It is 97 meters high and has a flow rate of about 200 liters per second.
The waterfalls are located in a lush, tropical rainforest and are surrounded by imposing cliffs. There are two viewing platforms at the top of the falls where visitors can get a panoramic view of the falls and the surrounding jungle.
The Misol-Ha waterfalls are an important part of the local ecosystem and are home to many different species of plants and animals. The area around the waterfall is also home to many indigenous people who have been living in the area for centuries.