So, you've set your sights on Jaipur? Fantastic choice! This city is a treasure trove of experiences waiting to be uncovered.
From its majestic palaces to its bustling bazaars, Jaipur promises a journey like no other. In this all-encompassing Jaipur guide, we'll delve deep into the heart of the Pink City, ensuring you don't miss a beat.
Whether it's the architectural marvels, the tantalizing cuisine, or the vibrant markets that pique your interest, we've got the inside scoop. So, brew a cup of chai and let's embark on this Rajasthani adventure together!
Eager to dive in? This guide is brimming with insights that will transform your Jaipur trip from ordinary to extraordinary.
Whether you're keen on tracing the footsteps of royalty, savoring the rich flavors of Rajasthani dishes, or hunting for artisanal treasures in the city's nooks and crannies, we've got all the details right here.
Plus, we'll sprinkle in some local secrets to give you an edge during your travels. Ready to unravel the magic of Jaipur? Let's journey through the Pink City's wonders together!
The Quintessential Jaipur Travel Guide
Welcome to the heart of Rajasthan – Jaipur. In this comprehensive guide, we'll navigate through the city's rich tapestry of history, culture, and modernity.
From the towering forts that narrate tales of yore, to the bustling streets echoing with the melodies of everyday life, this guide covers it all.
Whether you're a history aficionado, a food connoisseur, or simply a curious traveler, Jaipur has treasures waiting just for you. Let's set the stage for an unforgettable Rajasthani escapade!
Explore Jaipur: The Pink Jewel of India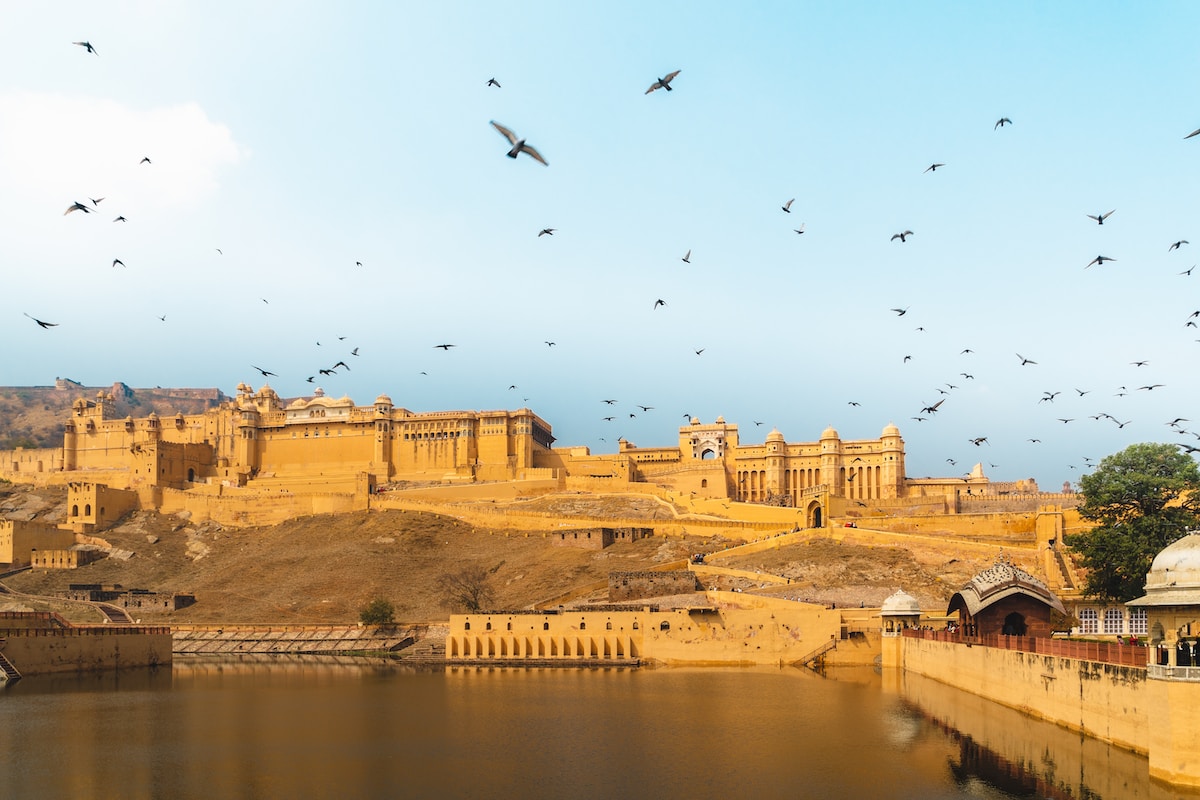 Jaipur, often referred to as the Pink City, is a mesmerizing blend of history, culture, and architectural marvels.
As you walk through its streets, you are transported back in time, witnessing the grandeur of bygone eras and the tales they left behind.
Let's journey through the historical tapestry of Jaipur and uncover the stories that shaped this magnificent city.
The Visionary Maharaja: Jai Singh II
The foundation of Jaipur is credited to the visionary Maharaja Jai Singh II. Recognizing the limitations of his former capital, Amber, he envisioned a new city that would not only address the challenges of his time but also stand as a testament to his legacy.
With the guidance of Vidyadhar Bhattacharya, an architectural genius, Jaipur was born. The city was not just a political capital but a symbol of the Maharaja's foresight and ambition.
A City by Design: The Architectural Marvel
Jaipur stands out not just for its pink hue but also for its meticulous design. The city was crafted with precision, adhering to the principles of Vastu Shastra.
The grid layout, the division into nine blocks, and the strategic placement of palaces and forts reveal a masterful blend of aesthetics and functionality.
The use of pink sandstone, which led to its moniker "The Pink City", was not just an architectural choice but also a symbol of hospitality, as the city was painted pink to welcome the Prince of Wales in 1876.
A Melting Pot of Traditions: The Heartbeat of Jaipur
Beyond its architectural wonders, Jaipur is a treasure trove of cultural experiences. The city resonates with melodies of traditional Rajasthani music, the beats of folk dances, and the aroma of delectable cuisine.
Every corner of Jaipur tells a story – from the majestic Amer Fort that speaks of royal battles and romances to the bustling local markets that showcase the craftsmanship of local artisans.
The city is a living museum, where traditions of the past seamlessly merge with the vibrancy of the present.
---
2. Top Attractions in Jaipur
2.1 Amber Fort
Located just outside the city, the magnificent Amber Fort is a must-visit attraction in Jaipur. Built with red sandstone and marble, the fort is a perfect blend of Hindu and Mughal architectural styles. Explore the stunning palaces, courtyards, gardens, and enjoy an elephant ride up to the fort for an unforgettable experience.
2.2 Hawa Mahal
Hawa Mahal, also known as the Palace of Winds, is an iconic landmark of Jaipur. This five-story palace is adorned with intricate latticework and has 953 small windows, designed to allow the royal ladies to observe the street festivities without being seen. The view from the top offers panoramic vistas of the city.
2.3 City Palace
A visit to Jaipur is incomplete without exploring the City Palace. This magnificent palace complex is a blend of Rajput and Mughal architecture and houses several palaces, museums, and gardens. The Chandra Mahal within the complex is the residence of the royal family, while the museum showcases a remarkable collection of artifacts from the bygone era.
2.4 Jantar Mantar
Jantar Mantar is an astronomical observatory built by Maharaja Jai Singh II. It consists of various instruments that were used to measure time, track celestial bodies, and study astronomy. The most impressive instrument is the Samrat Yantra, the world's largest sun dial.
2.5 Albert Hall Museum
Located in the heart of the city, the Albert Hall Museum is the oldest museum in Rajasthan. The museum showcases a vast collection of art, artifacts, and archaeological objects, including paintings, sculptures, weapons, textiles, and pottery. Don't miss the beautiful central courtyard and the stunning architecture of the building.
2.6 Nahargarh Fort
Perched on the Aravalli hills, Nahargarh Fort offers breathtaking views of the cityscape. The fort served as a defense stronghold and offers a glimpse into the rich history of Jaipur. Explore the palace complexes, ancient temples, and enjoy a serene sunset from the fort.
2.7 Jal Mahal
Situated in the middle of the picturesque Man Sagar Lake, Jal Mahal is a stunning palace that appears to float on the water. The palace is a perfect example of Rajput and Mughal architectural styles. Although entry to the palace is restricted, the scenic beauty of the lake and the palace from a distance is a sight to behold.
2.8 Jaigarh Fort
Perched on a hilltop and overlooking the Amber Fort, Jaigarh Fort is known for its massive cannons and impressive architecture. The fort also houses the world's largest cannon on wheels, Jaivana. Explore the palaces, gardens, and underground passages of the fort while enjoying panoramic views of the surrounding landscape.
2.9 Birla Mandir
Birla Mandir, also known as the Laxmi Narayan Temple, is a beautiful temple dedicated to Lord Vishnu and Goddess Lakshmi. The temple is made of white marble and is adorned with intricate carvings. The serene atmosphere and the spiritual aura make it a popular spot for devotees and tourists alike.
2.10 Jaipur Literature Festival
Jaipur Literature Festival is the world's largest free literary festival held annually in Jaipur. It attracts renowned authors, poets, and literary enthusiasts from around the world. The festival celebrates the power of literature, art, and ideas and offers a platform for intellectual discussions, book readings, workshops, and cultural performances.
3. Local Cuisine and Food
3.1 Popular traditional dishes
Experience the rich flavors of Rajasthani cuisine during your visit to Jaipur. Don't miss the iconic Dal Bati Churma, a flavorful combination of lentils, baked dough balls, and sweetened wheat flour. Other must-try dishes include Laal Maas, a spicy mutton curry, and Gatte ki Sabzi, a gram flour dumpling curry.
3.2 Must-try street food
Jaipur is a paradise for food lovers, especially street food enthusiasts. Indulge in mouthwatering delicacies like Pyaaz Kachori, a deep-fried pastry filled with spicy onion filling, and Mirchi Bada, a spicy fritter made with chili peppers. Also, try the iconic Jaipur specialty, Kulfi Falooda, a refreshing frozen dessert.
3.3 Rajasthani sweets and desserts
Jaipur is famous for its delectable sweets and desserts. Treat your taste buds to traditional Rajasthani sweets like Ghevar, a crispy disc-shaped dessert soaked in sugar syrup, and Mawa Kachori, a sweet pastry filled with a rich mixture of milk solids. Don't forget to try the quintessential Rajasthani dessert, Rabri, made with thickened sweetened milk.
3.4 Famous restaurants in Jaipur
Jaipur offers a wide range of dining options to cater to every palate. From luxurious fine-dining restaurants to budget-friendly eateries, you'll find it all. Some popular restaurants in Jaipur include Suvarna Mahal at Rambagh Palace, Handi Restaurant, Chokhi Dhani, and Spice Court. These restaurants serve authentic Rajasthani cuisine as well as international dishes.
4. Shopping and Souvenirs
4.1 Iconic shopping destinations
Jaipur is a shopper's paradise, known for its vibrant textiles, handicrafts, and gemstones. Visit the famous Johari Bazaar, known for its exquisite jewelry and gemstones. Bapu Bazaar and Nehru Bazaar are perfect for purchasing textiles, embroidered fabrics, and traditional bandhani sarees. Tripolia Bazaar and Chandpole Bazaar are popular for their handicrafts, pottery, and traditional Rajasthani artwork.
4.2 Traditional handicrafts and textiles
Jaipur is known for its skilled artisans who create beautiful handicrafts. Explore the markets for intricately carved wooden furniture, blue pottery, block-printed textiles, and handcrafted leather items. Don't forget to pick up vibrant Rajasthani turbans, puppets, and miniature paintings as souvenirs.
4.3 Jewelry and gemstones
Jaipur is renowned for its gemstones and jewelry. From traditional Kundan and Meenakari jewelry to contemporary designs, you'll find a wide variety to choose from. Visit the Gem Palace or Johari Bazaar for an unforgettable jewelry shopping experience.
4.4 Unique souvenirs to buy
When in Jaipur, don't forget to pick up unique souvenirs like marble figurines, blue pottery, and handcrafted textiles. Decorative camel leather items, embroidered footwear, and traditional Rajasthani musical instruments like the sarangi and dholak also make excellent souvenirs to take back home.
5. Festivals and Celebrations
5.1 Diwali and the Festival of Lights
Diwali, the Festival of Lights, is one of the most important festivals celebrated in Jaipur. The city is adorned with lights, diyas, and colorful decorations. Witness the mesmerizing fireworks, enjoy traditional sweets, and participate in cultural performances during this joyous celebration.
5.2 Gangaur Festival
Gangaur Festival is dedicated to the goddess Gauri, the consort of Lord Shiva. The festival celebrates marital bliss and the harmony between husband and wife. Enjoy the vibrant processions, traditional performances, and witness women dressed in colorful attire carrying beautifully decorated idols of the goddess.
5.3 Teej Festival
Teej Festival is celebrated to mark the arrival of monsoon and is dedicated to Goddess Parvati. Women dress up in traditional attire, apply henna on their hands, and participate in processions and cultural events. The festival is known for its lively folk music and dance performances.
5.4 Elephant Festival
The Elephant Festival is a unique event held in Jaipur, where beautifully adorned elephants parade through the streets. Enjoy a grand spectacle of elephants dressed in colorful costumes, participate in elephant polo matches, and witness traditional elephant dance performances.
5.5 Jaipur Literature Festival
As mentioned earlier, the Jaipur Literature Festival is an internationally acclaimed event that celebrates literature and ideas. This five-day extravaganza features renowned authors, poets, and intellectuals from around the globe. Immerse yourself in intellectual discussions, attend book readings, and get inspired by the power of words.
6. Day Trips and Excursions
6.1 Visit to Ajmer and Pushkar
Embark on a day trip to the holy cities of Ajmer and Pushkar, located just a few hours away from Jaipur. Explore the famous Ajmer Sharif Dargah, a revered Sufi shrine, and visit the iconic Brahma Temple in Pushkar, the only temple dedicated to Lord Brahma in the world.
6.2 Explore the Ranthambore National Park
Nature lovers and wildlife enthusiasts should not miss a visit to the Ranthambore National Park. Located around 160 kilometers from Jaipur, this national park is home to tigers, leopards, sloth bears, and a variety of bird species. Enjoy a thrilling safari and witness the majestic animals in their natural habitat.
6.3 Discover the Shekhawati region
The Shekhawati region, renowned for its exquisite frescoed havelis (mansions), is a treasure trove for art enthusiasts and history buffs. Visit towns like Mandawa, Fatehpur, and Nawalgarh to marvel at the intricate artwork and beautiful murals adorning the havelis.
6.4 Trip to the Abhaneri Stepwell
Embark on a trip to Abhaneri, a small village famous for its impressive stepwell called Chand Baori. This centuries-old stepwell is a marvel of engineering and design, consisting of 3,500 steps and a depth of 13 stories. Explore the intricate carvings and marvel at the architectural beauty of this ancient water reservoir.
7. Accommodation and Hotels
7.1 Luxury hotels in Jaipur
Experience the royal treatment by staying at one of Jaipur's luxury hotels. The iconic Rambagh Palace, Taj Jai Mahal Palace, and The Oberoi Rajvilas offer opulent accommodations, world-class amenities, and impeccable service. Enjoy the grandeur and elegance of these heritage properties.
7.2 Boutique and heritage hotels
For a unique and authentic experience, consider staying in one of Jaipur's boutique or heritage hotels. Samode Haveli, Alsisar Haveli, Naila Bagh Palace, and Shahpura Haveli are some of the options that offer a blend of traditional architecture, modern comforts, and personalized hospitality.
7.3 Budget-friendly accommodations
Jaipur also offers a range of budget-friendly accommodations, including guesthouses, hostels, and budget hotels. Backpackers and budget travelers can consider staying at places like Zostel Jaipur, Le Pension Backpackers Hostel, and Hotel Pearl Palace for comfortable yet affordable stays.
7.4 Homestays and guesthouses
To experience the warmth and hospitality of the locals, consider staying at a homestay or a guesthouse. This allows you to interact with the locals, learn about their culture, and get insider tips on the best places to visit. Some popular homestays and guesthouses in Jaipur include Jaipur Friendly Villa, Krishna Palace Homestay, and Suryaa Villa.
8. Transportation and Getting Around
8.1 Getting to Jaipur
Jaipur is well-connected by air, rail, and road. The Jaipur International Airport has regular flights from major cities in India as well as international destinations. The city is also well-connected by train, with frequent trains from major cities like Delhi, Mumbai, and Kolkata. If you prefer traveling by road, Jaipur is well-connected by national highways.
8.2 Public transportation options
Jaipur has a well-established public transportation network comprising buses and auto-rickshaws. The Rajasthan State Road Transport Corporation (RSRTC) operates a fleet of buses that connect Jaipur to other cities within the state and beyond. Auto-rickshaws are a popular mode of transport for short distances within the city.
8.3 Tuk-tuks and taxis
Tuk-tuks, also known as auto-rickshaws, are a convenient and affordable way to get around the city. Negotiate the fare before boarding and ensure that the meter is used for fare calculation. Taxis are also readily available for hire, and it's advisable to opt for prepaid taxis or book through reliable taxi services.
8.4 Car rental services
If you prefer the convenience of traveling in a private vehicle, car rental services are easily available in Jaipur. Many reputable car rental agencies offer self-drive and chauffeur-driven options. Renting a car allows you to explore the city and nearby attractions at your own pace.
8.5 Cycling and walking tours
For a unique way to explore Jaipur, consider joining a cycling or walking tour. These tours take you through the narrow lanes of the old city, allowing you to soak in the local atmosphere and explore hidden gems that may not be accessible by vehicles. Cycling tours are a great way to explore the city's outskirts and rural areas.
9. Safety and Travel Tips
9.1 General safety precautions
Jaipur is generally a safe city to visit, but it's essential to take some basic safety precautions. Avoid venturing out alone late at night, especially in dimly lit areas. Be cautious of pickpockets in crowded places and keep your belongings secure. Always carry a copy of your identification documents and be aware of your surroundings.
9.2 Dress code and cultural etiquette
While Jaipur is a relatively liberal city, it's advisable to dress modestly and respect the local culture. When visiting religious sites, cover your shoulders, chest, and knees as a sign of respect. Remove your footwear before entering temples and mosques. It's also important to ask for permission before taking photographs of people, especially during cultural events or in local markets.
9.3 Avoiding common tourist scams
As with any popular tourist destination, it's essential to be aware of common tourist scams in Jaipur. Beware of touts offering enticing deals or claiming to be official guides. Always insist on using government-authorized guides or services. Be cautious of overcharging in markets and negotiate prices before making a purchase.
9.4 Health and medical facilities
Jaipur has good medical facilities, and it's advisable to carry travel insurance that covers medical emergencies. Pack a basic first aid kit and any necessary prescription medications. Stay hydrated, especially during summers, and avoid consuming street food from unhygienic stalls to prevent stomach ailments.
10. Conclusion
Jaipur, the Pink City of India, is a mesmerizing destination with a rich history, vibrant culture, and incredible attractions. From exploring magnificent forts and palaces to indulging in delicious cuisine and vibrant shopping, Jaipur offers a truly unforgettable experience. Plan your next trip to Jaipur, immerse yourself in its grandeur, and create memories that will last a lifetime.