Greetings, fellow wanderers! Budapest beckons, and if its allure has caught your attention, then prepare for a voyage that promises both grandeur and intimate discoveries. This meticulously crafted guide is your passport to the heart of Hungary's crown jewel.
Bridging the tales of yesteryears with the vibrancy of today, Budapest's iconic structures stand tall. The majestic Buda Castle whispers tales of royalty, while the Parliament Building, with its intricate details, stands as a testament to architectural prowess.
Key Takeaways from the Budapest Travel Guide:
Historic Grandeur and Modern Vibrancy: Budapest seamlessly blends its rich historical past with a modern and vibrant present. Iconic structures like Buda Castle and the Hungarian Parliament Building showcase the city's architectural prowess and regal heritage.
Cultural Crossroads: Situated at the heart of Europe, Budapest serves as a cultural crossroads, connecting the east and west. Its diverse neighborhoods, like the Castle District and the Jewish Quarter, embody this blend of old-world elegance and contemporary energy.
Transportation Hub: Budapest's central location makes it accessible by various means. Budapest Ferenc Liszt International Airport, the grand train stations, and extensive bus routes provide diverse options for travelers to reach the city.
Luxury and Comfort Accommodations: Budapest offers a range of accommodations to suit different preferences and budgets. From luxury hotels like the Four Seasons Hotel Gresham Palace to mid-range options and even budget-friendly hostels, visitors can find their ideal stay.
Landmarks of Beauty: Budapest's iconic landmarks tell tales of its history. Buda Castle stands as a testament to regal heritage, while the Hungarian Parliament Building showcases neo-Gothic splendor. Other landmarks include the Chain Bridge, Heroes' Square, and the Széchenyi Thermal Bath.
Culinary Delights: Hungarian cuisine is a reflection of its vibrant culture. From iconic dishes like Goulash to street food like Lángos, Budapest offers a diverse gastronomic experience. High-end restaurants, authentic eateries, and street food stalls cater to every palate.
Shopping and Retail: Budapest offers a shopping experience that blends tradition and modernity. The Central Market Hall is a cultural and culinary expedition, while Fashion Street offers luxury shopping. Vintage and antique shops provide unique finds for the discerning shopper.
Vibrant Nightlife: Budapest comes alive after dark with its unique nightlife. Ruin bars offer bohemian charm, rooftop lounges provide elegance, and live music venues showcase the city's musical spirit.
Embracing the Outdoors: Despite its urban setting, Budapest offers green spaces like Margaret Island and City Park. Cycling paths allow travelers to explore the city leisurely, while its natural and cultural beauty unfolds.
A City of Stories: Budapest, often referred to as the "Pearl of the Danube," is a city of stories. Every street, corner, and landmark carries echoes of its past, making it a captivating destination for those seeking a journey of discovery.
But Budapest isn't just about historic grandiosity. As the sun dips below the horizon, the city's ruin pubs come alive, offering a unique blend of history and modern revelry. And for those seeking solace? The city's world-renowned thermal baths promise rejuvenation.
Art aficionados, history enthusiasts, culinary adventurers, or those simply seeking a memorable escapade – Budapest caters to all. Its rich tapestry of culture, awe-inspiring edifices, and gastronomic delights ensure every moment is etched in memory.
So, with a heart full of anticipation and a guide tailored for explorers like you, let's embark on this journey. Budapest, with its myriad tales and treasures, awaits your footprints. Let's unravel its mysteries, one cobblestone at a time.
---
Budapest: The Danube's Jewel
Budapest, known as the "Paris of the East," seamlessly combines the grandeur of its storied past with the pulsating vitality of the present.
You'll be transported through time as you walk its streets, from Roman ruins to neo-Gothic marvels, all set against the calm backdrop of the gorgeous Danube River.
Every street corner in Budapest tells a story of emperors and revolutions, poets and artists, making Budapest more than just a tourist destination.
Tapestry of Geography
Budapest, strategically located in Europe's centre, is a city of bridges, both actual and metaphorical.
It connects the west and east, and its famed Chain Bridge connects Buda's beautiful hills with Pest's bustling boulevards.
This dichotomy of hills and plains, old-world elegance and modern energy, is what gives Budapest its distinct personality.
Because of its central location, it has become a cultural crossroads, a melting pot of ideas, and a doorway to the heart of Europe.
A Journey Through Time
Budapest's history is inscribed in its cobblestones and mirrored in the Danube.
Budapest has been a mute witness to the ebb and flow of history, from its beginnings as a Celtic settlement to its time under Roman domination, from the grandeur of the Austro-Hungarian Empire to the problems of the twentieth century.
With its numerous architectural treasures and winding lanes, the city functions as a living museum, encouraging tourists to journey back in time and immerse themselves in its rich tapestry of history.
Every brick, every spire, and every square in Budapest has a story to tell, and those who seek it will find it.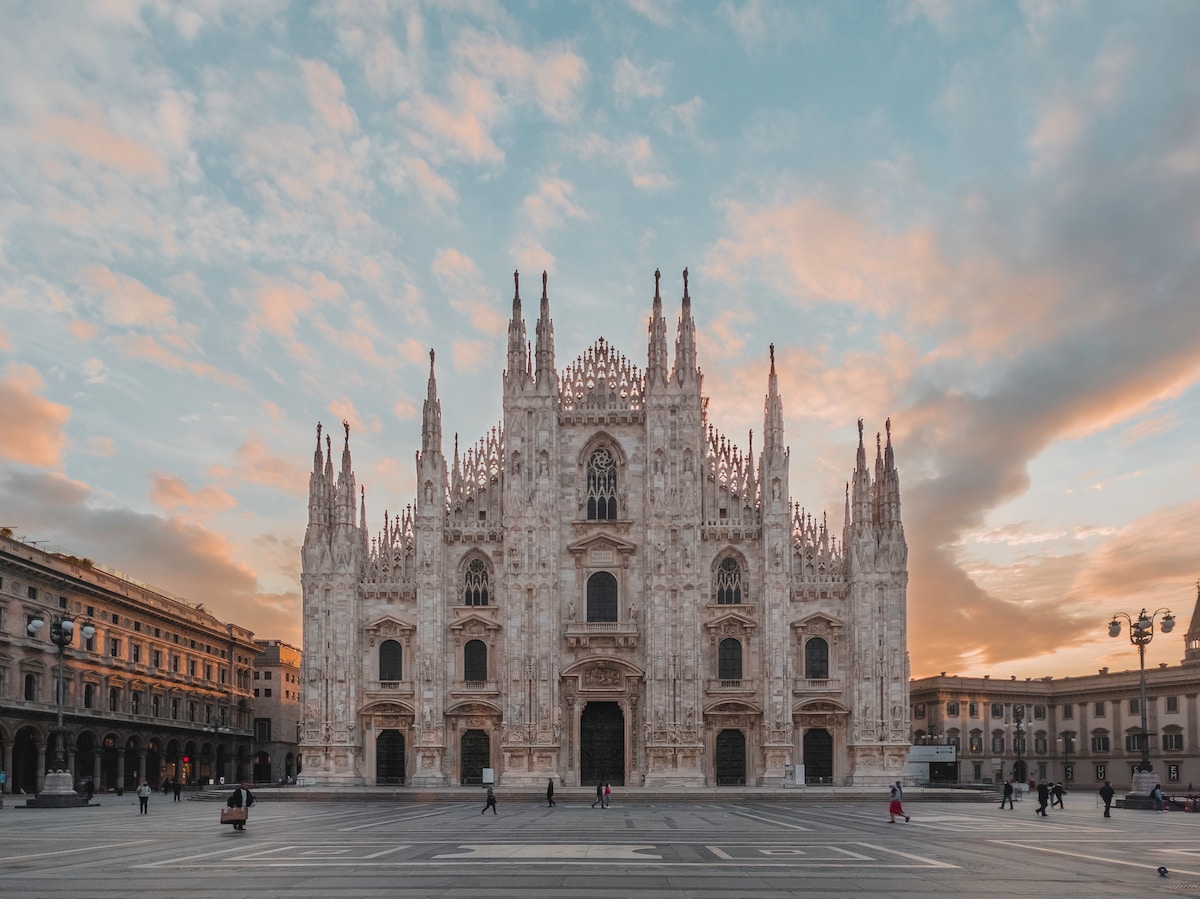 Milan from A to Z: An All-Inclusive Traveler's Guide to the City
Contemplating a sojourn to Milan? Ah, prepare to be ensnared by its opulent tapestry of artistry, heritage, and allure. Table of Contents Show Complete Milan Travel Guide – Places to Visit,... Read more.
---
Budapest: The Cultural Epicenter of Eastern Europe
Budapest, with its moniker "Paris of the East", doesn't merely wear its culture; it lives and breathes it.
Every street, square, and boulevard in this city resonates with artistic fervor and historical resonance.
As you traverse its avenues, you're not just walking on pathways but on stories, tales of artists, writers, and musicians who have been inspired by the city's ethereal beauty.
---
Budapest entices visitors from all over the world with its rich mosaic of history, culture, and architectural splendour.
Consider the different routes that go to the heart of this Central European jewel as you plan your trip.
Whether you're soaring through the sky, travelling on historic train lines, or riding along gorgeous highways, Budapest guarantees a remarkable first impression for all tourists.
Soaring Through the Skies: Air Travel to Budapest
For those flying in, Budapest Ferenc Liszt International Airport acts as the city's aerial gateway.
Situated a mere 16 kilometers from the heart of the city, this bustling airport welcomes flights from across the globe, making Budapest a seamless destination for international travelers.
Upon landing, the city beckons, easily reachable through a myriad of transportation options, be it the city's efficient public transit system, a swift taxi ride, or the dedicated airport shuttles.
Journeying on Rails: Budapest's Train Connections
For those who find romance in the rhythm of train tracks, Budapest doesn't disappoint. The city is a significant railway nexus in Central Europe, with tracks stretching out to neighboring countries and beyond.
Whether you're arriving from the romantic streets of Paris, the historic precincts of Vienna, or the vibrant squares of Prague, Budapest's grand train stations – Keleti, Déli, and Nyugati – stand ready to welcome you.
Each station, with its own architectural charm, offers a prelude to the wonders of the city.
On the Road: Bus Routes to Budapest
For the road-trippers and budget travelers, the expansive roadways leading to Budapest offer another avenue of approach.
The city's primary bus terminal, Népliget, buzzes with activity, connecting Budapest to a tapestry of European destinations.
Whether you're journeying through scenic routes or hopping across borders, the bus lines converging on Budapest ensure that the heart of Hungary is never too far away.
---
Choosing Your Budapest Abode: A Spectrum of Comfort and Luxury
Budapest, with its magnetic charm, draws visitors from all walks of life. Recognizing the diverse needs of its guests, the city has cultivated an expansive range of accommodations.
From the grandeur of its luxury establishments to the cozy corners of its budget stays, Budapest ensures every traveler finds their perfect resting place.
Our Top Picks of Best Hotels to Stay in Budapest, Hungary
---
The Epitome of Elegance: Budapest's Luxury Hotels
For those with a penchant for the finer things in life, Budapest's luxury hotels are a testament to opulence and world-class hospitality.
Historic edifices like the Four Seasons Hotel Gresham Palace echo tales of bygone eras, while modern marvels such as the Aria Hotel Budapest offer a contemporary touch of sophistication.
These establishments promise not just a stay, but an experience that lingers long after you've checked out.
Comfort Without Compromise: Mid-range Hotels in Budapest
Striking a harmonious balance between affordability and comfort, Budapest's mid-range hotels cater to those seeking a delightful stay without stretching their budget.
With amenities tailored to ensure convenience, establishments like Hotel Parlament, Hotel Rum Budapest, and Hotel Palazzo Zichy stand out as favorites among travelers.
Their strategic locations further enhance the allure, placing guests in proximity to the city's myriad attractions.
Affordable Retreats: Embracing Budapest on a Budget
For the intrepid traveler, Budapest's budget accommodations offer a blend of comfort and camaraderie.
Hostels such as Maverick Hostel, Flow Hostel, and The Loft Budapest not only provide economical lodging options but also foster a sense of community.
With shared spaces and vibrant atmospheres, these places become melting pots of cultures, making them perfect for those eager to forge new friendships while exploring the Hungarian capital.
Still can't find the right hotels that suit your needs? Don't worry, use the following hotel search engine to find the best hotels in Budapest to stay:
---
Budapest's Crown Jewels: A Mosaic of History and Beauty
The allure of Budapest lies not just in its vibrant streets and culinary delights but also in its iconic landmarks that narrate tales of bygone eras.
Each corner of the city is steeped in history, waiting to be discovered and admired by those who tread its paths.
The Royal Majesty: Buda Castle
Dominating the city's skyline from Castle Hill, Buda Castle stands as a testament to Budapest's regal heritage. A harmonious blend of Gothic, Renaissance, and Baroque architectural styles, this grand edifice houses treasures like the Hungarian National Gallery and the Budapest History Museum.
As you wander through its expansive courtyards and corridors, the castle offers panoramic vistas of Budapest, making it a photographer's dream.
---
A Beacon of Governance: The Hungarian Parliament Building
Rising majestically along the banks of the Danube, the Hungarian Parliament Building is a marvel of neo-Gothic architecture.
As the heart of Hungary's legislative activities, it's not just a building but a symbol of the nation's democratic spirit.
Embark on a guided journey through its opulent chambers, and let the shimmering Hungarian Crown Jewels captivate your gaze. And as dusk descends, the building's reflection on the Danube's waters paints a picture of ethereal beauty.
---
A Soothing Retreat: Széchenyi Thermal Bath
Budapest's moniker as the "City of Spas" finds its epitome in the Széchenyi Thermal Bath. A haven for relaxation seekers, this expansive bath complex offers a rejuvenating experience amidst its warm, mineral-infused waters.
Whether you're basking in its outdoor pools or unwinding in its saunas, the Széchenyi Thermal Bath promises a slice of Budapest's therapeutic traditions.
Bridging Two Worlds: The Chain Bridge
Serving as a sentinel over the Danube, the Chain Bridge is more than just a connector between Buda and Pest; it's a symbol of unity.
As you traverse its length, the bridge offers unparalleled views of the river and the city's landmarks. And when night falls, its illuminated silhouette casts a golden glow on the waters below, creating a mesmerizing spectacle.
A Tribute to Legends: Heroes' Square
Anchoring the end of the iconic Andrassy Avenue, Heroes' Square stands as a monumental tribute to Hungary's illustrious figures.
Flanked by cultural institutions like the Museum of Fine Arts and the Hall of Art, the square's centerpiece, the Millennium Monument, celebrates a millennium of Hungarian history.
As you stroll amidst its statues and green expanses, Heroes' Square offers a serene respite from the city's hustle and bustle.
---
Budapest's Gastronomic Choices: A Feast for the Senses
Budapest, often hailed as the culinary capital of Central Europe, beckons food enthusiasts with its diverse gastronomic offerings.
From age-old Hungarian recipes passed down through generations to contemporary culinary innovations, every dish tells a story of the city's rich heritage and its love for food.
Savoring Hungary's Culinary Heritage
Hungarian cuisine, with its robust flavors and comforting warmth, is a reflection of the country's vibrant culture and history.
Dive deep into its culinary traditions with the iconic Goulash, a stew that encapsulates the essence of Hungary in every bite.
Lángos, with its crispy exterior and soft center, offers a delightful contrast when topped with creamy garlic and cheese.
And as you navigate through Budapest's culinary landscape, the omnipresent paprika, Hungarian sausages, and the sweet allure of chimney cake will beckon you at every turn.
Dining at Budapest's Culinary Haunts
The city's dining scene is a harmonious blend of tradition and modernity. At the forefront are establishments like Onyx and Costes, where Michelin-starred chefs craft masterpieces that pay homage to Hungarian flavors while introducing contemporary twists.
For those yearning for an authentic taste of Hungary, eateries like MÁK Bistro, Pest-Buda Bistro, and Rosenstein stand as gateways to the country's rich culinary heritage, serving dishes that resonate with nostalgia and authenticity.
The Allure of Street Eats
Beyond the elegant dining rooms and rustic bistros, Budapest's streets come alive with flavors that cater to every whim and fancy.
The ubiquitous Lángos, with its myriad toppings, is a testament to Hungary's love for versatile street food. The spiral kürtőskalács, with its sweet aroma, draws you in, promising a taste of Budapest's sweet indulgences.
And for those looking to explore a medley of global flavors, places like Karaván offer a smorgasbord of delights, from zesty burgers to aromatic Asian dishes, ensuring that every palate finds its match.
---
Budapest's Historical Districts: A Journey Through Time and Culture
Budapest, often referred to as the "Pearl of the Danube," is a mosaic of diverse districts, each narrating a unique tale of the city's rich tapestry.
As you traverse these neighborhoods, you'll be transported through epochs, witnessing the harmonious blend of history, culture, and modernity.
The Majestic Castle District: Echoes of a Regal Past
Nestled atop the Buda hills, the Castle District stands as a testament to Budapest's regal past.
As you meander through its labyrinthine alleys, the grandeur of the Buda Castle, the ethereal beauty of the Matthias Church, and the panoramic vistas from the Fisherman's Bastion will captivate your senses.
This district, with its preserved medieval charm, offers a serene escape from the city's hustle, allowing you to relive tales of yore.
The Jewish Quarter: A Melange of Heritage and Hipster Vibes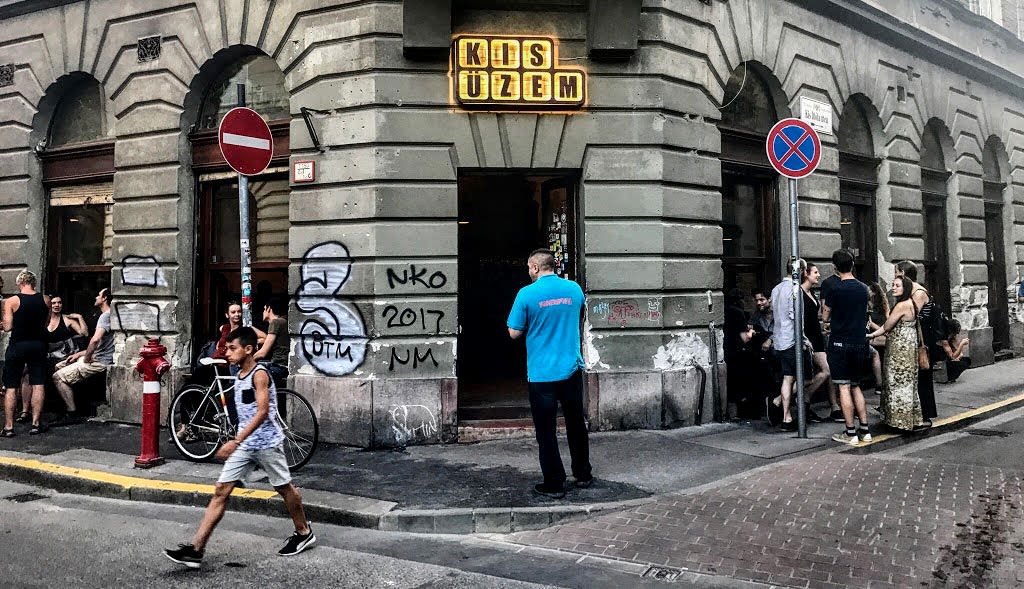 Budapest's Jewish Quarter is a vibrant tapestry of history, resilience, and contemporary flair. The towering spires of the Dohány Street Synagogue stand as silent witnesses to the neighborhood's rich Jewish legacy.
Yet, a few steps away, the pulsating energy of ruin bars, street art, and bustling markets showcase the district's transformation into a modern cultural hub.
This juxtaposition makes the Jewish Quarter an intriguing exploration of past and present.
Andrássy Avenue: Elegance Personified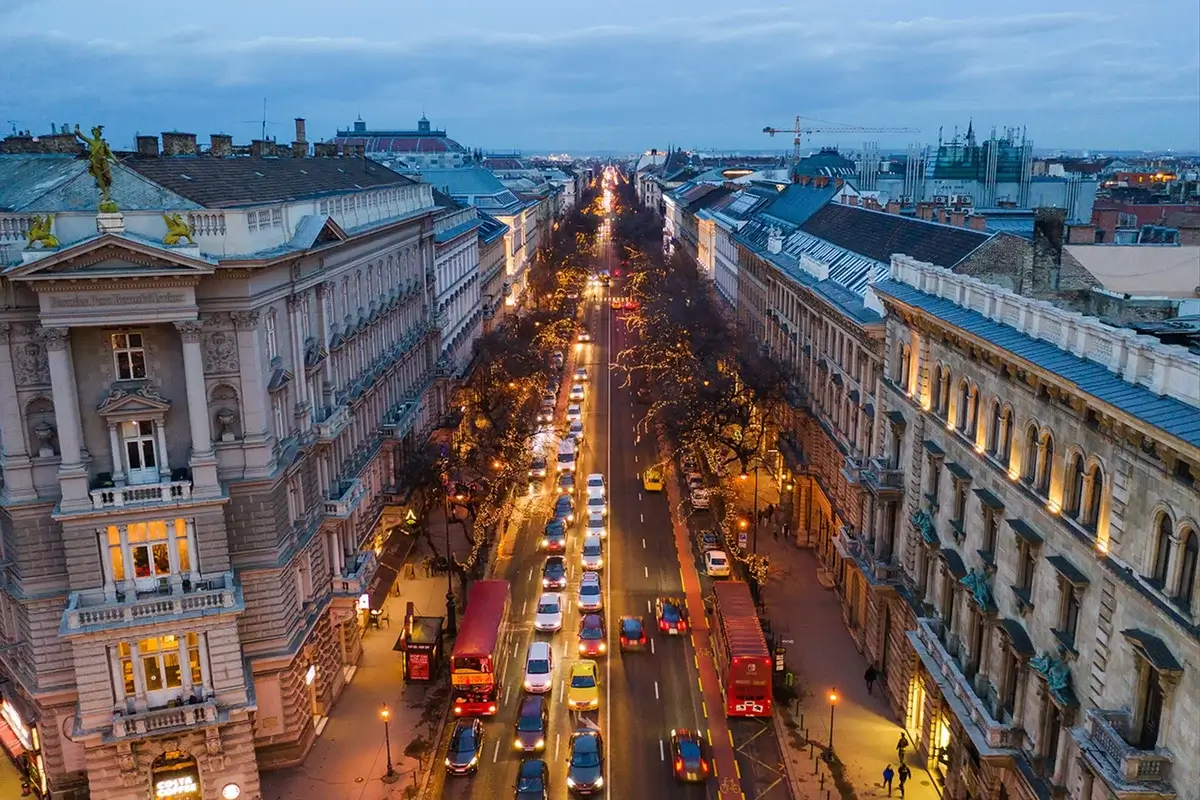 Stretching majestically through the heart of Budapest, Andrássy Avenue is the epitome of sophistication. As you saunter along this boulevard, the opulent facades of Neo-Renaissance buildings, the allure of high-end boutiques, and the melodious strains emanating from the Hungarian State Opera House create a symphony of elegance.
It's a journey that celebrates Budapest's artistic spirit and its timeless allure.
---
Budapest's Retail Options: A Blend of Tradition and Modernity
Budapest, with its rich history and vibrant culture, offers a shopping experience that seamlessly weaves the threads of tradition with contemporary trends.
As you navigate the city's shopping avenues, you'll encounter a delightful mix of age-old marketplaces, luxury boutiques, and eclectic vintage stores.
Central Market Hall: A Culinary and Cultural Expedition
Stepping into the Central Market Hall is akin to embarking on a culinary and cultural journey.
The grandeur of its Art Nouveau architecture is complemented by the myriad of stalls bursting with fresh produce, artisanal crafts, and Hungarian specialties.
As you wander through this historic marketplace, the aromas of traditional dishes and the vibrant tapestry of goods create a sensory delight, making it a must-visit for both foodies and souvenir hunters.
Fashion Street: The Pinnacle of Luxury
Nestled in the heart of Budapest, Fashion Street epitomizes luxury and sophistication. As you stroll down this elegant boulevard, the glittering storefronts of world-renowned brands beckon, offering a curated selection of the latest in fashion and design.
It's not just a shopping destination; it's an experience that celebrates Budapest's position as a global fashion hub.
Timeless Treasures: Budapest's Vintage and Antique Alcoves
For those with a penchant for the unique and timeless, Budapest's vintage and antique shops are a treasure trove waiting to be discovered.
The city's 7th district, in particular, is a haven for retro enthusiasts, offering a plethora of stores that transport you back in time.
Whether you're on the hunt for vintage fashion, rare collectibles, or antique curios, Budapest promises a shopping adventure that's both nostalgic and novel.
---
Budapest After Dark: A Symphony of Lights and Sounds
As the sun sets over the Danube, Budapest transforms into a pulsating hub of entertainment and nightlife. The city's nocturnal offerings range from the unconventional charm of ruin bars to the elegance of rooftop lounges, ensuring that every night owl finds their perfect haunt.
Ruin Bars: A Glimpse into Budapest's Bohemian Spirit
Ruin bars, a distinctive element of Budapest's nightlife, are a testament to the city's ability to repurpose and rejuvenate.
Nestled within dilapidated buildings and forgotten courtyards, these bars, like Szimpla Kert, are a blend of art, culture, and spirited revelry.
Each visit promises a unique experience, with venues like Instant and Fogasház offering a maze of rooms, each with its own vibe and character.
Sky-high Elegance: Budapest's Rooftop Lounges
Elevate your evening, quite literally, at one of Budapest's rooftop bars. These venues, such as 360 Bar and High Note SkyBar, offer an unparalleled view of the city's glittering panorama.
As you sip on expertly crafted cocktails, the shimmering waters of the Danube and the silhouette of Buda Castle provide a mesmerizing backdrop, making these rooftop lounges the ideal spots for a romantic evening or a relaxed night out.
The Rhythms of Budapest: Live Music and Performances
For those who find solace in melodies and beats, Budapest's live music venues are a haven. The grandeur of the Budapest Opera House is not just in its architecture but also in the soul-stirring performances it hosts.
Meanwhile, venues like A38 Ship provide a unique setting for eclectic musical experiences.
Whether you're swaying to the soulful tunes at Budapest Jazz Club or dancing to the energetic beats at Akvárium Klub, the city ensures your nights are filled with rhythm and melody.
---
Embracing Budapest's Great Outdoors
Budapest's urban landscape seamlessly intertwines with pockets of greenery and scenic spots, making it a delightful destination for outdoor enthusiasts.
Whether you're seeking tranquility amidst nature or an adrenaline-pumping adventure, Budapest's outdoor offerings promise a refreshing experience.
Margaret Island: Budapest's Green Heart
Nestled in the embrace of the Danube, Margaret Island stands as a testament to Budapest's commitment to preserving its natural spaces.
A visit to this verdant retreat feels like a gentle pause, a momentary escape from the city's energetic pace.
Whether you're basking in the sun, enjoying a quiet read, or indulging in the therapeutic waters of its thermal baths, Margaret Island ensures a serene experience.
City Park: A Blend of Nature and Culture
Városliget, or City Park, is more than just an expanse of green; it's a cultural hub. As you wander its paths, you'll come across architectural marvels like the Vajdahunyad Castle, a structure that seems to have leaped out of a storybook.
And for those seeking relaxation, the Széchenyi Thermal Bath, with its warm, inviting waters, awaits within the park's confines.
Pedal Through Budapest: Cycling Adventures
The charm of Budapest is best experienced at a leisurely pace, and what better way to do so than on a bicycle? The city's well-laid cycling paths beckon riders to explore its nooks and crannies.
The Danube Promenade, with its panoramic views, is a favorite among cyclists. And for those with a spirit of exploration, the outskirts of Budapest offer scenic trails that meander through picturesque landscapes.
---
Budapest: A Journey of Discovery Awaits, Ready to Explore?
Budapest, often dubbed the "Paris of the East", is a city that effortlessly weaves together the threads of history, culture, and natural beauty into a mesmerizing tapestry.
Every corner of this city tells a story, every street resonates with the echoes of the past, and every experience is a testament to its vibrant spirit.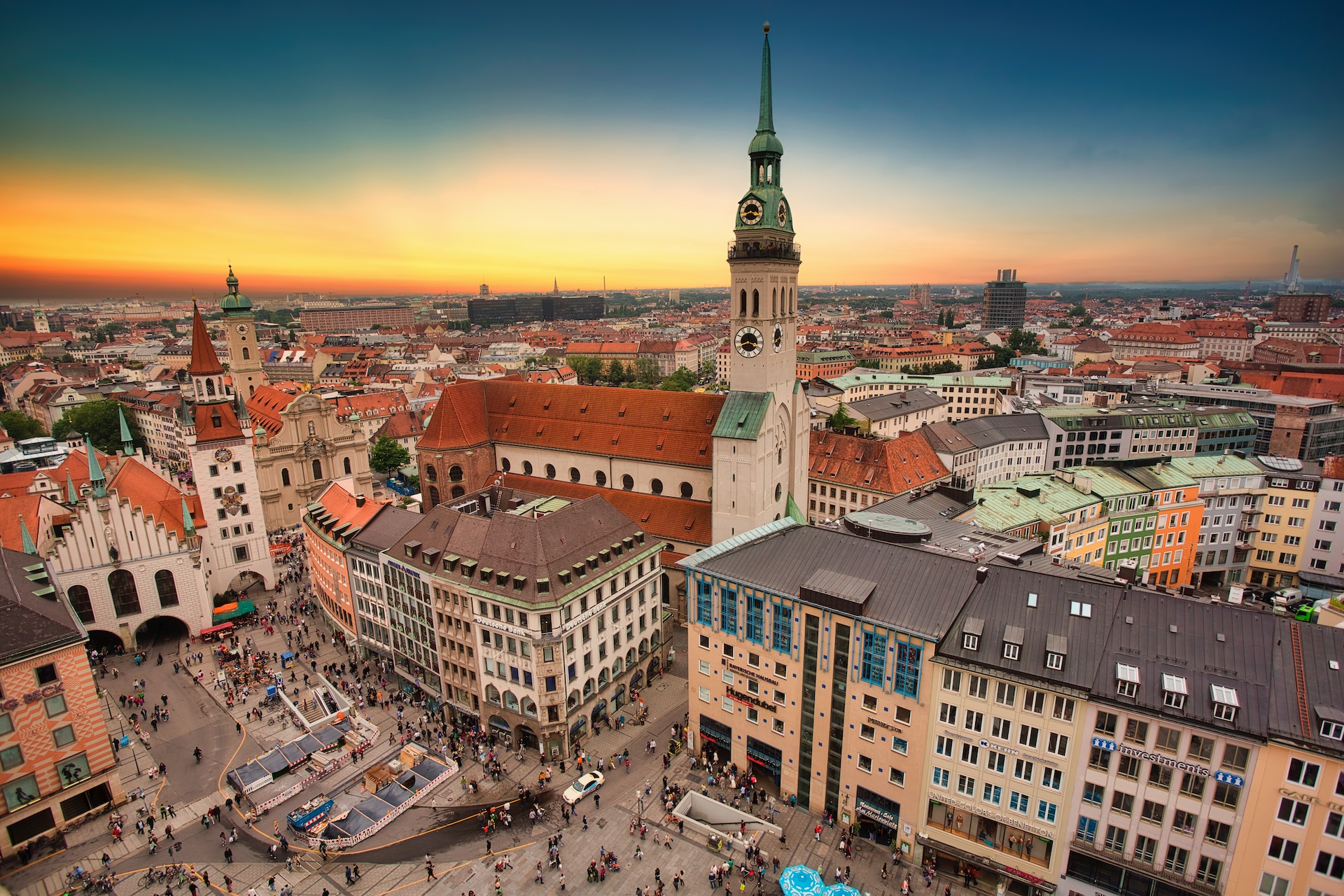 Wanderlust in Munich: Your Complete Munich Travel Guide
Munich, a city where tales of old intertwine with the rhythm of the modern world. If you've set your sights on this Bavarian beauty, you're in for a treat. Table of Contents Show Explore... Read more.
As you traverse its landscapes, indulge in its culinary offerings, dive deep into its history, and immerse yourself in its arts and nightlife, you'll realize that Budapest is not just a destination; it's a feeling.
This guide aims to be your compass, directing you to the heart of Budapest's allure. So, as you set forth on this journey, remember to savor each moment, for in Budapest, every moment is a memory in the making. Safe travels and happy discoveries!
---
---
Frequently Asked Questions About Traveling to Budapest, Hungary
Is Budapest good for tourists?
Absolutely! Budapest is a treasure trove for tourists. With its rich history, stunning architecture, vibrant nightlife, and thermal baths, the city offers a diverse range of experiences that cater to all types of travelers. Its blend of Eastern and Western European cultures creates a unique atmosphere that's both exotic and familiar.
Is Budapest expensive to visit?
Compared to many Western European cities, Budapest is relatively affordable. While luxury options are available, budget travelers will find plenty of value-for-money accommodations, dining options, and activities. Public transportation, in particular, is efficient and reasonably priced.
What is the best way to explore Budapest?
The best way to explore Budapest is a mix of walking and using public transportation. The city's metro, tram, and bus systems are efficient and cover most tourist attractions. For a unique perspective, consider taking a boat ride on the Danube, especially in the evening when many of the city's landmarks are beautifully illuminated.
How many days in Budapest is enough?
For a comprehensive experience, 4 to 5 days in Budapest would be ideal. This allows time to explore both the Buda and Pest sides, visit major attractions, indulge in the thermal baths, and even take a day trip to nearby places like Szentendre.
Is 3 days enough for Budapest?
Three days in Budapest is sufficient to cover the major highlights, including the Buda Castle, Parliament Building, Heroes' Square, and a few thermal baths. However, a longer stay would provide a deeper dive into the city's culture, neighborhoods, and local experiences.
Is Budapest a walkable city?
Yes, Budapest is highly walkable, especially in the city center and along the banks of the Danube. Many of its major attractions are located close to each other. The wide boulevards, pedestrian zones, and the scenic Danube promenade make walking both convenient and enjoyable.
Which side of Budapest is best to stay?
Both sides of Budapest have their charm: Buda: This side is hilly and offers stunning views of the city. It's quieter and more residential, making it ideal for those looking for a peaceful stay. The Castle District in Buda is particularly popular for its historical significance. Pest: This is the bustling heart of the city, with numerous hotels, restaurants, shops, and nightlife options. Staying in Pest puts you closer to many of the city's attractions and its vibrant energy. For first-time visitors, staying in Pest, particularly in districts V, VI, or VII, might be more convenient due to its proximity to many attractions and amenities. However, choosing between Buda and Pest ultimately depends on individual preferences regarding ambiance and convenience.
---