Barcelona Travel Guide
– So, you're thinking about going to Barcelona? You're in for a surprise!
We'll dive into your ultimate Barcelona travel guide in this article, where you'll find all the information you need to make the most of your visit to this vibrant city.
Barcelona has something for everyone, from Antoni Gaud's iconic architecture to delicious food and a lively nightlife.
Barcelona will captivate you with its unique blend of culture and charm, whether you are a history buff, a beach lover, or a foodie.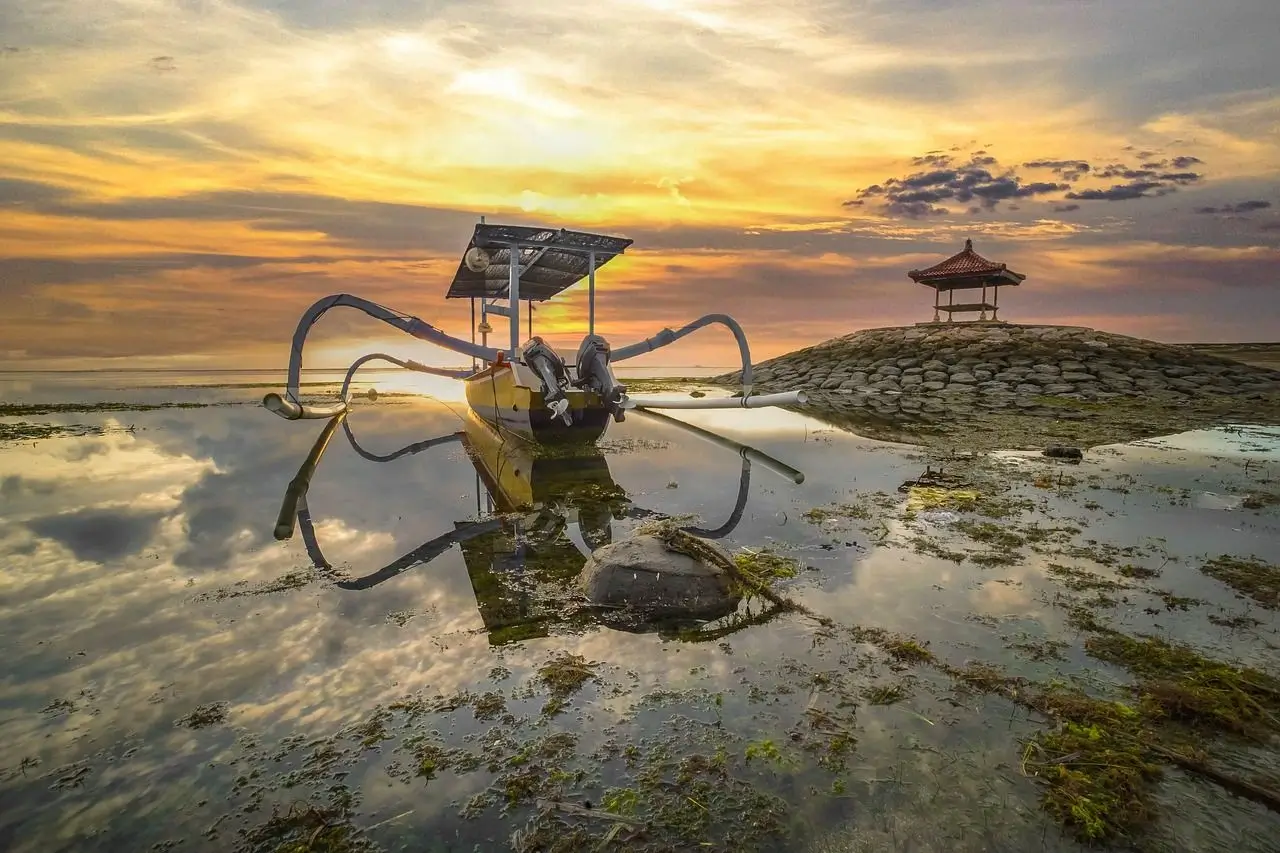 Sanur Bali Travel Guide: 20+ Best Things to do in Sanur
Sanur is a tranquil and family-friendly destination in Bali, Indonesia, renowned for its gorgeous sunrise views and laid-back atmosphere. Table of Contents Show Exploring Sanur: Discover Sanur's... Read more.
But hold on, there's more! We'll cover all the must-see attractions and hidden gems, as well as useful tips and advice to help you navigate the city like a pro, in this ultimate travel guide.
You'll learn about the best places to visit and the best dishes to try, from the bustling streets of Las Ramblas to the breathtaking views from Park Güell.
This guide will help you make the most of your time in Barcelona, whether you're planning a short weekend getaway or a longer vacation.
So, let's get started and prepare to be wowed by the magic of Barcelona!
Your Ultimate Barcelona Travel Guide: Everything You Need to Know Before You Go

Barcelona, a vibrant city located on the northeastern coast of Spain, offers a diverse and enchanting experience for travelers.



Barcelona, known for its rich history, stunning architecture, delectable cuisine, and exciting nightlife, has something for everyone.

Barcelona is sure to captivate your senses, whether you're exploring the city's renowned tourist attractions, discovering hidden gems, indulging in local cuisine, or immersing yourself in the lively atmosphere of the city's nightlife.

We will walk you through everything you need to know about Barcelona in this comprehensive travel guide.
Getting to Barcelona
Airports in Barcelona



Barcelona is served by two major airports: Barcelona-El Prat (BCN) and Girona-Costa Brava (GRO).

Barcelona-El Prat Airport is the main airport and is only 12 kilometers from the city center, making it the most convenient option for travelers.

Girona-Costa Brava Airport is about 103 kilometers from Barcelona and primarily serves low-cost airlines.
Flight options



Barcelona-El Prat Airport is well-connected with major cities around the world, offering a wide range of flight options.

From long-haul flights to short-haul regional ones, you can easily find a flight that suits your needs and budget.

Major airlines such as Iberia, Vueling, Ryanair, and British Airways operate regular flights to and from Barcelona.
Train connections

Barcelona is well-connected to other Spanish cities by train. The main train station in Barcelona is Barcelona Sants, which is a major hub for high-speed AVE trains.

You can take a train to or from cities like Madrid, Valencia, Sevilla, and Bilbao, among others. The train journey offers a comfortable and scenic way to travel through Spain.
Bus connections

If you prefer bus travel, Barcelona has a reliable and extensive bus network. The city is connected to various national and international destinations by bus.

Popular bus companies such as ALSA and Eurolines offer routes to and from Barcelona, making it a convenient option for budget travelers.
Accommodation in Barcelona
Hotels in Barcelona

Barcelona offers a wide range of accommodation options, ranging from luxury hotels to budget-friendly options.

The city is home to several renowned hotel chains, as well as boutique hotels that offer a unique and personalized experience.

Whether you prefer a beachfront hotel in Barceloneta or a centrally-located hotel in the Gothic Quarter, you can find a hotel that suits your preferences and budget.
Hostels in Barcelona

For budget travelers or those looking for a more social experience, hostels in Barcelona are a popular choice.

The city boasts numerous hostels that offer affordable accommodation options, as well as opportunities to meet fellow travelers.

Hostels in Barcelona often organize social activities, making it easy to connect with like-minded individuals.
Apartment rentals

Another popular accommodation option in Barcelona is renting an apartment. This gives you the flexibility and comfort of having your own space while exploring the city.

There are various platforms and agencies that offer apartment rentals in Barcelona, allowing you to choose from a wide range of options in different neighborhoods.
Luxury accommodations

For those looking for a luxurious experience, Barcelona has no shortage of high-end hotels and luxury accommodations.

From 5-star hotels with panoramic views of the city to luxurious boutique hotels with personalized service, you can indulge in the lap of luxury during your stay in Barcelona.
Exploring Barcelona
Must-visit tourist attractions

Barcelona is renowned for its famous tourist attractions, which should not be missed during your visit.

The iconic Sagrada Familia, designed by the legendary architect Antoni Gaudí, is a must-see. Other notable attractions include Park Güell, Casa Batlló, La Rambla, and the Gothic Quarter.

These attractions showcase the unique architecture and charm that Barcelona is known for.

Beyond the well-known tourist attractions, Barcelona is full of hidden gems waiting to be discovered.

Explore the narrow streets of the El Raval neighborhood, visit the beautiful Hospital de Sant Pau, or wander through the enchanting Laberint d'Horta, one of Barcelona's oldest parks. These hidden gems offer a more intimate and authentic experience of the city.
Neighborhoods to explore

Barcelona is a city of neighborhoods, each with its own distinct character and charm. The Gothic Quarter, with its medieval architecture and narrow streets, is a must-visit.

El Born, known for its trendy shops and vibrant nightlife, is another neighborhood worth exploring.

Other neighborhoods such as Gràcia, Eixample, and Poble Sec also offer unique experiences and are worth a visit.
Walking tours

To truly immerse yourself in the city's culture and history, consider taking a walking tour. Barcelona offers a variety of guided walking tours that cover different themes and neighborhoods.

Whether you're interested in Gaudí's architecture, the city's history, or its culinary scene, there is a walking tour that will suit your interests.
Cuisine and Dining
Traditional Catalan dishes

Barcelona is a culinary paradise, known for its delicious Catalan cuisine. Traditional Catalan dishes like paella, fideuà, and botifarra amb seques are a must-try.

Catalan cuisine places a strong emphasis on fresh, locally sourced ingredients, resulting in flavorful and authentic dishes.
Tapas and Pintxos

Tapas and pintxos are an integral part of Barcelona's dining culture. These small, bite-sized dishes are perfect for sharing and allow you to sample a variety of flavors.

Head to El Poble-sec or El Born to find bustling tapas bars and indulge in these small culinary delights.
Michelin-starred restaurants

Barcelona boasts a number of Michelin-starred restaurants, attracting food enthusiasts from around the world.

Restaurants like El Celler de Can Roca and Tickets offer exquisite dining experiences that showcase the creativity and innovation of Barcelona's culinary scene. Reservations at these establishments are highly recommended.
Food markets

For a more casual and authentic dining experience, Barcelona's food markets are a must-visit. La Boqueria, located on La Rambla, is the most famous market in the city and offers an array of fresh produce, seafood, and local delicacies.

Mercat de Sant Antoni and Mercat de Sant Josep de la Boqueria are also worth exploring for their vibrant atmosphere and variety of food stalls.
Shopping in Barcelona
Fashion boutiques

Barcelona is a fashion-forward city, with numerous fashion boutiques offering unique and stylish clothing.

From independent designers to high-end fashion brands, you can find a wide range of options to suit your style.

Head to Passeig de Gràcia or the Born neighborhood for some of the best shopping in the city.
Local markets

For a more authentic and local shopping experience, visit Barcelona's local markets. These markets offer a variety of products, from fresh produce to artisanal crafts.

Mercat de Sant Josep de la Boqueria and Mercat de Sant Antoni are popular choices, where you can find everything from fruits and vegetables to spices and souvenirs.
Antique shops

If you're a fan of antiques and vintage items, Barcelona has a plethora of antique shops to explore.

Visit El Raval and El Born neighborhoods for a treasure trove of unique finds, from vintage furniture to retro clothing.
Designer brands

Barcelona is home to numerous designer brand stores, making it a great destination for luxury shopping.

Whether you're looking for high-end fashion brands, jewelry, or home decor, you can find it all in Barcelona.

La Roca Village, located just outside the city, is a designer outlet mall that offers discounts on luxury brands.
Nightlife in Barcelona
Bars and clubs

Barcelona's nightlife is legendary, with a vibrant and diverse scene to suit all tastes. From trendy cocktail bars to lively nightclubs, you'll find a wide range of options to dance the night away. The neighborhoods of El Raval, Gràcia, and Eixample are known for their lively bar scenes.
Live music venues

Barcelona is a hub for live music, offering a variety of venues that host local and international acts.

Whether you're into rock, jazz, or electronic music, you can find a venue that caters to your musical preferences. Razzmatazz and Apolo are two popular venues for live music.
Rooftop bars

For a more relaxed and scenic experience, head to one of Barcelona's rooftop bars. Enjoy a cocktail while taking in panoramic views of the city and its stunning architecture.

The rooftop bar at Hotel Pulitzer or the terrace at El Jardín de Diana are popular choices.
Flamenco shows

To experience the passion and energy of flamenco, attend a flamenco show in Barcelona. These shows showcase the traditional Spanish dance accompanied by live music, creating an unforgettable cultural experience.

Tablao de Carmen and Palau de la Música Catalana are renowned venues for flamenco performances.
Outdoor Activities
Beaches in Barcelona

Barcelona is known for its beautiful beaches, which offer the perfect escape from the bustling city. Barceloneta Beach, Nova Icaria Beach, and Bogatell Beach are some of the most popular options.

Whether you want to relax on the sand, swim in the Mediterranean Sea, or indulge in water sports, Barcelona's beaches have something for everyone.
Hiking trails near the city

If you're a nature lover, Barcelona is surrounded by stunning hiking trails that offer breathtaking views of the surrounding landscape.

Montjuïc Park and Collserola Natural Park are just a short distance from the city center and provide opportunities for scenic walks and hikes.
Water sports

Barcelona's coastal location makes it an ideal destination for water sports enthusiasts. From paddleboarding and kayaking to jet skiing and windsurfing, there are endless opportunities to enjoy the water.


Head to the various water sports centers along the beaches to rent equipment or take lessons.
Cycling routes

Barcelona is a bike-friendly city, with numerous cycling routes that allow you to explore the city on two wheels.

Rent a bike and cycle along the beach promenade or through the city's parks. Barcelona's bike-sharing program, Bicing, offers an affordable and convenient way to explore the city by bike.
Day Trips from Barcelona
Montserrat

Located just outside of Barcelona, Montserrat is a stunning mountain range known for its unique rocky formations and the monastery of Santa Maria de Montserrat.

Take a day trip to Montserrat to hike through its beautiful trails, visit the monastery, or listen to the famous Montserrat Boys' Choir.
Costa Brava

The Costa Brava, located north of Barcelona, is a picturesque stretch of coastline known for its rugged cliffs, sandy beaches, and charming seaside villages.

Take a day trip to the Costa Brava to explore towns like Tossa de Mar, Cadaqués, and Begur, and enjoy the beauty of the Mediterranean.
Girona

Girona, a historic city located just 100 kilometers from Barcelona, offers a rich medieval heritage and charming old town.

Explore the ancient walls, visit the well-preserved Jewish Quarter, and enjoy the local cuisine. Girona is also known for its association with the TV series Game of Thrones.
Tarragona

Tarragona, located south of Barcelona, is a city rich in Roman history and architecture. Explore the Roman ruins, visit the UNESCO World Heritage Site of Tarraco, and relax on the beautiful beaches. Tarragona's vibrant atmosphere and cultural heritage make it a great day trip option.
Events and Festivals
La Mercè Festival

La Mercè Festival, held in September, is Barcelona's biggest street party, celebrating the city's patron saint.

The festival offers a variety of events, including live music, parades, fireworks, and traditional Catalan performances. It is a vibrant and lively celebration of Barcelona's culture and traditions.
Sónar Music Festival

Sónar Music Festival, held in June, is one of the most important electronic music festivals in the world.

The festival attracts renowned DJs and musicians, who perform across multiple stages throughout the city. Sónar offers a unique and electric atmosphere that music lovers should not miss.
Sant Jordi's Day

Sant Jordi's Day, celebrated on April 23rd, is a Catalan tradition that honors both Saint George and love.

On this day, the streets of Barcelona come alive with stalls selling books and roses. It is a day to celebrate literature and romance, and you'll find book signings, author readings, and couples exchanging roses.
Correfoc

Correfoc, which means "fire run" in Catalan, is a unique and exhilarating tradition that takes place during festivals like La Mercè.

Participants dress up as devils and run through the streets, creating a spectacle of sparks, firecrackers, and fireworks. It is a thrilling and unforgettable experience.
Barcelona: The Travel Guide That You'll Actually Use

Barcelona certainly provides guests with a rich and exciting experience. Barcelona has something for everyone, from its rich history and breathtaking architecture to its wonderful cuisine and bustling nightlife.

Barcelona will captivate your heart and leave you with amazing memories, whether you're exploring the city's famed tourist attractions, finding hidden jewels, indulging in local cuisine, or immersing yourself in the exciting atmosphere of the city's nightlife.

Don't miss out on outdoor activities like visiting the lovely beaches or exploring the picturesque local towns.

Barcelona's lively culture will fascinate you with its countless events and festivals throughout the year. In this ultimate Barcelona travel guide, prepare yourself for a memorable adventure.