Considering a jaunt to Copenhagen? Let me assure you, you're on the brink of an extraordinary adventure!
This comprehensive guide to the Danish capital is your passport to the myriad wonders that lie within its borders.
Copenhagen, with its blend of awe-inspiring architecture, delectable cuisine, and lively districts, is a city that truly has something for everyone.
Whether you're an aficionado of historical tales, a culinary explorer, or simply yearning for a refreshing escape, Copenhagen promises a wealth of experiences that will leave you enchanted. Prepare to navigate this captivating and energetic city like a seasoned local!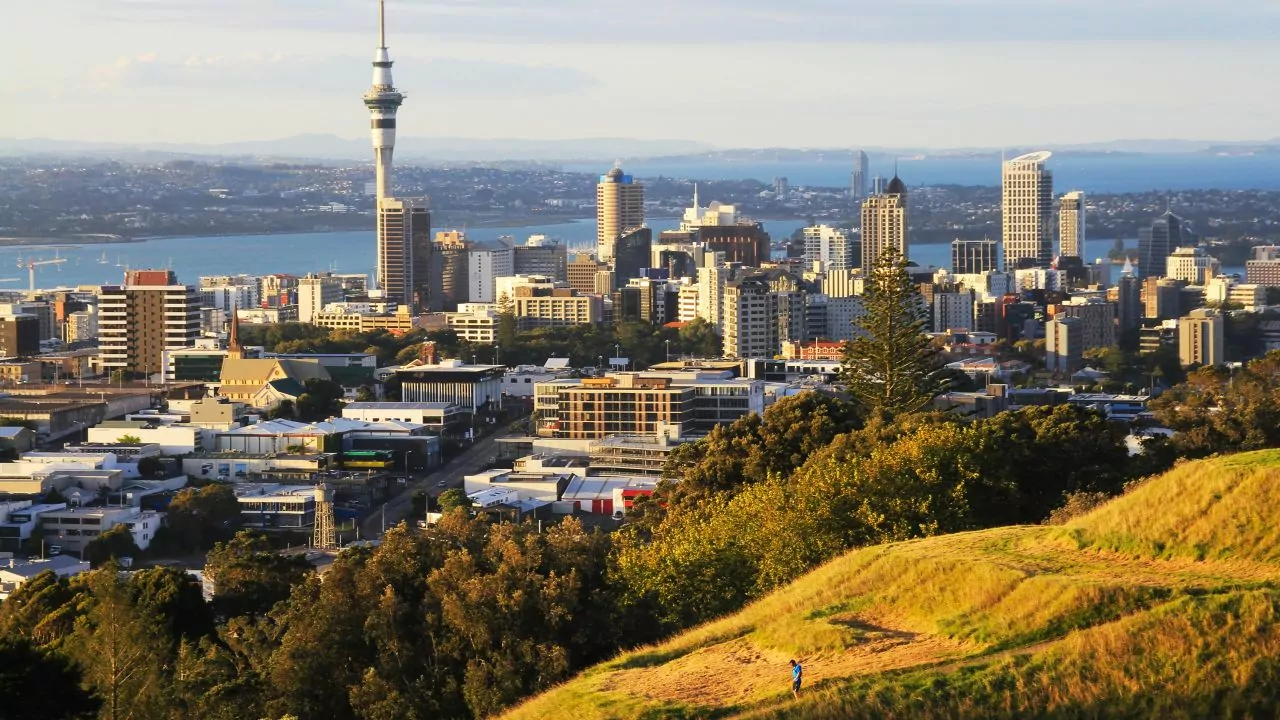 Auckland Travel: Your Ultimate Comprehensive Destination Guide
Auckland is on your travel itinerary, is it? You've landed at the right spot! This all-inclusive guide is your ticket to uncovering everything you need to know about this vibrant city nestled... Read more.
In this feature, we'll whisk you away on a virtual tour of Copenhagen's iconic sights, including the enchanting Nyhavn, renowned for its vibrant houses and bustling harbor life.
We'll peel back the layers of history that make the famed Tivoli Gardens a must-see for visitors of all ages.
For the gastronomes among you, we'll delve into the city's mouthwatering food scene, from traditional Danish pastries to avant-garde Michelin-starred dining.
And for those with a penchant for the road less traveled, we'll reveal the city's hidden treasures and dynamic districts that lend Copenhagen its distinctive charm.
So, get comfortable and prepare to dive headfirst into the ultimate Copenhagen journey!
Are you planning a trip to Copenhagen? Look no further! This comprehensive travel guide will help you navigate the city and make the most of your visit.
From arrival options to must-see attractions, cultural experiences, scenic spots, shopping opportunities, culinary delights, nightlife, and day trips, this guide covers it all. Let's dive in!
Getting to Copenhagen: What to Use?
From flights to boat, get yourself there safely and comfortably.
Arriving by air
Copenhagen is well-connected to the rest of the world by air. Copenhagen Airport, also known as Kastrup Airport, is the largest airport in Scandinavia and serves as a major hub for both international and domestic flights.
Upon arrival, you'll find various transportation options to reach the city center, including trains, buses, and taxis.
Arriving by train
If you prefer traveling by train, Copenhagen is also easily accessible. The central train station, Copenhagen Central Station, is conveniently located in the heart of the city. With direct connections to several European cities, you can enjoy a scenic train journey to Copenhagen.
Arriving by ferry
Another option for reaching Copenhagen is by ferry. The city has two major ferry terminals – one in Nordhavn and the other in Sydhavn.
Ferries connect Copenhagen to various destinations in Scandinavia, including Oslo and Stockholm, offering a unique travel experience.
There are a lot of ways to start exploring and navigating the city.
Public transportation
Once you're in Copenhagen, the city's public transportation system makes it easy to explore. The extensive metro, bus, and train networks cover all corners of the city and offer convenient travel options.
Consider purchasing a City Pass, which gives you unlimited access to public transportation for a specified duration.
Biking in Copenhagen
Copenhagen is known as one of the most bike-friendly cities in the world. With an extensive network of bike lanes and bike-sharing services, exploring the city on two wheels is not only fun but also efficient.
Rent a bike and pedal your way through the charming streets and parks of Copenhagen.
Walking routes
If you prefer to explore on foot, Copenhagen has plenty to offer. The compact size of the city makes it ideal for walking, and there are numerous walking routes that take you past iconic landmarks, hidden gems, and beautiful neighborhoods.
Grab a map or join a walking tour to make the most of your stroll through Copenhagen.
Must-see Attractions in Copenhagen
Some of our recommended attractions you can find and do in Copenhagen:
The Little Mermaid
No visit to Copenhagen is complete without a visit to the iconic Little Mermaid statue. Inspired by the fairy tale by Hans Christian Andersen, this statue has become a symbol of the city.
Located at the waterfront in Langelinie Park, you can't miss the opportunity to snap a photo with this famous statue.
Tivoli Gardens
Tivoli Gardens is a must-visit attraction for both locals and tourists. This historic amusement park dates back to 1843 and offers a charming combination of rides, gardens, restaurants, and live performances.
Whether you're seeking thrills on a roller coaster or simply want to enjoy a leisurely stroll through the beautiful gardens, Tivoli has something for everyone.
Nyhavn
Nyhavn is a picturesque waterfront district that is quintessentially Copenhagen. Colorful townhouses line the canal, and the area is bustling with restaurants, cafes, and bars.
Take a leisurely stroll along the canal, enjoy a delicious meal with a view, or hop on a canal tour to explore Copenhagen from a different perspective.
Exploring Culture
Royal Danish Opera
If you're a fan of the performing arts, a visit to the Royal Danish Opera is a must. This beautiful opera house showcases a wide range of opera, ballet, and classical music performances throughout the year.
Immerse yourself in the world of culture and witness breathtaking performances by renowned artists.
National Gallery of Denmark
Art enthusiasts should not miss the National Gallery of Denmark, also known as SMK. This impressive museum houses a vast collection of Danish and international artwork, spanning various periods and styles.
From classic masterpieces to contemporary installations, there is something to captivate every art lover's interest.
Amalienborg Palace
Immerse yourself in Danish history by visiting Amalienborg Palace, the official residence of the Danish royal family.
Take a guided tour to explore the opulent palace rooms and learn about Denmark's monarchy. Don't forget to witness the changing of the guard ceremony, which takes place daily at noon.
Scenic Natural Spots
Botanical Garden
Escape the city bustle and soak in the beauty of nature at the Botanical Garden. Located in the heart of Copenhagen, this oasis is home to a diverse collection of plants from all over the world.
Take a leisurely stroll through the gardens, discover rare plant species, and enjoy the tranquility of this green paradise.
Frederiksberg Gardens
Frederiksberg Gardens is a stunning park located in the Frederiksberg district of Copenhagen. Known for its beautiful landscape design, peaceful lakes, and charming pathways, this park is perfect for a relaxing picnic or leisurely walk.
Visit the Frederiksberg Palace located within the park for a glimpse into Denmark's royal history.
Freetown Christiania
Explore a unique and alternative side of Copenhagen by visiting Freetown Christiania. Founded in the 1970s, this self-proclaimed autonomous neighborhood is known for its communal living, colorful buildings, and vibrant street art.
Take a stroll through Pusher Street, browse the local shops, and experience the bohemian atmosphere of Christiania.
Shopping Experiences
Strøget
Strøget is one of Europe's longest pedestrian streets and a shopper's paradise. Stretching from City Hall Square to Kongens Nytorv, this bustling street is lined with a mix of high-end stores, international brands, and local boutiques.
Shop for fashion, accessories, Danish design, and more while enjoying the vibrant atmosphere.
Torvehallerne
For a unique food and shopping experience, head to Torvehallerne. This bustling market is home to a wide variety of food stalls and retail shops offering fresh produce, local delicacies, gourmet treats, and unique culinary experiences.
Indulge in Danish specialties, sample international flavors, or pick up artisanal products to take home as souvenirs.
Flea markets
If you're a fan of vintage finds and unique treasures, Copenhagen's flea markets are worth a visit.
The most popular flea market, Frederiksberg Loppemarked, takes place every weekend and offers a wide selection of antiques, furniture, clothing, and collectibles.
Explore the stalls and hunt for hidden gems to add to your collection.
Culinary Delights
Traditional Danish cuisine
No visit to Copenhagen is complete without indulging in traditional Danish cuisine. From smørrebrød (open-faced sandwiches) to frikadeller (Danish meatballs) and æbleskiver (traditional Danish pancakes), there are plenty of delicious dishes to try.
Pair your meal with a local beer or aquavit for an authentic dining experience.
New Nordic cuisine
Copenhagen's culinary scene is known for its innovative approach to food, often referred to as New Nordic cuisine.
Explore world-renowned restaurants such as Noma, Geranium, or Relæ, where you can experience a fusion of Nordic ingredients, flavors, and techniques.
Indulge in unique culinary creations and savor the creativity of Copenhagen's top chefs.
Street food markets
For a more casual dining experience, Copenhagen's street food markets are the place to be. Visit Paper Island, also known as Papirøen, which houses a wide variety of food stalls offering cuisines from around the world.
Sample everything from gourmet burgers to Asian street food, and enjoy your meal with a stunning view of the waterfront.
Nightlife and Entertainment
Breweries and bars
Copenhagen has a thriving craft beer scene, with numerous breweries and bars to explore. Visit Mikkeller, one of the city's most famous breweries, or explore the hipster-friendly neighborhoods of Nørrebro and Vesterbro for a wide selection of craft beer bars.
Cheers with locals and fellow travelers while enjoying the vibrant nightlife of Copenhagen.
Jazz clubs
Copenhagen has a rich jazz heritage, and the city is home to several legendary jazz clubs. Experience the magic of live jazz music at venues like Jazzhus Montmartre or La Fontaine, where both established musicians and up-and-coming talent take the stage. Immerse yourself in the soulful sounds of jazz and let the music transport you.
Live music venues
If you're a fan of live music beyond jazz, Copenhagen has a diverse music scene to offer.
From intimate venues like Vega and Loppen to larger concert halls such as Royal Arena and TAP1, you can find a wide range of genres and performances to suit your musical taste.
Catch a live show and enjoy the vibrant energy of Copenhagen's music scene.
Day Trips from Copenhagen
Malmö, Sweden
Take a short trip across the Øresund Bridge and explore the charming city of Malmö in Sweden.
Known for its historic architecture, unique boutiques, and vibrant food scene, Malmö offers a different cultural experience just a train ride away from Copenhagen. Don't forget to visit the iconic Turning Torso skyscraper for panoramic views of the city.
Roskilde
History buffs will enjoy a visit to Roskilde, a picturesque city located just 30 minutes from Copenhagen by train.
Explore the UNESCO-listed Roskilde Cathedral, where Danish monarchs have been buried for centuries, and visit the Viking Ship Museum to learn about Denmark's seafaring past. Don't miss the annual Roskilde Festival, one of Europe's largest music festivals.
Kronborg Castle
Embark on a journey to Shakespearean times and visit Kronborg Castle, also known as Hamlet's Castle.
Located in Helsingør, just a short train ride from Copenhagen, this magnificent castle is a UNESCO World Heritage site and offers a fascinating glimpse into Danish history.
Explore the castle's grand halls, enjoy the stunning views of the Øresund Strait, and immerse yourself in the world of Hamlet.
Copenhagen is a city that has something for everyone. From its iconic attractions to its vibrant nightlife, there is no shortage of things to see and do in this charming Scandinavian capital.
Whether you're interested in history, culture, food, or simply exploring a beautiful city, Copenhagen is sure to please. Here are just a few of the things that make Copenhagen a great travel destination:
Iconic attractions: Copenhagen is home to some of the most iconic tourist destinations in the world, including the Little Mermaid, Amalienborg Palace, and Tivoli Gardens.
Rich culture: Copenhagen is a city with a rich and diverse culture, dating back centuries. From its museums and galleries to its traditional restaurants and shops, there is no shortage of ways to experience Danish culture in Copenhagen.
Natural beauty: Copenhagen is surrounded by stunning natural beauty, including the Øresund Strait, the forests of Dyrehaven, and the beaches of Amager Strandpark.
Culinary delights: Copenhagen is a foodie's paradise, with restaurants serving everything from traditional Danish fare to international cuisine.
Vibrant nightlife: Copenhagen has a vibrant nightlife scene, with bars and clubs open late into the night.
If you're looking for a city that has it all, then Copenhagen is the perfect destination for you. With its iconic attractions, rich culture, natural beauty, culinary delights, and vibrant nightlife, Copenhagen is sure to leave you with unforgettable memories and unique experiences.
So pack your bags and get ready to discover the charms of this Scandinavian gem. Happy travels!