Helsinki, the gem of the north, has caught your wanderlust, has it? Brace yourself for a journey of pure joy!
This comprehensive guide is your perfect companion, crafted with your unique interests in mind.
Whether you're a foodie seeking the finest local delicacies, a history buff eager to delve into the past, or a roving soul yearning for beauty, Helsinki is a cornucopia of unforgettable moments.
From its celebrated sights to hidden gems, the city is a canvas of diverse experiences waiting to be painted by every kind of traveler.
Get ready to uncover Helsinki's finest with this all-encompassing travelogue.
Curious about the unmissable landmarks? Eager to taste the most mouthwatering local dishes?
Wondering about the best time to visit or the most captivating activities? Look no further! This travelogue is your ultimate answer to all things Helsinki.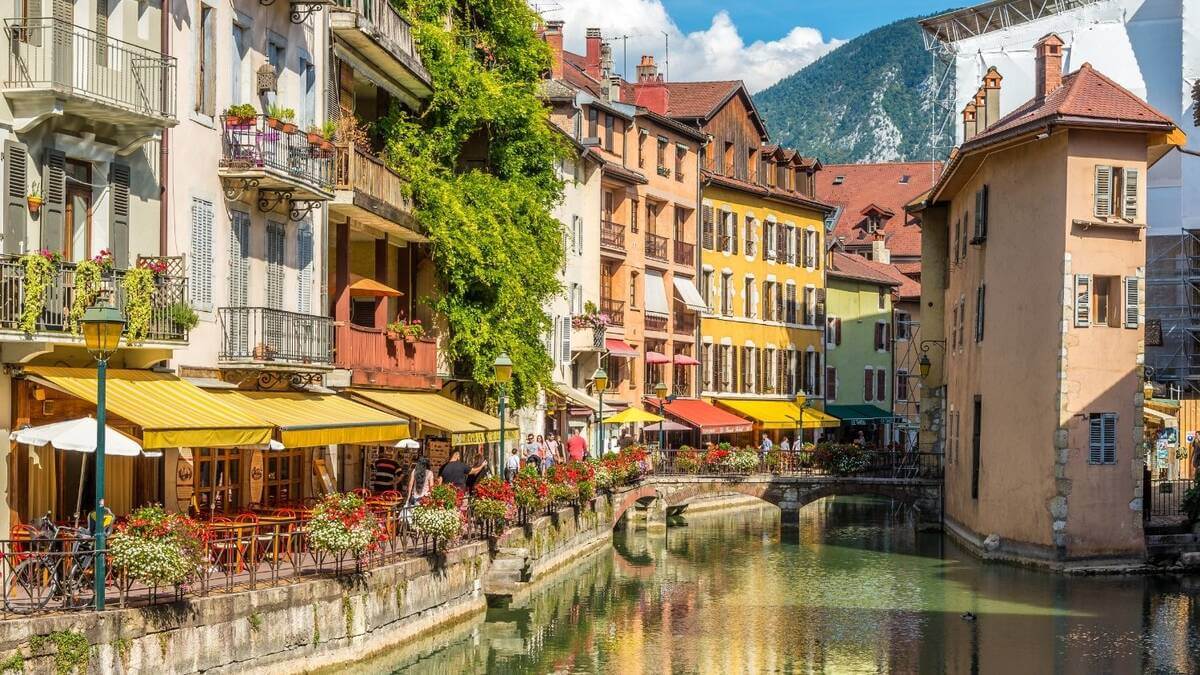 14 Top Reasons to Visit Annecy, France
Table of Contents Show The Medieval Historic Centre of Annecy, France Discover an Idyllic French Town: 14 Top Reasons to Visit Annecy, France 1. Spectacular Views of Lake Annecy 2. Take Part in... Read more.
We'll journey through the city's rich tapestry of history, explore its vibrant districts, and spotlight the must-visit attractions.
Whether you're a Helsinki first-timer or a seasoned globetrotter, this guide is your key to unlocking the best of what Helsinki has to offer.
So, pack your bags and get ready for an unforgettable adventure in the heart of Finland's magical capital!
The Ultimate Traveler's Guide to Helsinki
Helsinki, the vibrant capital of Finland, is a city that offers a unique blend of modern city life and natural beauty.
Whether you're a history enthusiast, outdoor adventurer, or simply looking to explore a new culture, Helsinki has something to offer for everyone.
In this comprehensive traveler's guide, we'll take you through everything you need to know to make the most of your trip to Helsinki.
Getting to Helsinki
From anywhere of the world, there ways to go to Helsinki.
By air
The most convenient way to reach Helsinki is by air. Helsinki-Vantaa Airport, located about 20 kilometers from the city center, is served by numerous international airlines.
Whether you're flying from neighboring European countries or even from other parts of the world, you'll find direct flights to Helsinki.
From the airport, you can easily reach the city center by taxi, public transportation, or by renting a car.
By train
If you prefer a more scenic journey, you can also reach Helsinki by train. Finland has an extensive rail network that connects Helsinki with several European cities. The journey itself is a delightful experience, as you can take in the picturesque countryside views along the way.
By ferry
Another interesting option to reach Helsinki is by ferry. Helsinki is well connected to cities such as Stockholm, Tallinn, and St. Petersburg through ferry services.
Traveling by ferry allows you to enjoy breathtaking views of the sea and the archipelago surrounding Helsinki.
The ferry terminals are conveniently located near the city center, making it easy to access the main attractions.
Transportation within Helsinki
Public transportation
Once you're in Helsinki, getting around the city is a breeze. Helsinki has an excellent public transportation system consisting of buses, trams, metro, and trains.
The network is extensive, and the services are reliable and efficient.
You can purchase a travel card, which allows unlimited travel on all modes of public transportation within a specified time period. This is the most cost-effective way to explore the city.
Taxi services
If you prefer a more convenient and personalized mode of transportation, taxis are readily available throughout the city. Helsinki taxis are known for their reliability and safety.
You can either hail a taxi on the street or book one through taxi apps.
Just be aware that taxis in Helsinki can be quite expensive, so it's a good idea to check the fare before getting in.
Biking and walking
Helsinki is a compact city, and many of its attractions are within walking distance of each other.
Exploring the city on foot allows you to soak in the vibrant atmosphere and discover hidden gems along the way.
Alternatively, you can also rent a bike and explore Helsinki's numerous cycling lanes. The city is bike-friendly, with bike rental stations available throughout the city.
Top Attractions in Helsinki
Helsinki Cathedral
One of the most iconic landmarks in Helsinki is the Helsinki Cathedral. Located in Senate Square, this magnificent neoclassical cathedral is a must-visit for its stunning architecture and panoramic views of the city.
Take a stroll around the square and admire the elegant buildings surrounding the cathedral.
Suomenlinna Fortress
A visit to Helsinki is not complete without exploring Suomenlinna Fortress.
This UNESCO World Heritage Site is located on an island just a short ferry ride away from the city center.
Step back in time as you wander through the fortress walls, visit the museum, and enjoy the breathtaking coastal views.
Temppeliaukio Church
Also known as the Rock Church, Temppeliaukio Church is a unique architectural marvel carved out of solid rock.
The interior of the church is bathed in natural light, thanks to the massive copper dome roof. Attending a concert or simply admiring the serene atmosphere is a must-do experience.
Seurasaari Open-Air Museum
For a glimpse into Finland's rural past, head to Seurasaari Open-Air Museum. This picturesque island museum showcases traditional Finnish wooden buildings from different regions of the country.
Take a leisurely walk through the lush forest trails and learn about Finland's cultural heritage.
Design District
Design lovers will be in heaven in Helsinki's Design District. This vibrant neighborhood is home to a multitude of design studios, boutiques, and galleries.
Explore the unique creations of Finnish designers and find the perfect souvenir to take back home.
Exploring Helsinki's Neighborhoods
Kamppi
Kamppi is the heart of Helsinki's modern city life. This lively neighborhood is known for its shopping centers, trendy restaurants, and vibrant nightclubs.
Take a stroll along the bustling streets, browse through boutiques, and enjoy delicious cuisine from around the world.
Kallio
Kallio is the bohemian district of Helsinki, known for its alternative culture and artistic vibes. Explore the eclectic mix of vintage shops, cozy cafes, and hip bars.
The district also hosts local markets and flea markets, where you can find unique treasures.
Punavuori, also known as the Design District, is a stylish neighborhood filled with design shops, art galleries, and hip cafes.
Discover the latest trends in Finnish design, indulge in gourmet cuisine, and immerse yourself in the trendy atmosphere of this vibrant district.
Etu-Töölö
Etu-Töölö is where you'll find some of Helsinki's most beautiful architecture and green spaces. The district is home to iconic landmarks such as the Finnish Parliament House and the renowned Kiasma Museum of Contemporary Art.
Take a leisurely walk in the lush parks or admire the elegant buildings that line the streets.
Kruununhaka
Kruununhaka is the oldest district in Helsinki, with charming cobblestone streets and historic buildings.
Visit the elegant Senate Square, explore the quaint boutiques, and enjoy a coffee in one of the cozy cafes. This district offers a glimpse into Helsinki's rich history and architectural heritage.
Famous Museums and Galleries
National Museum of Finland
The National Museum of Finland is a treasure trove of Finnish history and culture. Explore the fascinating exhibitions that trace Finland's history from ancient times to the present day.
From archaeological artifacts to modern art, this museum offers a comprehensive insight into the Finnish identity.
Kiasma Museum of Contemporary Art
For modern art enthusiasts, the Kiasma Museum of Contemporary Art is a must-visit. The museum showcases the works of both Finnish and international contemporary artists across various mediums.
Immerse yourself in thought-provoking exhibitions and engage with the ever-evolving art scene.
Ateneum Art Museum
The Ateneum Art Museum houses the largest collection of Finnish art in the country. From classical Finnish paintings to modern masterpieces, the museum's collection spans several centuries.
Admire the works of renowned Finnish artists, such as Akseli Gallen-Kallela and Helene Schjerfbeck.
Design Museum
As a city known for its design heritage, Helsinki is home to the Design Museum. Explore the exhibitions that highlight the evolution of Finnish design through the years.
From furniture to fashion, this museum showcases the iconic designs that have put Finland on the global design map.
Outdoor Activities in Helsinki
Visiting the Market Square
Helsinki's Market Square, also known as Kauppatori, is a vibrant hub of activity. Stroll through the market stalls selling fresh produce, local delicacies, and handicrafts.
Make sure to try the traditional Finnish salmon soup and pick up some unique souvenirs.
Taking a boat tour
With Helsinki's location by the sea and its archipelago, taking a boat tour is a popular activity. Explore the surrounding islands, enjoy the scenic coastal views, and learn about Helsinki's maritime history.
There are various boat tours available, ranging from short rides to full-day excursions.
Enjoying the parks and green spaces
Helsinki is known for its abundant green spaces and well-maintained parks. Take a break from the city's hustle and bustle and relax in one of the many parks.
Popular parks include Esplanadi Park, Kaisaniemi Park, and Kaivopuisto Park. Pack a picnic, rent a bike, or simply enjoy a leisurely walk surrounded by nature.
Swimming in the Baltic Sea
For the adventurous souls, a dip in the Baltic Sea is a must-do activity. Helsinki has several public beaches and swimming areas, where you can cool off during the summer months.
The water might be chilly, but the experience is refreshing and invigorating.
Experiencing Helsinki's Food Scene
Trying Finnish cuisine
No trip to Helsinki is complete without trying the local Finnish cuisine. Indulge in hearty traditional dishes such as reindeer stew, salmon soup, and Karelian pies.
For a unique experience, try dining at a traditional Finnish restaurant that serves authentic dishes prepared with locally sourced ingredients.
Exploring food markets
Helsinki's food markets are a haven for food lovers. Visit the Old Market Hall, a historic indoor market that offers a wide range of Finnish delicacies.
Sample local cheeses, smoked fish, and artisanal chocolates. The market halls are also great places to buy fresh produce and local ingredients.
Dining at local restaurants
Helsinki boasts a vibrant restaurant scene that caters to all tastes and budgets. From fine dining establishments to trendy street food stalls, you'll find a variety of options to satisfy your culinary cravings.
Make sure to try the catch of the day at a seafood restaurant or sample Scandinavian fusion cuisine.
Enjoying traditional Finnish pastries
Finnish pastries are a delight for those with a sweet tooth. Try traditional favorites such as cinnamon buns, cardamom rolls, and berry-filled pastries.
Visit a local bakery, grab a coffee, and enjoy these delicious treats like the locals do.
Shopping in Helsinki
Market Square
Market Square in Helsinki is not only a food lover's paradise but also a great place to shop for souvenirs.
Browse through the stalls selling traditional Finnish handicrafts, clothing, and accessories. Pick up some reindeer leather products, woolen goods, or Finnish design items to take back home.
Stockmann Department Store
For a more extensive shopping experience, head to Stockmann Department Store. This iconic Finnish department store offers a wide range of products, from high-end fashion to home goods.
Explore the various floors and discover both international and Finnish brands.
Flea markets
Helsinki has a thriving flea market scene, where you can find unique vintage treasures and second-hand items.
Hakaniemi Market Hall and Hietalahti Market Square are popular flea market destinations. Whether you're looking for clothing, antiques, or quirky knick-knacks, these flea markets are worth a visit.
Design shops
Helsinki's Design District is a treasure trove of design shops and boutiques. From modern home decor to fashion accessories, you'll find Finnish design at its finest.
Explore the narrow streets and uncover hidden gems that showcase the creativity and craftsmanship of Finnish designers.
Nightlife in Helsinki
Bars and pubs
Helsinki's nightlife scene offers something for everyone. From cozy pubs serving local craft beer to stylish cocktail bars, you'll find a variety of options to suit your preferences.
The Kallio district is known for its vibrant bar scene, with numerous bars and pubs catering to different tastes.
Nightclubs
If you're in the mood for dancing, Helsinki has a vibrant nightclub scene. The city offers a range of clubs playing different genres of music, from electronic to hip-hop.
Experience the lively atmosphere, dance the night away, and discover the local music scene.
Live music venues
Helsinki is a city that appreciates live music, with numerous venues hosting performances by local and international artists.
From intimate jazz clubs to larger concert halls, you'll find a diverse range of musical events happening throughout the city. Catch a live performance and immerse yourself in Helsinki's vibrant music scene.
Conclusion: Be Amazed in Helsinki
A trip to Helsinki is an unforgettable experience. The city's unique blend of culture, history, and natural beauty will captivate you from the moment you arrive.
From iconic landmarks to vibrant neighborhoods, Helsinki offers a wealth of attractions to explore.
Immerse yourself in Finnish art and design, indulge in delicious cuisine, and discover the city's lively nightlife.
Whether you're a history buff, nature lover, or simply seeking a new adventure, Helsinki has something for everyone. Get ready to embark on an incredible journey through this Nordic gem.