San Francisco is on your travel horizon, is it? You're in for a treat, as I've curated the ultimate guide to this pulsating, multicultural metropolis just for you!
In this feature, we'll delve into the heart of this dynamic city, exploring everything from its iconic structures like the Golden Gate Bridge to the culinary delights tucked away in its lively neighborhoods.
San Francisco is a city that caters to all – history aficionados, art lovers, or those simply seeking to discover uncharted territories.
This guide is your passport to an all-encompassing San Francisco experience. So, fasten your seatbelts and prepare for a memorable journey in the City by the Bay!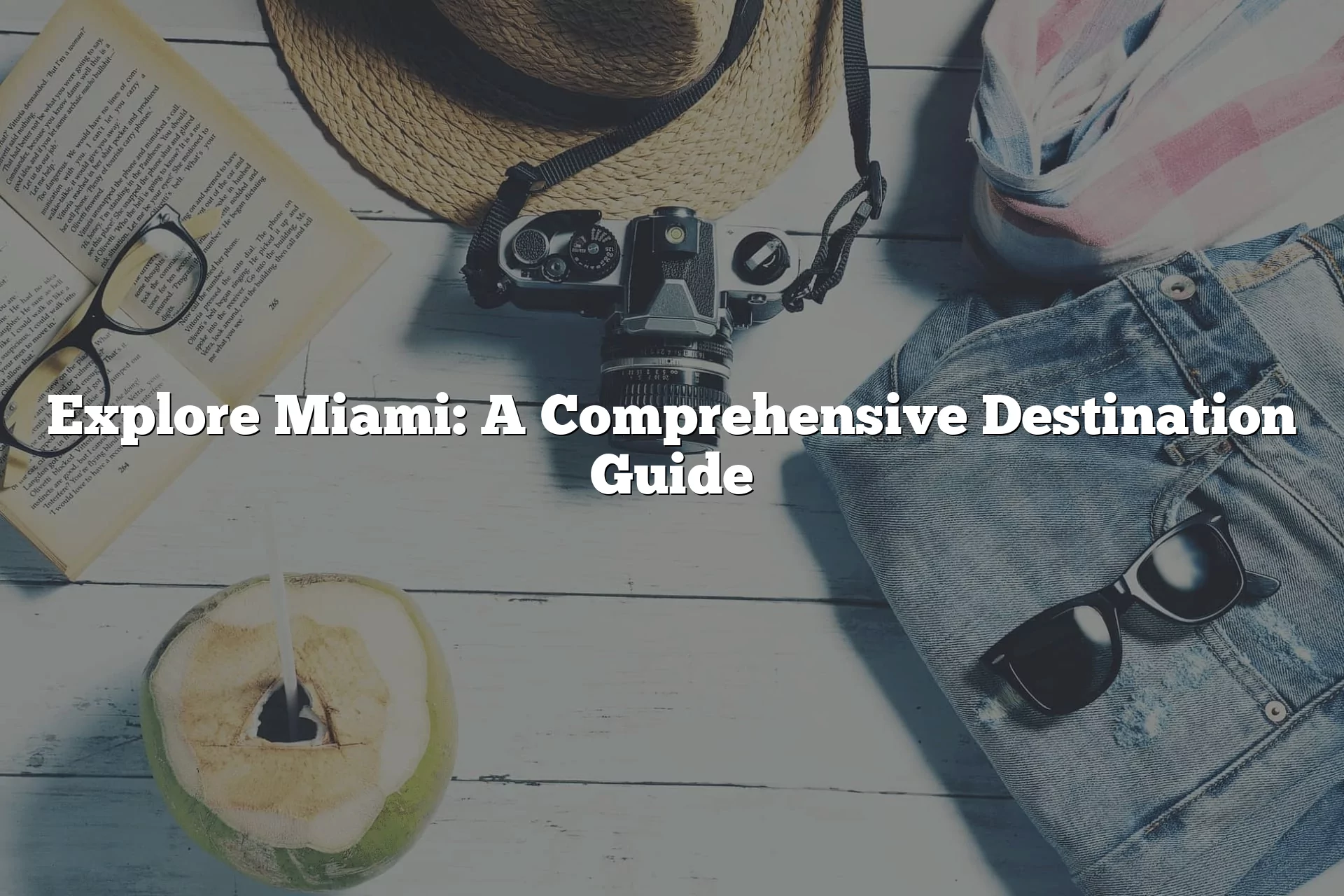 Explore Miami: A Comprehensive Destination Guide
Table of Contents Show Explore Miami: A Comprehensive Destination Guide Location and Geography Climate and Weather History and Culture Getting to Miami By Air By Road By Sea Accommodation in Miami... Read more.
If you're eager to uncover the myriad offerings of San Francisco, you've landed in the right spot. This all-inclusive guide will lead you through the city's must-see sights, hidden treasures, and local hotspots that contribute to its unique allure.
We'll journey through the city's diverse districts, each radiating its own distinctive vibe and appeal. And naturally, we'll share insider tips on where to hunt down the finest food, most aromatic coffee, and tantalizing cocktails in the city.
Whether you're a San Francisco newbie or a well-traveled veteran seeking fresh experiences, this guide is your roadmap to maximizing your San Francisco adventure.
Stay tuned and gear up to unearth the marvels of San Francisco!
San Francisco Geography
San Francisco is a city in California, United States, located on a peninsula between the Pacific Ocean and San Francisco Bay.
The city has a unique geography, with steep hills, fog, and a mild Mediterranean climate.
Overview of San Francisco's location
San Francisco is a vibrant city located on the tip of a peninsula in Northern California. It is surrounded by the Pacific Ocean to the west, the San Francisco Bay to the east, and the Golden Gate Strait to the north. Its unique location makes it a popular destination for tourists and residents alike.
Geographic features
The city is located on a peninsula, which means that it is surrounded by water on three sides. The Pacific Ocean is to the west, San Francisco Bay is to the east, and the Golden Gate strait is to the north.
The city has more than 50 hills, which give it a distinctive skyline. Some of the most famous hills include Twin Peaks, Nob Hill, and Telegraph Hill.
The city is also home to several islands, including Alcatraz Island, Treasure Island, and Angel Island.
The San Andreas fault runs through the city, which means that there is a risk of earthquakes.
San Francisco's topography
The topography of San Francisco is characterized by its steep hills and stunning views. The city is built on more than 40 hills, with some of the most famous ones being Nob Hill, Telegraph Hill, and Russian Hill.
These hills not only provide scenic vistas, but they also add character to the city's neighborhoods.
San Francisco is known for its iconic streets, such as Lombard Street, often called the "crookedest street in the world."
Geographic features that make San Francisco unique
The city's location on a peninsula between the Pacific Ocean and San Francisco Bay gives it a unique maritime character.
The city's steep hills make for a dramatic skyline and challenging terrain for traversing.
The city's fog, which is caused by the meeting of warm and cold air currents, gives it a distinctive atmosphere.
The city's mild Mediterranean climate makes it a popular destination for people who want to escape the cold winters of other parts of the country.
Climate of San Francisco
San Francisco experiences a unique microclimate due to its proximity to the ocean. The city is known for its cool summers, foggy mornings, and mild winters.
The average temperature ranges from 50 to 70 degrees Fahrenheit throughout the year. The fog, affectionately called "Karl" by locals, rolls in from the ocean, providing a mystical atmosphere to the city.
San Francisco has a mild Mediterranean climate, with warm, dry summers and cool, wet winters.
The average temperature in July is 70 degrees Fahrenheit, and the average temperature in January is 50 degrees Fahrenheit.
The city gets an average of 24 inches of rain per year, most of which falls during the winter months.
It is essential to dress in layers when exploring San Francisco, as the weather can change quickly.
Historical Background: Early history of San Francisco
San Francisco has a rich history that dates back thousands of years. Before the arrival of European settlers, the area was inhabited by the Ohlone people.
The Spanish established a mission called Mission San Francisco de Asís in 1776, which served as the foundation for the city we know today.
Gold Rush and the birth of the city
In 1848, gold was discovered in California, setting off the famous Gold Rush. San Francisco quickly became a booming city, attracting fortune seekers from all over the world.
During this time, the city's population grew rapidly, and new neighborhoods and buildings were constructed.
Significant events in San Francisco's history
Throughout its history, San Francisco has been the site of numerous significant events. The devastating 1906 earthquake and subsequent fire destroyed much of the city, leading to widespread rebuilding efforts.
The city's role in the counterculture movement of the 1960s, with the famous Summer of Love in 1967, further solidified its reputation as a hub of innovation and progressive thinking.
Top Attractions
Iconic landmarks in San Francisco
San Francisco is home to several iconic landmarks that are must-see attractions for any visitor. The Golden Gate Bridge, with its vibrant orange color, is a symbol of the city and offers breathtaking views of the bay.
Another famous landmark is Alcatraz Island, known for its former high-security prison and historical significance.
Other notable landmarks include the Transamerica Pyramid, Coit Tower, and the Palace of Fine Arts.
Exploring the Golden Gate Bridge
The Golden Gate Bridge is one of the most famous and recognizable bridges in the world. Whether you choose to walk, bike, or drive across it, the experience is truly unforgettable.
From the bridge, you can admire panoramic views of the city skyline, the bay, and the Pacific Ocean. Don't forget to take a picture or two to capture the moment!
Alcatraz Island: A historic prison
Alcatraz Island, located in the middle of the bay, was once home to a high-security federal prison.
The prison housed some of America's most notorious criminals, including Al Capone and Robert Stroud, the "Birdman of Alcatraz."
Today, Alcatraz is a popular tourist attraction, offering visitors the chance to explore the prison cells, learn about its fascinating history, and enjoy stunning views of the city.
The vibrant Fisherman's Wharf
Fisherman's Wharf is a lively neighborhood filled with seafood restaurants, souvenir shops, and entertainment options.
It is also the home of Pier 39, a popular tourist destination known for its shops, restaurants, and sea lions.
Stroll along the wharf, indulge in a bowl of clam chowder, and enjoy the vibrant atmosphere of this iconic San Francisco neighborhood.
The historic cable cars of San Francisco
No trip to San Francisco is complete without a ride on one of its historic cable cars. These iconic vehicles have been transporting passengers up and down the city's steep hills since the late 19th century.
Hop on a cable car and experience a one-of-a-kind journey through the city's scenic streets. Be sure to hold on tight as the cars climb the steep inclines!
Pier 39: Entertainment and sea lions
Pier 39 is a bustling waterfront shopping and entertainment complex located in the Fisherman's Wharf neighborhood.
One of its biggest attractions is the presence of sea lions, who have made the docks their permanent home.
Visitors can watch these playful creatures bask in the sun, bark, and interact with each other. Pier 39 also offers a wide range of restaurants, shops, and entertainment options, making it a top destination for tourists.
Neighborhoods Around San Francisco
Charming neighborhoods to discover
San Francisco is known for its diverse and dynamic neighborhoods, each with its own unique charm and character.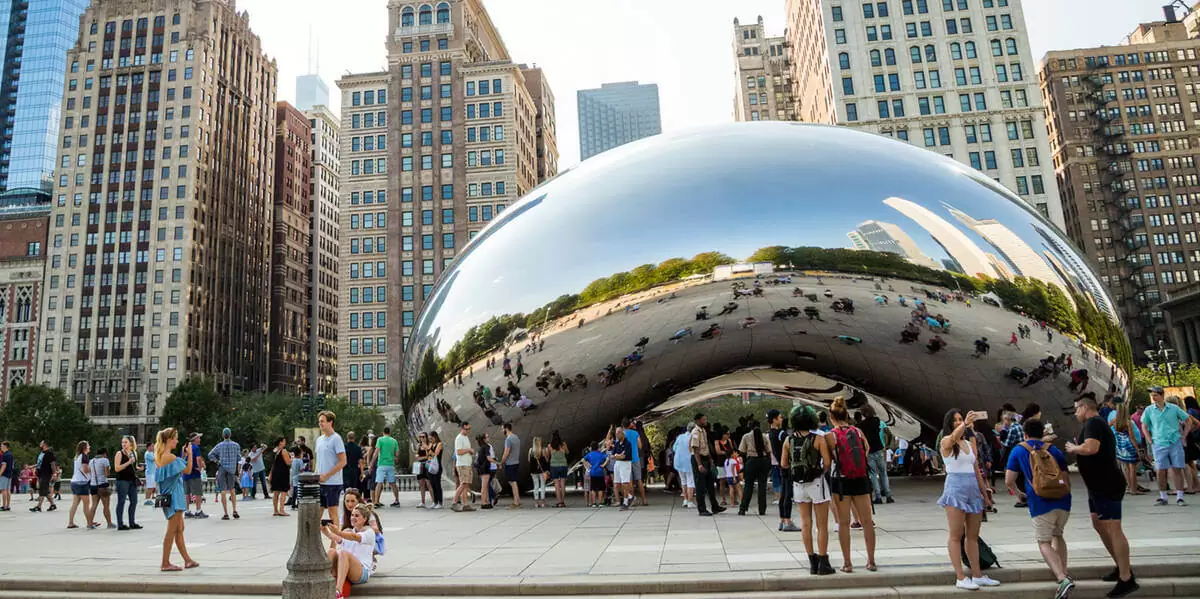 The Fascinating History of the Chicago Bean
Table of Contents Show The Fascinating History of the Chicago Bean The Original Purpose of the Chicago Bean How the Chicago Bean Became a Global Icon Wrapping Up Most Asked Questions About Nashville... Read more.
From the colorful streets of the Mission District to the historic Victorian houses of Haight-Ashbury, there is something for everyone to explore.
Exploring the artistic vibe of the Mission District
The Mission District is an eclectic neighborhood known for its vibrant street art, trendy boutiques, and diverse dining options.
Take a stroll along Valencia Street and admire the colorful murals that adorn the buildings.
Explore the neighborhood's trendy shops and indulge in the delicious food scene, which includes taquerias, upscale restaurants, and artisanal bakeries.
The picturesque Victorian houses of Haight-Ashbury
Haight-Ashbury is famous for its role in the counterculture movement of the 1960s and its iconic Victorian houses. Known as the "Summer of Love" neighborhood, it still retains a bohemian vibe today.
Take a walk down Haight Street and explore the vintage shops, independent boutiques, and alternative art galleries.
This neighborhood is a must-visit for those seeking a taste of San Francisco's hippie past.
Historic charm of North Beach
North Beach, also known as San Francisco's Little Italy, is a charming neighborhood filled with Italian restaurants, cafes, and bakeries.
Take a leisurely stroll along Columbus Avenue and savor a cappuccino at one of the many sidewalk cafes.
The neighborhood is also home to Washington Square Park, where locals gather to relax and enjoy the sunshine. Be sure to visit the City Lights Bookstore, a famous literary landmark.
The multicultural atmosphere of Chinatown
San Francisco's Chinatown is the oldest and one of the largest Chinatowns in North America. This vibrant neighborhood is filled with narrow streets, colorful shops, and traditional Chinese eateries.
Exploring Chinatown feels like stepping into a different world, with its elaborate pagodas, dim sum restaurants, and herbal shops.
Take a stroll along Grant Avenue and Stockton Street to experience the sights, sounds, and flavors of this unique neighborhood.
Museums and Galleries
The diverse art scene of San Francisco
San Francisco is known for its thriving art scene, with numerous galleries and museums showcasing a wide range of artistic styles and cultural influences.
From contemporary art to ancient artifacts, there is something for every art lover to discover.
Exploring the renowned SFMOMA
The San Francisco Museum of Modern Art (SFMOMA) is a world-class museum that houses an extensive collection of contemporary and modern art.
Explore the stunning galleries and admire works by renowned artists such as Frida Kahlo, Jackson Pollock, and Andy Warhol.
SFMOMA also hosts rotating exhibitions, lectures, and educational programs, making it a must-visit for art enthusiasts.
The fascinating de Young Museum
The de Young Museum is situated in Golden Gate Park and is renowned for its diverse collection of American art from the 17th through the 21st centuries.
The museum's building itself is a work of art, with its intricate architecture and striking copper facade.
Inside, you can admire paintings, sculptures, photography, and textiles from various periods in American history.
Ancient artifacts at the Asian Art Museum
The Asian Art Museum is one of the most comprehensive collections of Asian art in the world. Located near Civic Center Plaza, the museum showcases artifacts from over 6,000 years of Asian history and culture.
Explore the galleries and marvel at the intricate sculptures, delicate ceramics, and vibrant textiles from China, Japan, India, and other Asian countries.
Contemporary art at the Museum of the African Diaspora
The Museum of the African Diaspora (MoAD) celebrates the art, culture, and heritage of the African Diaspora.
Located in the heart of San Francisco's Yerba Buena neighborhood, MoAD features contemporary art exhibitions, performances, and educational programs.
Discover the diverse voices and perspectives of artists from Africa, the Caribbean, and the Americas in this thought-provoking museum.
Cuisine
San Francisco's culinary delights
San Francisco is a food lover's paradise, with a vibrant culinary scene that reflects the city's diverse culture and international influences.
From trendy restaurants to street food vendors, you'll find a wide range of delicious options to satisfy your taste buds.
Exploring the flavors of Chinatown
Chinatown is not only a cultural hotspot but also a food lover's mecca. Indulge in mouthwatering dim sum, crispy Peking duck, and delicate dumplings at one of the neighborhood's many restaurants.
Don't forget to try the famous fortune cookies, which were invented in San Francisco's Chinatown!
Seafood specialties at Fisherman's Wharf
As a city surrounded by water, San Francisco is known for its fresh seafood. Fisherman's Wharf is the perfect place to sample some of the city's seafood specialties.
Enjoy a bowl of clam chowder served in a sourdough bread bowl or savor a plate of Dungeness crab. The local seafood is always fresh and flavorful.
Farmers markets and fresh produce
San Francisco is a haven for foodies who appreciate fresh, organic produce. The city boasts several farmers markets where you can find a wide variety of seasonal fruits, vegetables, and artisanal products.
The Ferry Building Marketplace hosts a popular farmers market on Saturdays, attracting both locals and visitors.
Food trucks and diverse street food
San Francisco is known for its diverse and thriving food truck scene. Whether you're craving tacos, Korean barbecue, or gourmet burgers, you're sure to find a food truck that satisfies your cravings.
Visit Off the Grid, a popular gathering of food trucks that takes place at various locations throughout the city, to sample an array of delicious street food.
Outdoor Activities You Can Try
Exploring Golden Gate Park
Golden Gate Park is a vast urban oasis that offers a wide range of outdoor activities and attractions.
Take a leisurely stroll through the park's beautiful gardens, visit the Japanese Tea Garden, or rent a paddleboat and explore Stow Lake.
The park also features miles of trails for jogging, biking, and rollerblading, as well as numerous picnic spots where you can unwind and enjoy the stunning natural surroundings.
Hiking and nature trails in San Francisco
San Francisco is surrounded by natural beauty, and there are several hiking and nature trails within the city that allow you to escape the hustle and bustle.
Explore the trails of Lands End and enjoy breathtaking views of the Pacific Ocean and the Golden Gate Bridge.
For a more challenging hike, head to Mount Sutro and traverse the trails through eucalyptus groves to reach the summit.
Sailing and water activities in the bay
With its proximity to the bay and the Pacific Ocean, San Francisco offers numerous opportunities for water activities.
Rent a sailboat and explore the bay, or try your hand at windsurfing or paddleboarding. If you're feeling adventurous, sign up for a sailing lesson or a guided kayak tour to discover the city's stunning coastline from a different perspective.
Biking across the iconic bridges
San Francisco is a bike-friendly city with plenty of bike lanes and scenic routes. One of the most popular biking adventures is crossing the Golden Gate Bridge.
Rent a bike and pedal across this iconic bridge, taking in the breathtaking views of the city skyline, the bay, and the Pacific Ocean.
For a longer ride, continue on to Sausalito and take the ferry back to San Francisco.
Picnic spots with stunning views
San Francisco offers several picturesque picnic spots where you can relax and enjoy the city's stunning views.
Dolores Park, located in the Mission District, is a popular spot for picnicking and people-watching.
The Presidio, located near the Golden Gate Bridge, offers a tranquil setting with beautiful views of the bay. Pack a picnic basket, grab a blanket, and savor the beauty of San Francisco.
Shopping Venues
Luxury shopping in Union Square
Union Square is the heart of San Francisco's shopping district, offering a mix of high-end luxury brands, department stores, and boutique shops.
Explore the flagship stores of famous fashion labels and discover the latest trends in clothing, accessories, and cosmetics.
Union Square also features several art galleries and theaters, making it a vibrant and lively destination for both shopping and entertainment.
Exploring the unique boutiques of Hayes Valley
Hayes Valley is a trendy and upscale neighborhood known for its unique boutiques and designer shops.
Discover fashion-forward clothing, handmade jewelry, and eclectic home decor as you wander through the neighborhood's pedestrian-friendly streets.
Hayes Valley is also home to several art galleries and cafes, providing a perfect blend of shopping, culture, and culinary delights.
Vintage treasures at Haight Street
Haight Street in the Haight-Ashbury neighborhood is famous for its vintage clothing stores, record shops, and bohemian vibe.
Explore the colorful stores and unearth unique treasures from past decades.
Whether you're searching for vintage clothing, vinyl records, or quirky accessories, Haight Street is a paradise for lovers of all things retro.
Antiques and collectibles in the Mission District
The Mission District is a hidden gem for antique and vintage enthusiasts. Browse through the neighborhood's antique shops and discover one-of-a-kind furniture, artwork, and collectibles.
If you're a fan of unique and eclectic home decor, the Mission District is the perfect place to find that special piece that adds character to your space.
Nightlife
San Francisco's vibrant nightlife scene
San Francisco offers a vibrant and diverse nightlife scene, with numerous bars, lounges, clubs, and live music venues.
Whether you're looking for a cozy speakeasy, a rooftop bar with stunning views, or a high-energy dance club, there is something for everyone.
Bars and lounges with stunning views
San Francisco is renowned for its skyline and stunning views, and many bars and lounges take advantage of these scenic vistas.
The View Lounge, located on the 39th floor of the Marriott Marquis, offers panoramic views of the city skyline.
The Top of the Mark, situated on the top floor of the InterContinental Mark Hopkins hotel, provides breathtaking views of the city and the bay.
Live music venues for all tastes
San Francisco has a thriving live music scene, with venues that cater to a wide range of musical tastes. From small, intimate clubs to larger concert halls, you can find live music performances every night of the week.
The Fillmore is a legendary venue that has hosted iconic musicians such as Jimi Hendrix and Janis Joplin.
The Great American Music Hall is another historic venue known for its unique decor and top-notch performances.
Dance clubs and late-night entertainment
If you're in the mood for dancing and late-night entertainment, San Francisco has plenty of options. The city's nightlife district, SoMa (South of Market), is home to numerous clubs and dance venues.
Whether you enjoy electronic music, hip-hop, or Latin beats, you'll find a club that caters to your musical preferences.
Join the energetic crowd, dance the night away, and experience the vibrant energy of San Francisco's nightlife.
Unique experiences at speakeasies
San Francisco has a long history of speakeasies, hidden bars that originated during the Prohibition era.
These secret establishments have made a comeback, offering a unique and nostalgic experience for visitors.
From hidden entrances to craft cocktails, speakeasies provide an intriguing glimpse into San Francisco's past while offering a sophisticated and intimate setting.
Conclusion: Pack Your Back and Explore San Francisco
San Francisco is a destination that offers a blend of natural beauty, rich history, vibrant culture, and culinary delights.
From iconic landmarks such as the Golden Gate Bridge and Alcatraz to the colorful neighborhoods and thriving arts scene, there is something for everyone to enjoy.
As you explore San Francisco, be sure to immerse yourself in the city's rich history, sample its diverse culinary scene, and discover its unique neighborhoods.
From the bustling streets of Chinatown to the vibrant murals of the Mission District, each corner of the city has its own story to tell. Embrace the laid-back vibe of the city, be open to new experiences, and let yourself be swept away by the charm and beauty of San Francisco.
A visit to San Francisco is more than just a trip; it's an experience that will leave a lasting impression.
Whether you're a first-time visitor or a seasoned traveler, the city's unique blend of natural and cultural attractions is sure to captivate you.
So pack your bags, hit the streets, and embark on an unforgettable journey through the City by the Bay. Don't forget your camera – San Francisco's picturesque sights are worth capturing and sharing with the world!