Dubai Travel Guide
– Are you currently in the process of organizing a journey to Dubai? You are about to experience a delightful surprise.
Our complete Dubai travel guide has everything you need to make your vacation to this dynamic city unforgettable.
Dubai offers everything—beautiful architecture, world-class shopping, delicious food, and thrilling desert excursions.
Dubai has something for everyone—luxury, adventure, and culture. So saddle up and prepare to conquer this stunning city!
What awaits you in Dubai? Stop looking elsewhere! Our guide covers prominent sites, must-see neighborhoods, and local suggestions.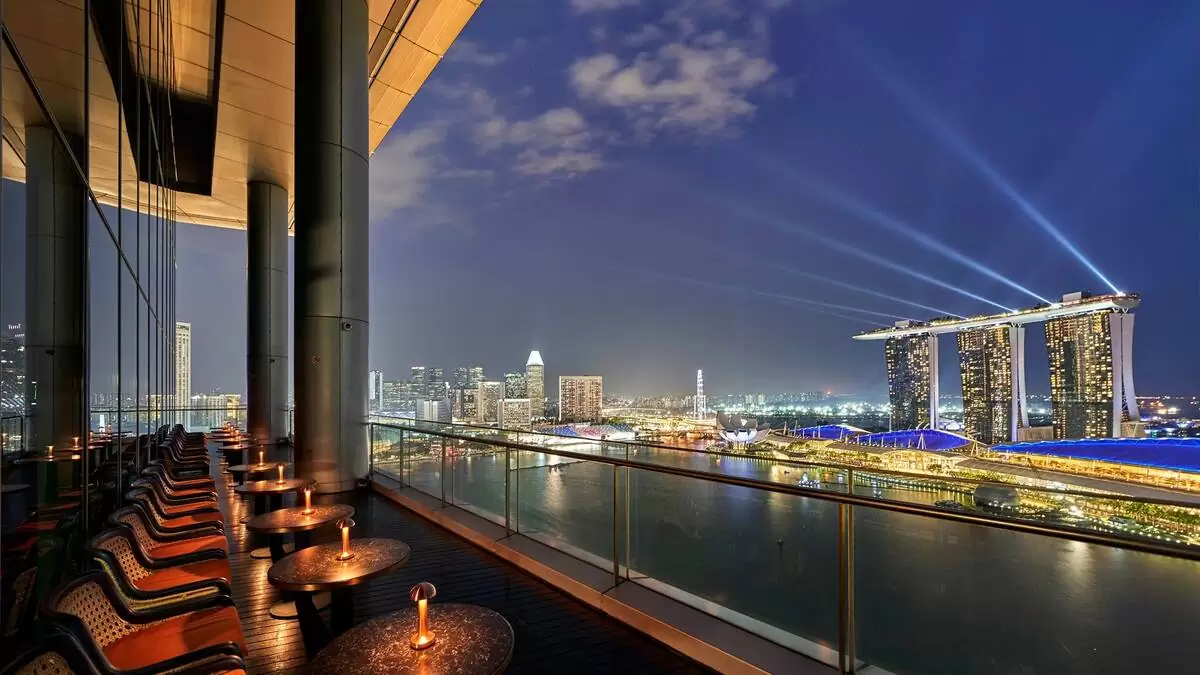 15 Best Restaurants in Singapore: From Fine Dining to Budget-friendly Eats
Table of Contents Show The Best Places to Eat in Singapore 10 Best Restaurants in Singapore for Fine Dining 5 Best Restaurants in Singapore for Fine Dining 1. Odette 2. Waku Ghin 3. Nouri 4. Cure 5.... Read more.
The Burj Khalifa, Palm Jumeirah, and local secrets will be revealed. Want to shop at the world's largest mall or go desert dune bashing? You're covered.
Sit back, relax, and let us take you on a magical tour of Dubai.
Unlock the Wonders of Dubai: Your Complete Travel Handbook



Dubai is an incredible city that provides a one-of-a-kind blend of luxury, culture, and adventure.

Whether you want to explore towering buildings, engage in world-class shopping, or immerse yourself in the rich Arabic culture, Dubai has plenty for anyone.

In this comprehensive Dubai travel guide, we will take you on a journey through the geography, attractions, activities, cuisine, and transportation options that Dubai has to offer.
Geography and Climate

Tucked away on the Arabian Peninsula in the bustling Middle East, Dubai is nestled on the southeastern coastline of the Persian Gulf, staking its claim as the largest city in the United Arab Emirates (UAE).

Now, don't go thinking it's all vast expanses, though. With an area covering just around 1,588 square miles, it's a bit of a pocket rocket in terms of land size.

But, don't let its compact size fool you! This city is like a Pandora's box, jam-packed with an endless treasure trove of attractions and experiences waiting to be explored. Dubai's got more than just a few aces up its sleeve!

One thing to note – Dubai serves up a healthy dose of heat! With a climate that's as dry as a bone, you can expect sweltering summers that often tip the scales at a toasty 104°F (40°C).


A visit during these months means you'll want to drink like a fish and slather on sun protection to keep from frying like an egg under that relentless sun.
On the flip side, winter in Dubai is a whole different ball game.
Picture perfect days ranging from a mild 64°F (18°C) to a balmy 86°F (30°C), making it an idyllic time to play tourist and explore the city. So, folks, pack your bags and let's dive headfirst into the wonders of Dubai!
Getting to Dubai



Embarking on an adventure to Dubai? We've got you covered! Navigating your way to this gleaming jewel in the United Arab Emirates is a breeze with our handy guide.

From flights to visas, let's unpack the essentials of getting to Dubai, your gateway to an unforgettable vacation.
Air Travel

Dubai International Airport (DXB), one of the busiest airports in the world, serves the city.

It is well-connected to major cities worldwide, with multiple airlines providing direct flights to Dubai. When you arrive at the airport, you can take a cab, metro, or bus to the city center.
Road Travel

If you want to travel to Dubai, there is a network of motorways connecting it to other emirates in the UAE and other countries.

Dubai's roadways are well-kept, and driving in the city is quite simple. Keep in mind, though, that Dubai's traffic can be crowded at peak hours.
Sea Travel

Dubai is also a popular cruise destination, with several cruise lines including a stop in the city on their itineraries.

If you arrive by boat in Dubai, you will dock at the Dubai Cruise Terminal, which is conveniently positioned in the city center.
Accommodation



Dubai offers a wide range of accommodation options to suit every budget and preference. From luxurious hotels to cozy vacation rentals, you will find the perfect place to stay during your visit.
Luxury Hotels

If you are looking for a lavish experience, Dubai is home to some of the world's most luxurious hotels.

From the iconic Burj Al Arab, known as the world's only seven-star hotel, to the Atlantis, The Palm, which is located on the stunning Palm Jumeirah island, these hotels offer unparalleled luxury and indulgence.
Budget Hotels

For travelers on a budget, Dubai also has a variety of budget-friendly hotels and guesthouses.

These accommodations provide comfortable rooms and convenient amenities at an affordable price, allowing you to save money while still enjoying your stay in Dubai.
Vacation Rentals

If you prefer a more home-like experience, consider booking a vacation rental in Dubai. There are numerous options available, ranging from apartments to villas, many of which offer stunning views of the city's skyline or the Arabian Gulf.

Vacation rentals are a great choice for families or larger groups, as they usually provide more space and privacy than traditional hotel rooms.
Dubai Attractions

Dubai is known for its iconic landmarks, modern architecture, and unique attractions. Here are some must-visit attractions in Dubai:
Burj Khalifa

No visit to Dubai is complete without a trip to the Burj Khalifa. Standing at a towering height of 2,722 feet (829.8 meters), the Burj Khalifa is the tallest building in the world.

Take an elevator ride to the observation deck on the 148th floor, where you can enjoy breathtaking views of the city and beyond.
The Dubai Mall

Adjacent to the Burj Khalifa is The Dubai Mall, one of the largest shopping malls in the world. With over 1,200 retail outlets, including high-end fashion brands and international retailers,

The Dubai Mall offers a shopper's paradise. Don't forget to explore its entertainment offerings, such as the Dubai Aquarium and Underwater Zoo or the famous Dubai Fountain show, which takes place on the mall's waterfront promenade.
Palm Jumeirah

Shaped like a palm tree, Palm Jumeirah is an artificial island that stretches out into the Arabian Gulf.

It is home to luxurious resorts, such as Atlantis, The Palm, and offers a stunning coastline with pristine beaches.

Take a walk along the Palm Jumeirah Boardwalk or indulge in water sports activities such as jet skiing or paddleboarding.
Activities and Entertainment

Dubai offers a multitude of activities and entertainment options that cater to all tastes and preferences. Here are some popular choices:
Desert Safaris

Embark on a thrilling desert safari and experience the beauty of Dubai's vast sand dunes. Take a ride on a 4×4 vehicle through the desert, try sandboarding, or enjoy a mesmerizing sunset over the dunes.

You can also indulge in a traditional Bedouin-style dinner and live entertainment, including belly dancing and henna painting.
Water Parks

Escape the heat and have a splashing good time at one of Dubai's water parks. Aquaventure Waterpark, located at Atlantis, The Palm, offers thrilling water slides and a unique aquarium experience.

Wild Wadi Waterpark, situated in front of the iconic Burj Al Arab, is another popular choice, featuring adrenaline-pumping rides and wave pools.
Shopping

Dubai is a shopper's paradise, with a multitude of shopping options. From traditional souks to modern malls, you are sure to find whatever you're looking for.

Explore the traditional souks, such as the Gold Souk and the Spice Souk, where you can haggle for unique jewelry, spices, and traditional Arabian goods.

If you prefer a more modern shopping experience, head to the Dubai Mall or Mall of the Emirates, which offer a wide range of international brands and designer boutiques.
Cultural Experiences

While Dubai is known for its modernity, it also offers a wealth of cultural experiences that allow you to immerse yourself in the local traditions and heritage. Here are some cultural highlights:
Dubai Museum

Located in the historic Al Fahidi Fort, the Dubai Museum offers a glimpse into the city's past. Explore the exhibits that showcase traditional Emirati life, ancient artifacts, and archaeological findings.

The museum provides a fascinating insight into Dubai's transformation from a small fishing village to a global metropolis.
Jumeirah Mosque

Visit the beautiful Jumeirah Mosque, one of the most significant landmarks in Dubai. This stunning mosque is open to non-Muslim visitors and offers guided tours that provide an in-depth understanding of Islamic culture and traditions.
Cultural Tours

Take a cultural tour of Dubai to explore its diverse neighborhoods and learn about the city's heritage.

From the vibrant Al Fahidi Historic District to the picturesque Bastakiya Quarter, these tours offer a deeper understanding of Dubai's local culture, art, and architecture.
Cuisine and Dining

Dubai is a melting pot of cuisines, offering a wide range of culinary delights that will satisfy every palate. Here are some dining options to consider:
Local Delicacies

Indulge in traditional Emirati cuisine and savor flavors such as lamb machbous, a spiced rice dish, or harees, a creamy wheat and meat dish. You can also try local delicacies such as camel meat, which is available in select restaurants.
Fine Dining

Dubai is a haven for food enthusiasts, with numerous fine dining restaurants helmed by renowned chefs.

From Michelin-starred establishments to celebrity chef-owned restaurants, you can indulge in gourmet cuisine from around the world.
Street Food

For a more casual dining experience, explore Dubai's street food scene. Head to the city's vibrant food markets, known as souks, and sample delicious treats such as shawarmas, falafels, and kunafa, a traditional Middle Eastern dessert.
Shopping in Dubai

Dubai is famous for its shopping, offering a wide range of retail therapy options to suit every taste. Here are some shopping highlights:
Traditional Souks

Experience the authentic charm of Dubai's traditional markets, known as souks. The Gold Souk is a bustling market where you can find exquisite gold jewelry, while the Spice Souk offers a sensory experience with its aromatic spices and herbs. Don't forget to haggle for the best prices!
Mall Shopping

Dubai is home to numerous world-class shopping malls that offer an unparalleled shopping experience.

From the luxurious Mall of the Emirates to the elegant Dubai Mall, you can find everything from high-end fashion brands to electronics and homeware.
Gold and Spice Souks

If you are looking for a unique shopping experience, head to the Gold and Spice Souks in Deira. In these vibrant markets, you will find an array of gold and precious gems, as well as a variety of aromatic spices.

Exploring these souks is an exciting way to immerse yourself in the local culture and discover hidden treasures.
Transportation in Dubai



Dubai's transportation system is efficient and well-developed, making it easy to get around the city. Here are some transportation options:
Metro and Public Buses

Dubai has a modern and extensive metro system that connects major attractions and neighborhoods.

The Dubai Metro is clean, reliable, and offers a cost-effective way to travel around the city. If you prefer buses, Dubai's public bus network covers most areas, providing an affordable mode of transportation.
Taxis and Ride-Sharing

Taxis are readily available in Dubai and are a convenient way to get around, especially if you prefer door-to-door service.

You can easily hail a taxi on the street or book one through a taxi app. Ride-sharing services such as Uber and Careem are also popular and provide an alternative to taxis.
From Skyscrapers to Sandy Dunes: Your Ultimate Dubai Travel Guide

Dubai, pals, is an out-of-this-world destination, boasting a smorgasbord of experiences to tickle any traveler's fancy. You're in for a treat, whether you're itching to gawk at architectural marvels, splurge on posh shopping sprees, or dive headfirst into the local culture.

From the sky-kissing Burj Khalifa to the lively, scent-filled souks, each nook and cranny of this city is a treasure trove of wonders.

So, what are you waiting for? Stuff your suitcase and buckle up for an unforgettable Dubai escapade, where a blend of luxury, thrill, and warm Arabian hospitality is ready to roll out the red carpet for you. Hold on to your hats, folks, because Dubai is all set to blow your socks off!