Welcome to Geneva, a city that effortlessly combines cosmopolitan flair with a rich historical tapestry.
Nestled on the shores of Lake Geneva and surrounded by the majestic Alps, this Swiss gem is a hub of international diplomacy, innovation, and cultural diversity.
In this comprehensive guide, we'll take you on a journey through Geneva's charming streets, uncovering the city's must-see attractions, from the iconic Jet d'Eau to the historic Old Town.
We'll introduce you to the city's culinary treasures, where Swiss chocolate and fondue are just the beginning.
And for those with a penchant for luxury, we'll guide you through Geneva's world-renowned shopping districts, where Swiss watches and designer boutiques await.
Whether you're a history buff, a food lover, an art enthusiast, or simply someone looking to immerse yourself in a city that exudes elegance and charm, Geneva has something to offer.
So grab your passport, pack your bags, and join us as we explore the wonders of Geneva. Your unforgettable Swiss adventure starts here!
The Geneva Travel Guide: Top Attractions, Best Time to Visit, and Where to Stay
Geneva, located in Switzerland, is a picturesque city known for its stunning natural beauty, rich history, and vibrant cultural scene.
This complete travel guide will provide you with all the information you need to make the most of your visit to this charming destination.
Welcome to Geneva, Switzerland's Jewel by the Lake
Ready to get to know more about Geneva?
Location and Scenic Beauty
Nestled in the western corner of Switzerland, close to the French border, Geneva is a city that captivates with its scenic splendor.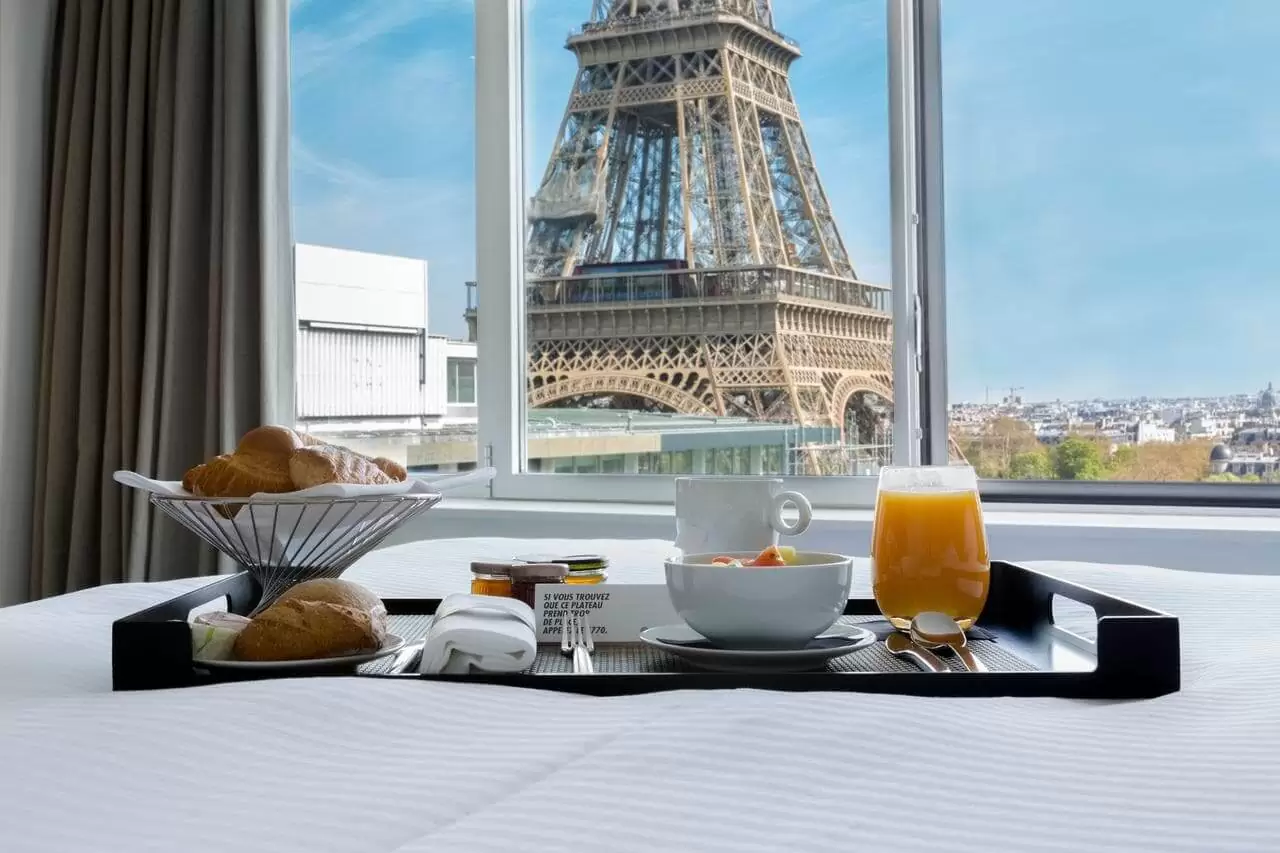 20+ Best Hotels with Eiffel Tower View in Paris
20+ Best Hotels with Eiffel Tower view in Paris – There's something about the Eiffel Tower that makes it irresistible. Table of Contents Show 20+ Best Hotels with Eiffel Tower view in... Read more.
Positioned gracefully at the southern tip of Lake Geneva, and embraced by the majestic Alps and the Jura Mountains, the city offers a visual feast of breathtaking landscapes.
Whether it's the gentle lapping of the lake or the towering peaks in the distance, Geneva's natural beauty sets the stage for an array of outdoor adventures.
A Glimpse into the Past
The history of Geneva is as rich and varied as its landscapes. From its early Celtic roots to its strategic importance as a Roman outpost, Geneva's past is a fascinating tapestry of cultural evolution.
The city played a pivotal role in the 16th-century Protestant Reformation and has been at the forefront of significant historical movements. Its streets and buildings whisper tales of intrigue, innovation, and inspiration.
A Hub of Peace and Culture
Often hailed as the "Capital of Peace," Geneva's global significance extends beyond its borders. The city is a beacon of international diplomacy, housing the European headquarters of the United Nations and numerous other diplomatic missions.
But Geneva's allure doesn't stop at politics. It's a vibrant cultural hub, teeming with museums, galleries, and theaters that celebrate artistic expression.
From classical concerts to contemporary art, Geneva is a city where culture thrives and creativity flourishes.
Join us as we explore this remarkable city, where history meets modernity, and natural beauty complements cultural richness. Geneva awaits, and we're here to guide you through its many wonders.
Discovering Geneva: When to Go
Find out the best time to visit Geneva.
Embracing the Seasons: Geneva's Climate
Geneva's climate is a delightful dance of contrasts, offering something special in every season. With its temperate weather patterns, the city presents a kaleidoscope of experiences throughout the year.
Summertime Splendor (June to August): Geneva's summer is a season of warmth and vibrancy. The city comes alive with sun-kissed days, making it the perfect time to explore the lakeside promenades, dine al fresco, or take a refreshing dip in Lake Geneva. If you're a lover of outdoor festivals and lively street scenes, summer is your time to shine in Geneva.
Winter Wonderland (December to February): For those enchanted by the magic of winter, Geneva transforms into a snowy paradise. Whether you're drawn to the thrill of winter sports in the nearby Alps or the festive charm of Christmas markets, Geneva's winter months offer a cozy and captivating experience.
The Buzz of the Peak Season
Summer in Geneva is synonymous with the peak tourist season.
The city becomes a melting pot of cultures, with travelers from around the globe converging to explore Geneva's rich heritage and natural beauty.
While this time of year offers an energetic atmosphere, it's wise to plan ahead. Hotels and popular attractions might be fully booked, so early reservations are key to a hassle-free adventure.
The Serenity of the Off-Peak Season
For those seeking a more tranquil and intimate experience, Geneva's off-peak seasons (March to May and September to November) are a hidden treasure.
These transitional months provide a gentle climate and a respite from the summer crowds.
Enjoy leisurely strolls through the city's parks, savor the culinary delights without the wait, and indulge in the luxury of choice when it comes to accommodations.
Whether you're drawn to the bustling energy of peak season or the laid-back charm of the off-peak months, Geneva offers a rich tapestry of experiences. Choose your season, pack your bags, and let Geneva's timeless elegance enchant you.
Must-See Sights in Geneva, Switzerland: The Top Destinations to Visit
Geneva, Switzerland's cosmopolitan city, is brimming with attractions that reflect its rich history, political significance, and natural beauty.
Whether you're a history buff, an art lover, or an outdoor enthusiast, Geneva has something to offer. Here's a rundown of the top attractions that you shouldn't miss on your visit.
The Jet d'Eau
Geneva's skyline is graced by the Jet d'Eau, a majestic water fountain that propels water over 400 feet into the sky.
A symbol of the city's innovative spirit, this fountain is a mesmerizing sight, especially when it's bathed in lights after dark.
St. Pierre Cathedral
Step into history at the St. Pierre Cathedral, a 12th-century architectural marvel.
Ascend the tower for sweeping views of Geneva and the lake, and explore the Reformation Museum to delve into the city's influential role in religious history.
Palais des Nations
A hub of international diplomacy, the Palais des Nations houses the European headquarters of the United Nations.
Embark on a guided tour to explore the grand chambers and art collection, and take a leisurely stroll through the serene gardens.
Old Town (Vieille Ville)
Wander through the enchanting streets of Geneva's Old Town, where history comes alive.
Admire the well-preserved buildings, indulge in a coffee at a quaint café, and discover gems like the Maison Tavel and the Maison de Rousseau et de la Littérature.
Lake Geneva
Embrace the natural beauty of Lake Geneva by engaging in various outdoor activities. Whether it's a tranquil boat cruise, paddleboarding adventure, or a leisurely picnic by the shore, the lake offers endless enjoyment.
Don't miss the iconic flower clock, a floral masterpiece that celebrates Geneva's watchmaking heritage.
United Nations Office at Geneva
Gain insights into the world of international relations at the United Nations Office at Geneva.
A guided tour will provide a behind-the-scenes look at this vital organization, and you may even have the chance to observe a Human Rights Council session.
It's a rare glimpse into the machinery of global governance.
Delving into Geneva's Rich Cultural Tapestry
Geneva, often referred to as the "City of Peace," is not only a hub for international diplomacy but also a vibrant center for arts and culture.
From world-renowned museums to lively festivals, Geneva's cultural scene is as diverse as it is engaging. Here's a guide to exploring the cultural treasures that await you in this dynamic city.
Museums and Art Galleries
Art enthusiasts will find Geneva a paradise, with a plethora of museums and galleries to explore.
Discover Swiss wildlife at the Museum of Natural History or marvel at the artistic masterpieces at the Museum of Art and History.
For watch aficionados, the Patek Philippe Museum offers a glimpse into the world of Swiss watchmaking, displaying an array of elegant timepieces.
Music and Performing Arts
The soul of Geneva resonates with music and theatrical performances. The city's Opera House, situated on the historic Place Neuve, is a beacon for opera, ballet, and theater lovers.
With a calendar filled with world-class productions, it's a must-visit for anyone looking to indulge in Geneva's performing arts scene.
Festivals and Events
Geneva's cultural vibrancy shines through its festivals and events, celebrating everything from music to cinema.
The Geneva Festival in August is a spectacle of fireworks, live music, and entertainment, drawing locals and tourists alike.
Film enthusiasts should not miss the Geneva International Film Festival, while the Montreux Jazz Festival offers a melodic escape for music lovers.
Whether you're an art connoisseur, a music fan, or simply curious about local traditions, Geneva's cultural landscape offers an enriching and diverse experience.
Immerse yourself in the city's artistic heritage, enjoy world-class performances, and partake in lively festivals to truly connect with the heart and soul of Geneva.
Explore the Great Outdoors in Geneva
Geneva's breathtaking natural landscapes provide a playground for outdoor enthusiasts.
Whether you're an avid hiker, a water sports lover, or a cycling fan, Geneva's diverse outdoor activities promise adventure and scenic beauty. Here's a guide to help you explore the best of Geneva's outdoor offerings.
Hiking and Nature Trails
Nestled between the Alps and the Jura Mountains, Geneva is a hiker's dream. The nearby Salève Mountains, just a stone's throw from the French border, offer a range of trails for all levels.
Reach the summit, and you'll be greeted with awe-inspiring views of Geneva and the surrounding region. Don't forget to pack your camera!
Boating and Water Sports
Lake Geneva's crystal-clear waters beckon water sports enthusiasts. Rent a kayak or paddleboard and navigate the lake's tranquil shores, or take a sailing lesson and feel the wind in your sails.
For those seeking relaxation, a scenic boat cruise offers a leisurely way to soak in the picturesque lakeside vistas.
Cycling and Biking Routes
Geneva's well-maintained biking routes invite cyclists to explore the city and its enchanting countryside.
Rent a bike and pedal through Geneva's quaint neighborhoods or follow the serene bike path along the Rhône River.
Whether you're a seasoned cyclist or a casual rider, Geneva's biking trails provide a delightful way to see the city from a different perspective.
Geneva's outdoor activities are a testament to its natural beauty and commitment to preserving the environment.
From mountain trails to lakeside adventures, the city offers a myriad of ways to connect with nature and enjoy the fresh Swiss air.
So grab your hiking boots, paddle, or bike, and set out to explore the captivating outdoors of Geneva.
Indulging in Geneva's Shopping and Culinary Delights
Geneva, a city synonymous with elegance and sophistication, offers a rich tapestry of shopping and dining experiences.
From the glitz of luxury shopping districts to the charm of local markets, and from gourmet dining to traditional Swiss fare, Geneva caters to every taste and preference. Here's a guide to help you navigate the city's retail and culinary landscapes.
Luxury Shopping Districts
For those with a penchant for luxury, Geneva's upscale shopping streets, such as Rue du Rhône and Rue du Marché, are a paradise.
These elegant boulevards are lined with high-end boutiques and prestigious brands, offering the latest in fashion, jewelry, and Swiss watches.
Whether you're looking to splurge on a designer piece or simply window shop, these districts exude glamour and style.
Local Markets and Boutiques
If you're seeking a more personalized and unique shopping experience, Geneva's local markets and independent boutiques are the places to explore.
The bustling Plainpalais Flea Market is a haven for treasure hunters, while the artistic neighborhood of Carouge is dotted with boutiques showcasing local crafts and innovative designs.
These spots provide a delightful contrast to the city's more opulent shopping areas.
Gourmet Restaurants and Swiss Cuisine
Geneva's culinary scene is as diverse as it is delectable. From Michelin-starred restaurants serving international delicacies to cozy eateries offering traditional Swiss comfort food, the city's gastronomic offerings are sure to tantalize your taste buds.
Indulge in a pot of molten fondue, savor the richness of raclette, or treat yourself to the world-famous Swiss chocolates. The culinary journey in Geneva is as rich and varied as its cultural heritage.
Whether you're a shopaholic with a taste for luxury or a food enthusiast eager to explore local flavors, Geneva provides an array of options to indulge your senses.
Take the time to wander through its elegant streets, discover hidden gems in its markets, and savor the culinary masterpieces that reflect the city's cosmopolitan flair.
Geneva's shopping and dining experiences are a feast for the senses, waiting to be explored.
Embarking on Day Trips and Excursions from Geneva
Geneva's strategic location near the borders of France and the heart of Switzerland makes it an ideal base for exploring some of Europe's most captivating destinations.
Whether you're drawn to the majestic peaks of the Alps or the cultural vibrancy of lakeside cities, Geneva offers a plethora of day trips and excursions that promise unforgettable experiences.
Here's a guide to some of the most enticing destinations you can explore from Geneva.
Chamonix-Mont-Blanc
Nestled in the shadow of the towering Mont Blanc, Chamonix is a haven for outdoor enthusiasts and nature lovers.
A cable car ride to the Aiguille du Midi summit offers jaw-dropping views of the Alps, while adventurous souls can explore the glaciers through hiking or paragliding. Chamonix's alpine charm and thrilling activities make it a must-visit destination.
Lausanne
A blend of cultural richness and lakeside beauty, Lausanne is a city that beckons with its museums, architecture, and scenic promenades.
Explore the Olympic Museum, wander through the cobblestone streets of the old town, and soak in the views from the cathedral's tower. Lausanne's lively atmosphere and cultural treasures make it a delightful excursion.
Annecy
Known as the "Venice of the Alps," Annecy enchants visitors with its medieval charm and picturesque canals.
Stroll through the old town's narrow lanes, take a serene boat ride on Lake Annecy, or time your visit to coincide with the renowned Annecy International Animation Film Festival. Annecy's fairy-tale ambiance is sure to captivate your heart.
Montreux
Music and nature harmonize in Montreux, a town celebrated for its jazz festival and stunning lakeside setting.
Explore the medieval Chillon Castle, walk along the flower-lined promenade, or pay tribute to Freddie Mercury at his iconic statue.
If you're a music aficionado, the Montreux Jazz Festival is an experience not to be missed.
Geneva's surroundings offer a rich tapestry of landscapes and cultural experiences. From the adrenaline rush of Chamonix's alpine adventures to the artistic allure of Lausanne and the romantic charm of Annecy, these day trips provide a diverse array of experiences.
Whether you're seeking adventure, culture, or relaxation, Geneva's neighboring destinations promise to enrich your travel journey with memories to cherish.
Geneva's reputation as a global hub extends to its transportation network, offering a seamless blend of efficiency and convenience.
Whether you're arriving in this cosmopolitan city or exploring its picturesque streets, understanding the transportation options can enhance your travel experience. Here's a comprehensive guide to getting around Geneva.
Getting to Geneva
By Air: Geneva's international airport connects the city to major destinations worldwide. Conveniently located near the city center, it offers easy access to accommodations and attractions.
By Train: Switzerland's efficient rail network makes Geneva accessible from other Swiss cities and neighboring European countries. The central train station is well-connected to public transportation, ensuring a smooth transition to your next destination.
By Car: If you're arriving by car, Geneva's well-maintained highways offer scenic routes and clear signage. Keep in mind that parking in the city center can be challenging, so plan accordingly.
Public Transportation within Geneva
Trams and Buses: Geneva's public transportation system is a traveler's dream. The extensive tram and bus network reaches every corner of the city, offering frequent and reliable services.
A Geneva Pass provides unlimited access to public transport and additional perks, making it a valuable investment for tourists.
Car Rental and Driving
Renting a Car: For those who prefer the freedom of self-driving, car rental services are readily available at the airport and city locations.
A rental car is particularly useful for exploring the surrounding regions and taking day trips.
Driving in the City: While driving in Geneva offers flexibility, it comes with challenges such as limited parking and busy traffic.
Consider parking outside the city center and utilizing public transportation or walking to explore the city's attractions.
Geneva's transportation options cater to diverse preferences and needs, from the convenience of public transit to the independence of car rentals.
By understanding these options, you can tailor your transportation choices to fit your itinerary, budget, and travel style.
Whether you're embarking on a leisurely exploration of Geneva's cultural landmarks or venturing into the breathtaking Swiss countryside, efficient and accessible transportation ensures a smooth and enjoyable journey.
Where to Stay in Geneva: A Comprehensive Guide
Geneva, with its blend of cosmopolitan charm and stunning natural beauty, offers a wide array of accommodation options to suit every traveler's needs and budget.
Whether you're seeking the opulence of a luxury hotel or the camaraderie of a hostel, Geneva has the perfect place for you to rest your head.
Here's a detailed look at the various accommodation choices available in this vibrant Swiss city.
Luxury Hotels and Resorts
For those looking to indulge in the finer things in life, Geneva's luxury hotels and resorts provide an unparalleled experience. These establishments are often situated in prime locations, offering breathtaking views of Lake Geneva or the city's iconic landmarks.
Amenities: Expect world-class amenities such as gourmet dining, lavish spas, and state-of-the-art fitness centers. Personalized service ensures a stay that caters to your every whim.
Budget-Friendly Hotels and Hostels
Traveling on a budget doesn't mean compromising on comfort in Geneva. The city offers a selection of budget-friendly hotels and hostels that provide a cozy base for your adventures.
Location: While these accommodations might be a bit further from the city center, they still offer convenient access to public transportation and key attractions.
Hostels: Particularly appealing to solo travelers or those looking to socialize, hostels in Geneva offer shared rooms and communal spaces, fostering a sense of community.
Short-Term Rentals and Apartments
For travelers seeking the comforts of home or traveling with family and friends, short-term rentals and apartments offer an ideal solution.
Features: These accommodations come with fully equipped kitchens, spacious living areas, and often include laundry facilities. They provide the flexibility to cook your meals and relax in a home-like environment.
Ideal For: Those planning an extended stay or wanting to explore Geneva at a leisurely pace will find these rentals particularly appealing.
Find the best hotels using the following search engine:
---
Conclusion: Pack Your Bag and Start Exploring Geneva!
Geneva's diverse accommodation landscape ensures that every traveler finds the perfect place to stay.
From the grandeur of luxury hotels to the simplicity of hostels, and the convenience of short-term rentals, the city's lodging options reflect its multifaceted appeal.
Whether you're drawn to Geneva for its rich cultural heritage, its culinary delights, or its outdoor adventures, your choice of accommodation can enhance your experience.
So, as you prepare to explore this captivating city, consider what you value most in your stay, and Geneva will surely have the perfect place for you. Happy travels!