The Ultimate Chennai Travel Guide – Chennai, the capital of Tamil Nadu, is a vibrant and exciting city with a rich history and culture.
It is also known as the "Gateway to South India" and is a popular destination for both domestic and international travelers.
In this guide, we will cover everything you need to know to plan your trip to Chennai, from the best time to visit to the top attractions to see and do.
We will also provide tips on where to stay, how to get around, and what to eat.
Chennai, India: History and Culture
Chennai has a long and fascinating history that dates back to the 6th century BC. The city was originally known as Madras and was founded by the Portuguese. It later came under British rule and was renamed Chennai in 1996.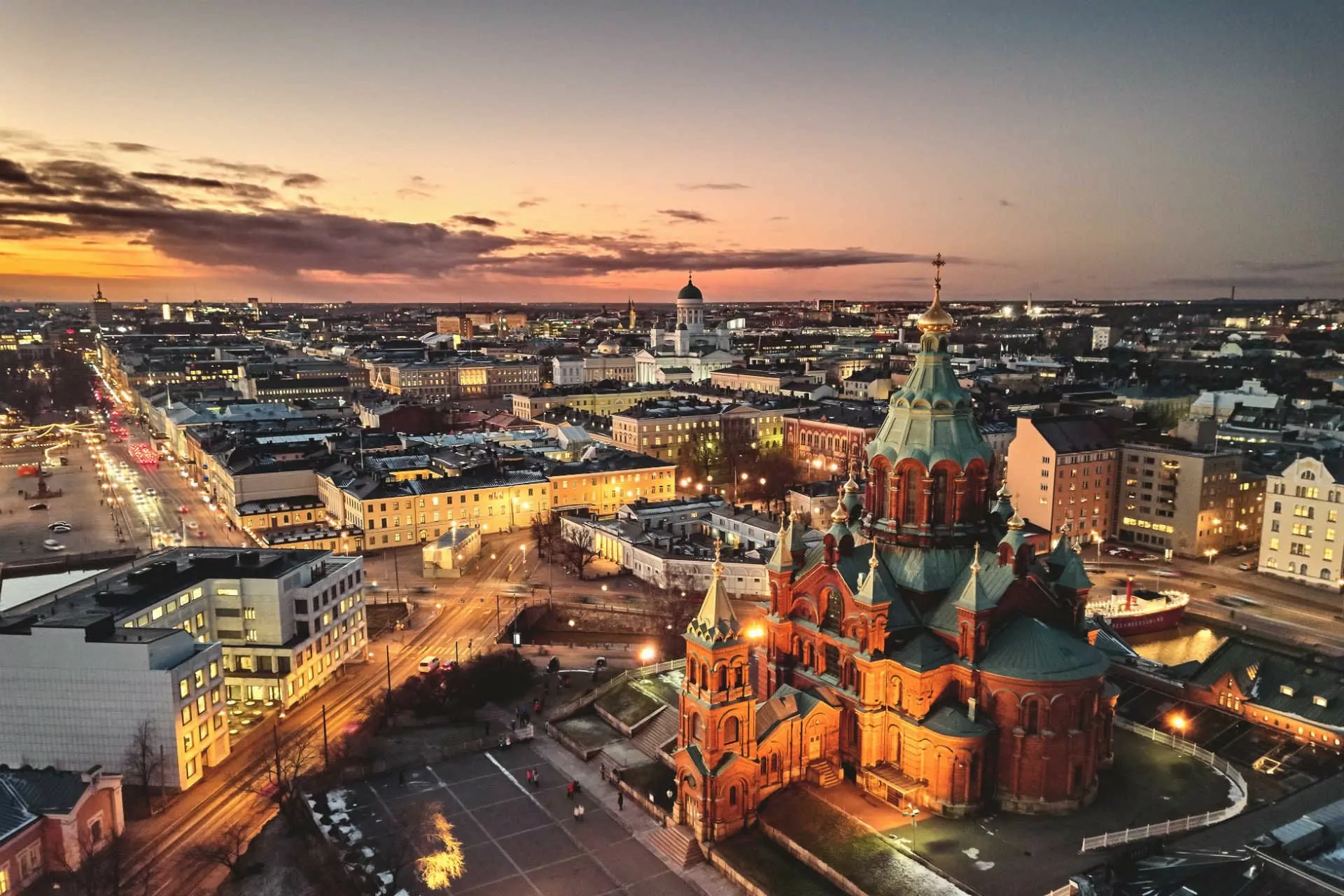 The Ultimate Traveler's Guide to Helsinki
Helsinki, the gem of the north, has caught your wanderlust, has it? Brace yourself for a journey of pure joy! Table of Contents Show The Ultimate Traveler's Guide to Helsinki Getting to Helsinki By... Read more.
Chennai is home to a number of historical attractions, including the Fort St. George, the Marina Beach, and the Kapaleeshwarar Temple.
The city is also known for its vibrant culture, which is a blend of Tamil, Dravidian, and British influences.
The Ultimate Chennai Travel Guide
In "The Ultimate Chennai Travel Guide," we'll take you on a journey through the city's must-visit landmarks, hidden gems, culinary delights, and more, ensuring that you experience the very best of what this incredible city has to offer.
Prepare to be enchanted by the unique charm and warmth of Chennai!
Getting to Chennai
There are ways available for you to get to Chennai:
By Air
If you're flying into Chennai, you'll be landing at Chennai International Airport, which is well-connected with major cities in India and many international destinations as well.
The airport is located about 20 kilometers southwest of the city center, and you can easily reach your accommodation by hiring a taxi or taking a pre-paid taxi from the airport.
By Train
Chennai is well-connected by train to various parts of India. Chennai Central and Chennai Egmore are the two major railway stations in the city.
Both stations have regular train services from major cities across the country. You can easily access these stations via the metro or hire a taxi or auto-rickshaw from anywhere in the city.
By Bus
Chennai is well-connected by bus to neighboring cities and states. The city has two major bus terminals – Koyambedu and Chennai Mofussil Bus Terminal (CMBT).
Buses operate from these terminals to various destinations in Tamil Nadu and other states. You can easily reach these terminals by hiring a taxi or using public transportation.
Accommodation options
From luxury to homestays, your choice!
Luxury Hotels
If you're looking for a luxurious stay in Chennai, there are plenty of options to choose from. Some popular luxury hotels in the city include Taj Coromandel, The Leela Palace, and Park Hyatt Chennai.
These hotels offer world-class amenities, excellent service, and stunning views of the city or the beach, depending on their location.
Budget Hotels
For travelers on a budget, Chennai also has several budget hotels that offer comfortable stays at affordable prices. Some popular budget hotels in the city include Hotel Savera, Hotel Royal Plaza, and Hotel Ellora. These hotels provide basic amenities and are located in convenient areas of the city.
Homestays
If you prefer a more homely and personalized experience, you can opt for homestays in Chennai. There are numerous options available across the city, where you can stay with local families and get a taste of the local culture and hospitality.
Must-visit attractions
Marina Beach
No visit to Chennai is complete without a visit to Marina Beach. It is one of the longest urban beaches in the world and offers a serene escape from the bustling city.
You can take a leisurely stroll along the beach, enjoy the beautiful sunrise or sunset, or indulge in some local street food.
Kapaleeshwarar Temple
Located in the lively neighborhood of Mylapore, Kapaleeshwarar Temple is one of the most famous and oldest temples in Chennai. Dedicated to Lord Shiva, this temple is known for its intricate architecture and vibrant festivals.
Fort St. George
Fort St. George, built by the British in the 17th century, is a historical landmark in Chennai. It houses several museums, including the Fort Museum, which showcases artifacts from the British colonial era.
You can explore the well-preserved buildings within the fort and learn about Chennai's colonial history.
Exploring Chennai's history
National Museum
If you're interested in history and culture, a visit to the National Museum in Chennai is a must.
The museum exhibits a wide range of artifacts, including sculptures, paintings, and archaeological finds, that highlight the rich cultural heritage of Tamil Nadu and India.
Government Museum
Located in Egmore, the Government Museum is one of the oldest and largest museums in India. It houses a vast collection of artifacts, including archaeological artifacts, numismatics, and art pieces from different periods of history.
DakshinaChitra
Located on the outskirts of Chennai, DakshinaChitra is a cultural village that showcases the art, architecture, and traditions of South India.
You can explore traditional houses, watch craftsmen at work, and enjoy cultural performances.
Cultural experiences
Bharatanatyam Dance Performances
Chennai is known as the cultural capital of South India, and one of its most famous art forms is Bharatanatyam, a classical dance form.
You can attend dance performances by renowned artists at various auditoriums and cultural centers in the city.
Classical Music Concerts
Chennai is also famous for its classical music scene. The city hosts several music festivals throughout the year, where you can listen to soul-stirring performances by eminent musicians.
Art Exhibitions
Chennai has a vibrant art scene, with numerous art galleries showcasing both traditional and contemporary art. You can visit these galleries to appreciate the works of local and national artists.
Indulge in local cuisine
South Indian Breakfast
Chennai is known for its delicious South Indian breakfast options. Start your day with a hearty meal of idli, dosa, vada, and filter coffee at one of the local breakfast joints.
You can also try the famous Pongal, a traditional Tamil breakfast dish made with rice and lentils.
Chettinad Cuisine
Chennai is a great place to savor the flavors of Chettinad cuisine. Known for its aromatic spices and bold flavors, Chettinad cuisine offers a range of vegetarian and non-vegetarian dishes. Don't miss trying the famous Chettinad chicken curry and the spicy mutton gravy.
Filter Coffee
Chennai is famous for its filter coffee, a strong and aromatic coffee that is brewed with a special filter apparatus. You can enjoy a cup of filter coffee at one of the traditional coffee shops in the city, known as "tiffin centers."
Shopping in Chennai
T Nagar
T Nagar is one of the major shopping hubs in Chennai. It is famous for its bustling commercial streets, where you can find everything from clothing and accessories to jewelry and electronics. The area is also known for its traditional silk sarees, which make for great souvenirs.
Sowcarpet
Sowcarpet is a vibrant neighborhood in Chennai known for its wholesale clothing and textile market. It is a perfect place to shop for trendy clothes, accessories, and fabrics at affordable prices.
Pondy Bazaar
Pondy Bazaar is another popular shopping destination in Chennai, especially for those looking for budget-friendly options. The market is lined with shops selling clothes, accessories, footwear, and household items.
Day trips from Chennai
Mahabalipuram
Located about an hour's drive from Chennai, Mahabalipuram is a UNESCO World Heritage site famous for its ancient temples and rock-cut sculptures. You can explore the famous Shore Temple, the Pancha Rathas, and the stunning beach.
Pondicherry
Pondicherry, also known as Puducherry, is a former French colony located about 150 kilometers south of Chennai. The town has a unique blend of French and Tamil architecture and offers a serene coastal experience. You can visit the Aurobindo Ashram, stroll along the French Quarter, and relax on the beautiful beaches.
Kanchipuram
Known as the "Silk City," Kanchipuram is famous for its handloom silk sarees. The town is also home to several ancient temples, including the Kanchi Kamakshi Temple and the Varadharaja Perumal Temple. You can explore the temples, shop for silk sarees, and enjoy the local cuisine.
Outdoor activities
Boating in Pulicat Lake
Pulicat Lake, located about 60 kilometers north of Chennai, is the second-largest lagoon in India. You can enjoy boating in the lake and spot various migratory birds during the winter season.
Water sports at Covelong Beach
Covelong Beach, located about 40 kilometers from Chennai, offers a range of water sports activities, including jet skiing, parasailing, and banana boat rides.
You can spend a fun-filled day by the beach, trying out these thrilling water sports.
Bird watching at Vedanthangal Bird Sanctuary
Vedanthangal Bird Sanctuary, located about 85 kilometers from Chennai, is a paradise for bird watchers.
The sanctuary is home to numerous species of migratory birds, especially during the winter season. You can spend a peaceful day observing these beautiful birds in their natural habitat.
Final Thoughts: Embracing the Soul of Chennai
Chennai is more than just a destination; it's an experience that encapsulates the essence of history, culture, gastronomy, and natural splendor.
A city where ancient temples stand tall amidst bustling markets, and where culinary traditions are as diverse as the landscapes that surround them.
Whether you're an aficionado of historical architecture, a culinary explorer, or someone who finds solace in nature's embrace, Chennai extends an invitation that's hard to resist.
So, ready your luggage, set your senses alight, and embark on a journey that promises to be unforgettable.
Wander through the lively lanes, savor the authentic tastes, and let yourself be swept away by the rich tapestry that is Chennai.
Your adventure awaits, and it's one that promises to leave an indelible mark on your traveler's soul.