Top Things to do in Bali, Places to Visit, More! – Bali is a stunning paradise in Indonesia, with white sand beaches and crystal-clear waters. It is known as the "Island of the Gods" and its beauty has attracted millions of tourists over the years.
There are so many things to do in Bali that it can be overwhelming! From exploring exotic temples to lounging on pristine beaches, you will always be surprised – no matter what type of traveler you are.
The Island of Gods: Where is Bali?
Bali is a province located in Indonesia, situated between the islands of Java and Lombok. It is a popular tourist destination, attracting an average of 4.3 million visitors each year.
Bali is known for its picturesque beaches, cultural temples, and vibrant culture. Visitors can experience a range of activities and attractions in Bali, making it a suitable destination for a beach vacation or an action-packed getaway.
Its tropical climate, hospitable locals, and wide range of activities contribute to the island's appeal.
Bali is widely considered one of the best travel destinations in the world, and it's easy to see why. No matter what type of vacation you're seeking, Bali always has something to surprise us all.
How to Get to Bali
There are several ways to get to Bali, Indonesia, depending on where you are starting from. Here are some options:
Fly: The most common way to get to Bali is by flying into Ngurah Rai International Airport (DPS), which is located in the southern part of the island. There are many international airlines that offer flights to Bali from major cities around the world, including Singapore, Kuala Lumpur, Hong Kong, and Sydney.
Cruise: If you are planning a cruise through the region, it is possible to stop in Bali as part of your itinerary.
Overland: It is also possible to reach Bali overland from neighboring countries, such as Java or Lombok, by ferry or by crossing land borders.
Regardless of how you get to Bali, it is important to research and plan your trip carefully to ensure a safe and enjoyable experience.
What is the best month to go to Bali?
The best time to visit Bali for a beach trip and activities like snorkeling and diving is typically between May and September, with August being the driest month.
The weather during these months is warm and sunny, but the island tends to be less crowded in popular beach resorts like Sanur and Seminyak, particularly in May, June, and September.
---
15+ Awesome Things to do in Bali (2023 Update): Enjoy the Best of Bali to the Fullest!
If you're planning a trip to Bali in 2023 and want to know the best places to visit, we've got you covered! This article includes a list of more than 15+ amazing activities that will help you make the most of your time in Bali.
From exploring the island's stunning natural beauty and cultural attractions to trying out exciting adventure sports and indulging in delicious local food, there's something for everyone in this tropical paradise.
Whether you're interested in culture, adventure, or just looking to relax, Bali has something for every type of traveler. Make sure to check out our top recommendations for things to do in Bali to fully enjoy your time in this amazing destination.
1. Hike to the summit of Mount Batur to watch the sunrise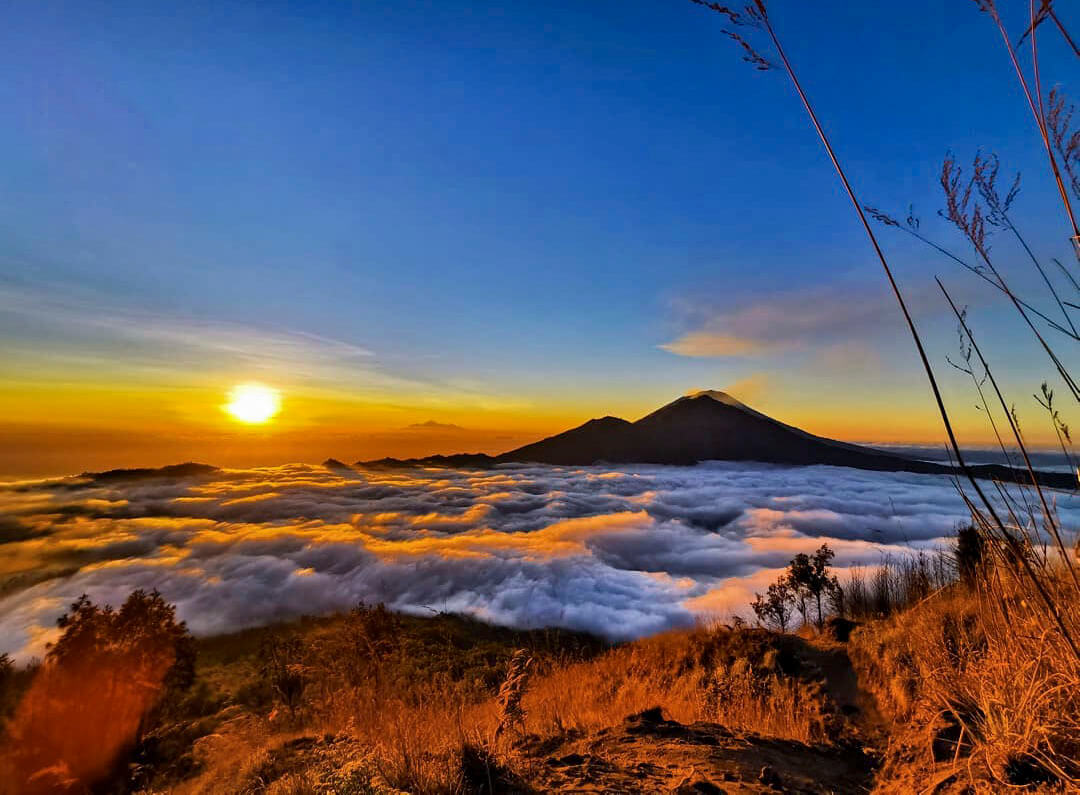 One activity to consider in Bali for an adrenaline rush is hiking to the top of Mount Batur, an active volcano. While the hike itself only takes a few hours and is not too difficult, it does require an early start at 3am in order to catch the sunrise.
Despite the early wake-up, the trek is worth it as Mount Batur is part of UNESCO's Global Geopark Network and you can also visit a coffee plantation to try Luwak Coffee, the rarest and most expensive coffee in the world. Additionally, the hike culminates in a delicious breakfast at the top.
2. Visit the Tegalalang Rice Terraces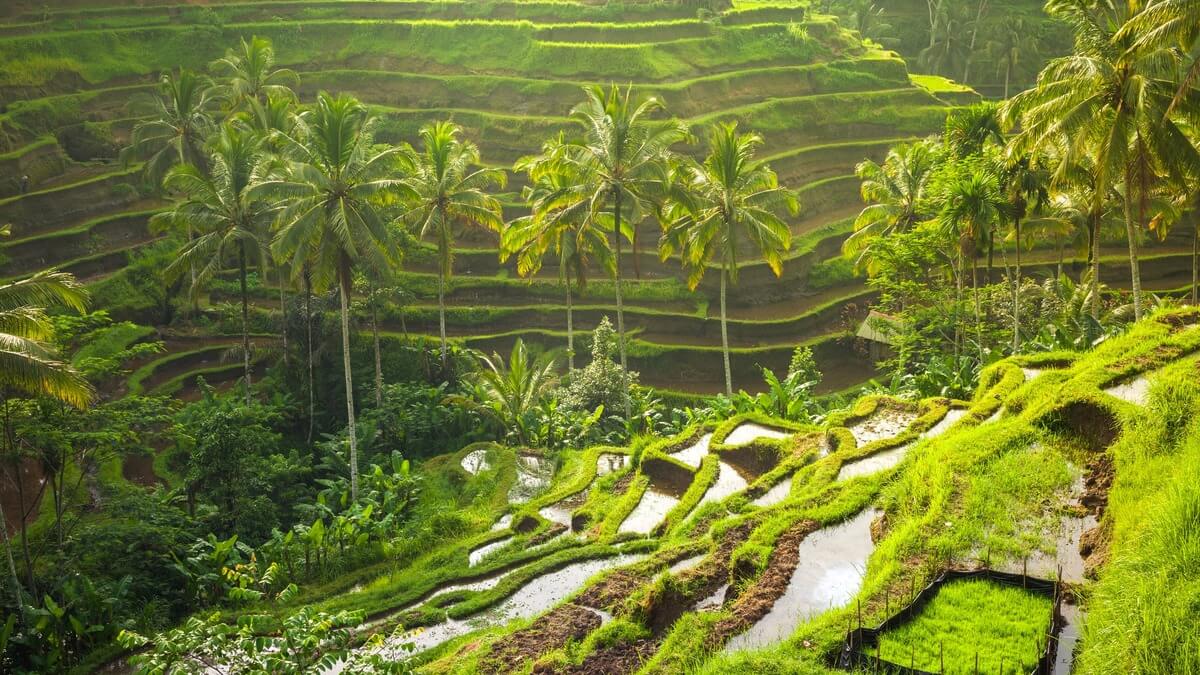 On our journey north of Ubud, we discovered the stunning Tegalalang Rice Terraces, a sprawling valley of rice paddies that left us speechless.
We have to admit, during the day, this place transforms into one of Bali's hotspots, bustling with visitors from all corners of the world.
But, trust us, the early mornings at Tegalalang are a whole different story, becoming a peaceful paradise that's made it to the top of our must-do list in Bali. Let us invite you to read more about our enchanting experience at the Tegalalang Rice Terraces.
3. Play with Sumatran Elephant and Get Dirty Together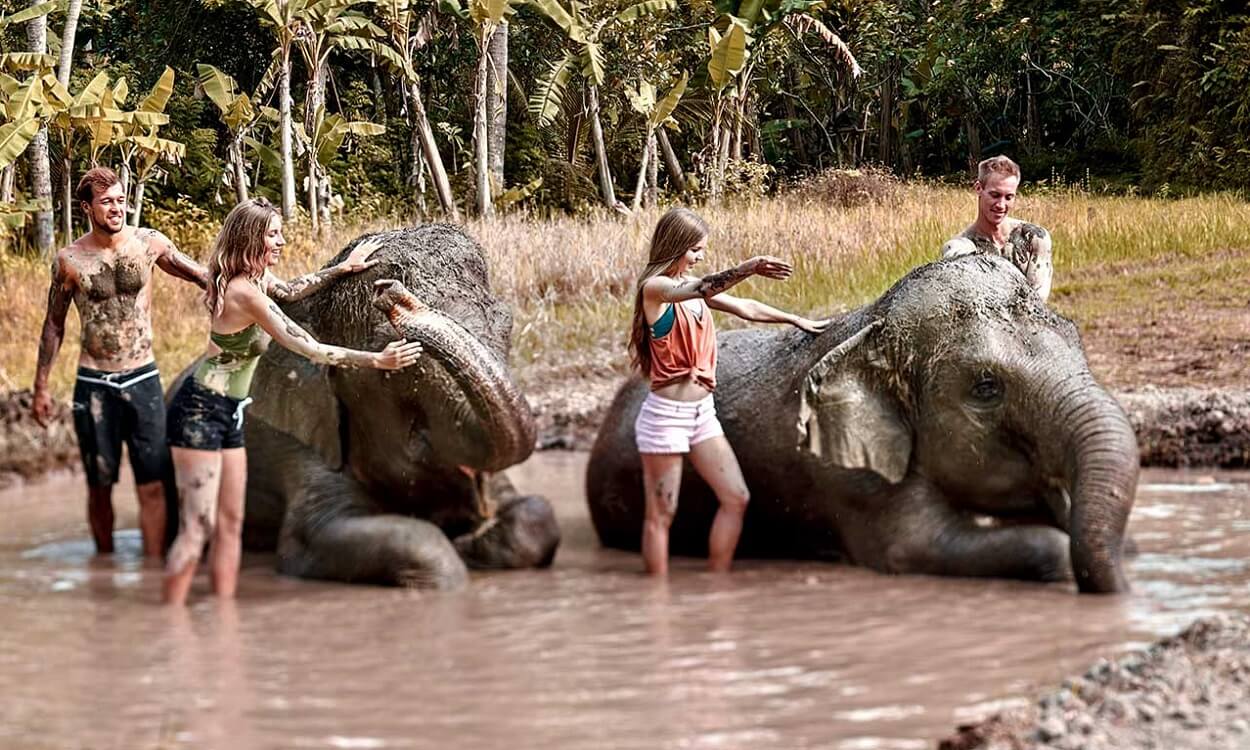 Ever dreamt of frolicking in the mud with Sumatran elephants? If your ideal holiday includes intimate encounters with creatures great and small, you simply can't miss a visit to Bali Zoo, the island's premier zoological park.
With more than 500 exotic and rare animals, including precious species like the Komodo dragon, Sumatran Tiger, Orangutan, and the Bali Starling, this place is a wildlife enthusiast's paradise.
We were over the moon to meet free-roaming deer (yes, you can hand-feed them!) and adorable families of lemurs and Orangutans.
But the true stars of our trip were the playful, mud-loving elephants who welcomed us into their world with open trunks. The 'Elephant Mud Fun' experience at Bali Zoo is something we won't forget!
The adventure begins with a pick-up from your hotel, and then the zoo's dedicated Mahout introduces you to these gentle giants roaming freely.

Editor's Note
The best way to get around in Bali is by car or bike-hailing services such as GOJEK and GRAB. If you need car with affordable price and guaranteed-service, we recommend to hire one from RentalCars.com.
Once you've changed into your bathers, you're ready for the most memorable spa experience of your life! We took a leisurely stroll with the elephants down to the nearby River Wos, where we had the privilege of bathing, splashing, and scrubbing these majestic creatures.
Oh, and did we mention how fun it is to play, feed, and interact with them, all while being covered in mud?
Don't forget to capture these muddy, merry moments for your travel diary! And don't worry, you'll have plenty of time to get cleaned up for a well-deserved lunch after the mud-soaked escapades. Trust us, this is a wildlife experience like no other!
4. Visit Sekumpul Waterfalls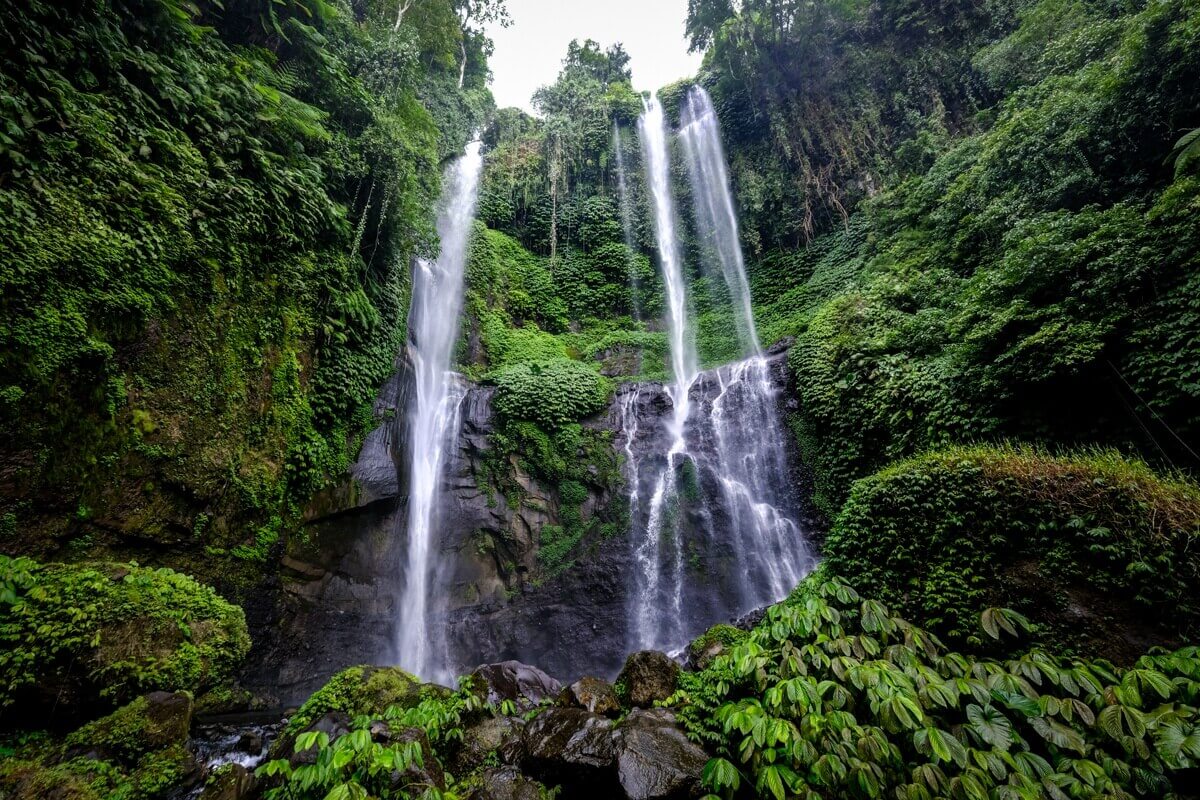 Tucked away from the usual tourist hustle and bustle, we found the Sekumpul Waterfall – an absolute treasure of Bali! Trust us, the 40-minute hike down to the waterfall's base was completely worth it.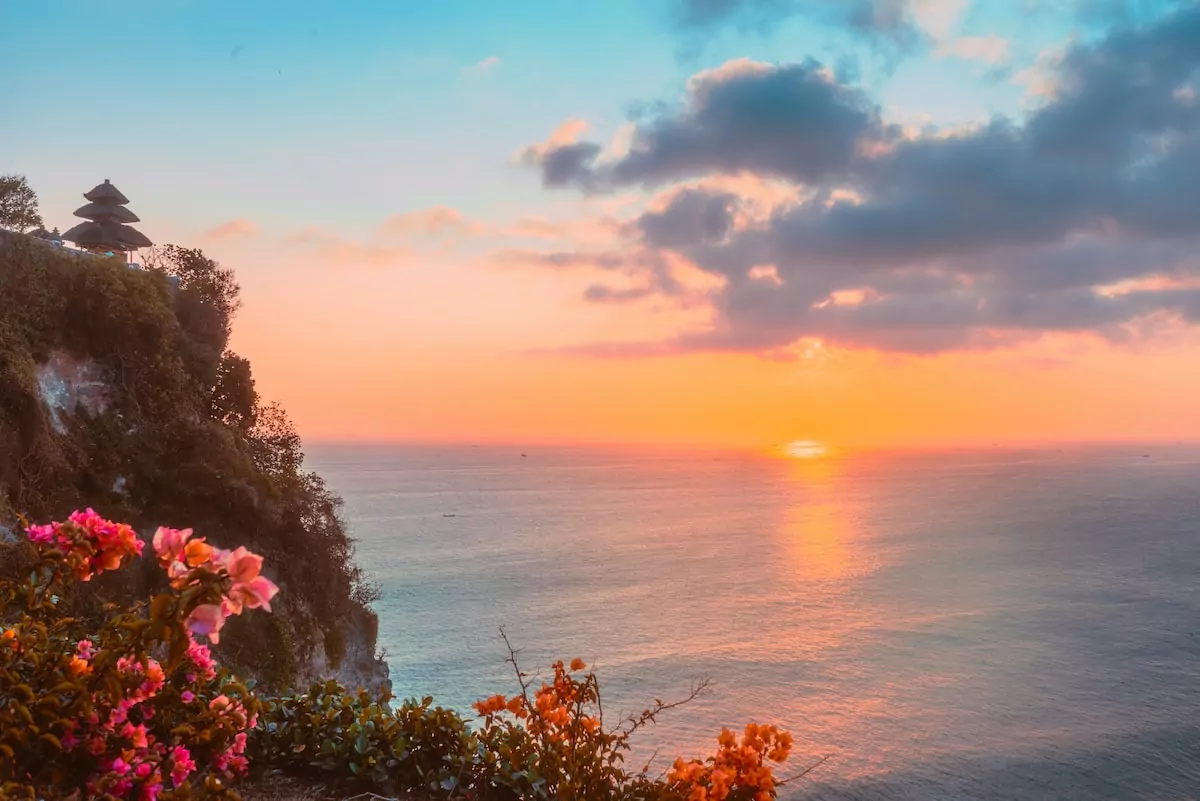 17+ Things To Do in Uluwatu, Bali: Traveler's Guide
Uluwatu, Bali is a renowned tourist destination known for its stunning coastal scenery and vibrant cultural attractions. Table of Contents Show Discovering Uluwatu, Bali The Distinct Charm of Uluwatu... Read more.
What awaited us was an awe-inspiring cascade of water, its power taking our breath away. And when the sun came out to play, the sight was even more magical – a vibrant rainbow appearing at the foot of the waterfall.
We can't recommend this enough – it's our top-rated must-do experience in Bali!
5. Island Hopping to Nearby Paradises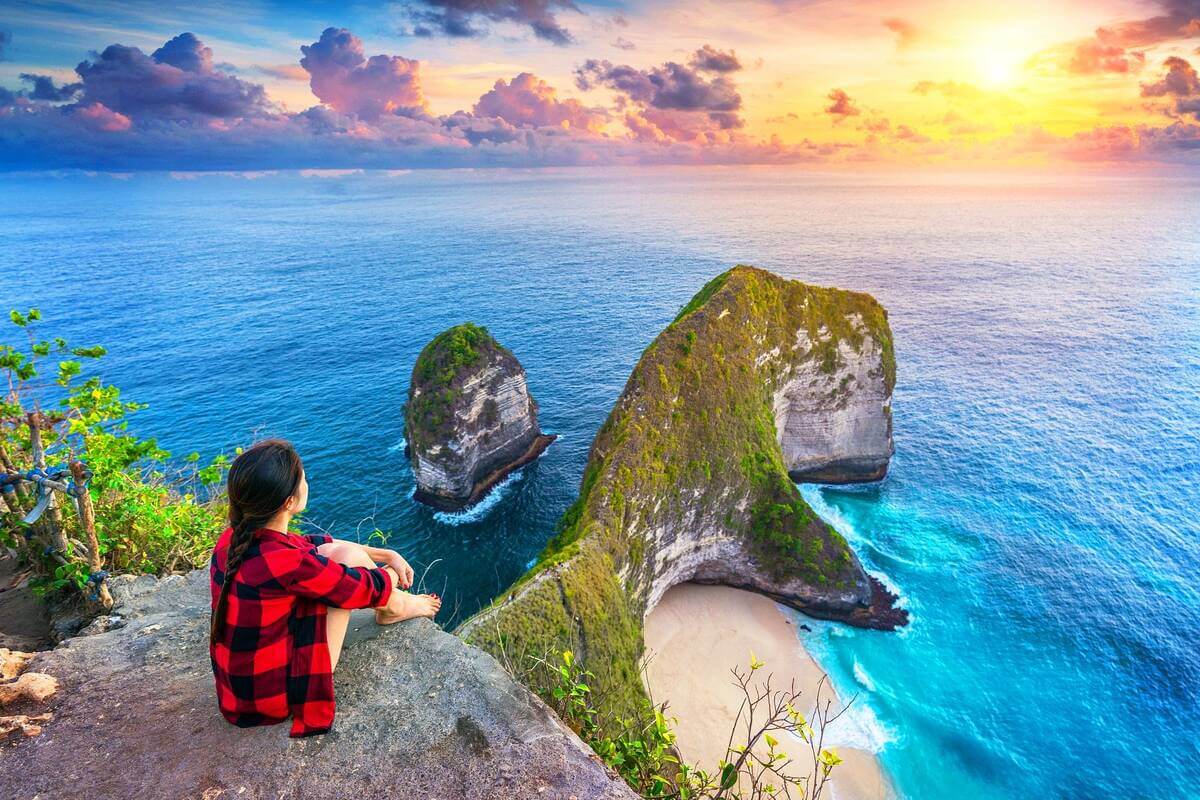 Can you imagine a place that boasts over 17,000 islands, teeming with lush jungles, soaring volcanic peaks, a fascinating variety of wildlife, and some of the planet's richest diving spots? That's Indonesia for you, and that's why we believe island hopping in Bali is an absolute must-do! And the best part? Some of our all-time favourite islands are just a quick boat ride away.
A mere 40 minutes from Bali's mainland, you'll come across the trio of Nusa Lembongan, Nusa Ceningan, and our personal favorite, Nusa Penida. This island is simply stunning, its pristine landscapes looking like they've been lifted straight out of a scene from Jurassic Park.
Now, you might be thinking, "What if I don't have enough time to explore the entire island?" No problem at all! You can always opt for a Nusa Penida Day Tour from Bali.
This one-day adventure whisks you off to all the unmissable hotspots, including the Instagram-worthy Kelingking Beach, the natural infinity pool that is Angel's Billabong, and some spectacular snorkeling spots at Crystal Bay, Manta Bay, or Gamat Bay.
And the cherry on top? You'll have your very own personal photographer tagging along to capture those picture-perfect moments along the way.
Now, doesn't that sound like a dream come true? Trust us, the Bali island hopping experience is an adventure you'll never forget!
6. Visit Diamond Beach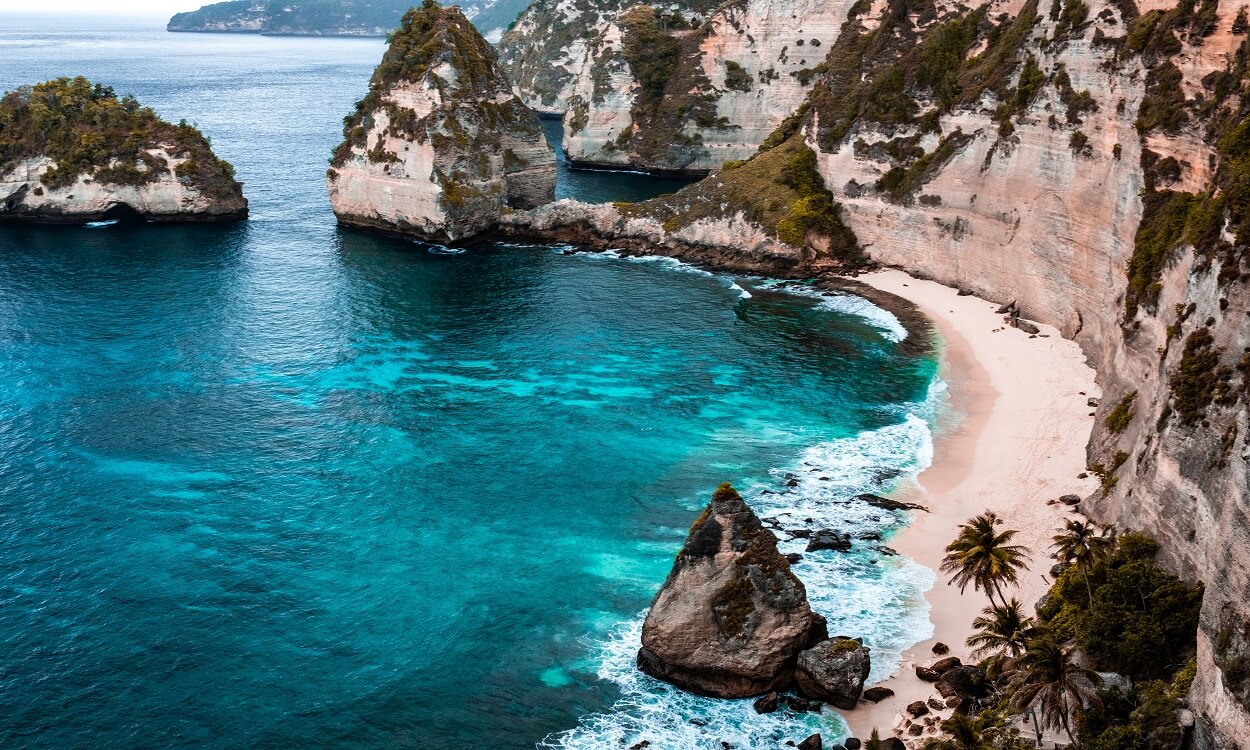 Nusa Penida's star has been on the rise over recent years, all thanks to the jaw-dropping Kelingking Beach, or as some like to call it, T-Rex Beach. But trust us when we say, the entire coastline of this island is a visual treat.
The island is dotted with countless viewpoints perched atop the towering cliffs, offering mesmerizing views of the signature blue waters that Nusa Penida is so renowned for.
You'll find many of these cliffs overlooking beaches that, until recently, were inaccessible. A perfect example of this is the stunning Diamond Beach on Nusa Penida.
In the past, all we could do was gaze down from the cliffs at the picture-perfect beach tucked below. But then came a game-changer – a stairway was remarkably carved into the cliffside.
Now, Diamond Beach has opened its arms to the public, and it's a sight to behold. The descent only takes a few minutes, but the views during this short climb up and down are truly spectacular. We're sure you'll be as captivated by this transformed gem as we were!
7. Explore Gili Air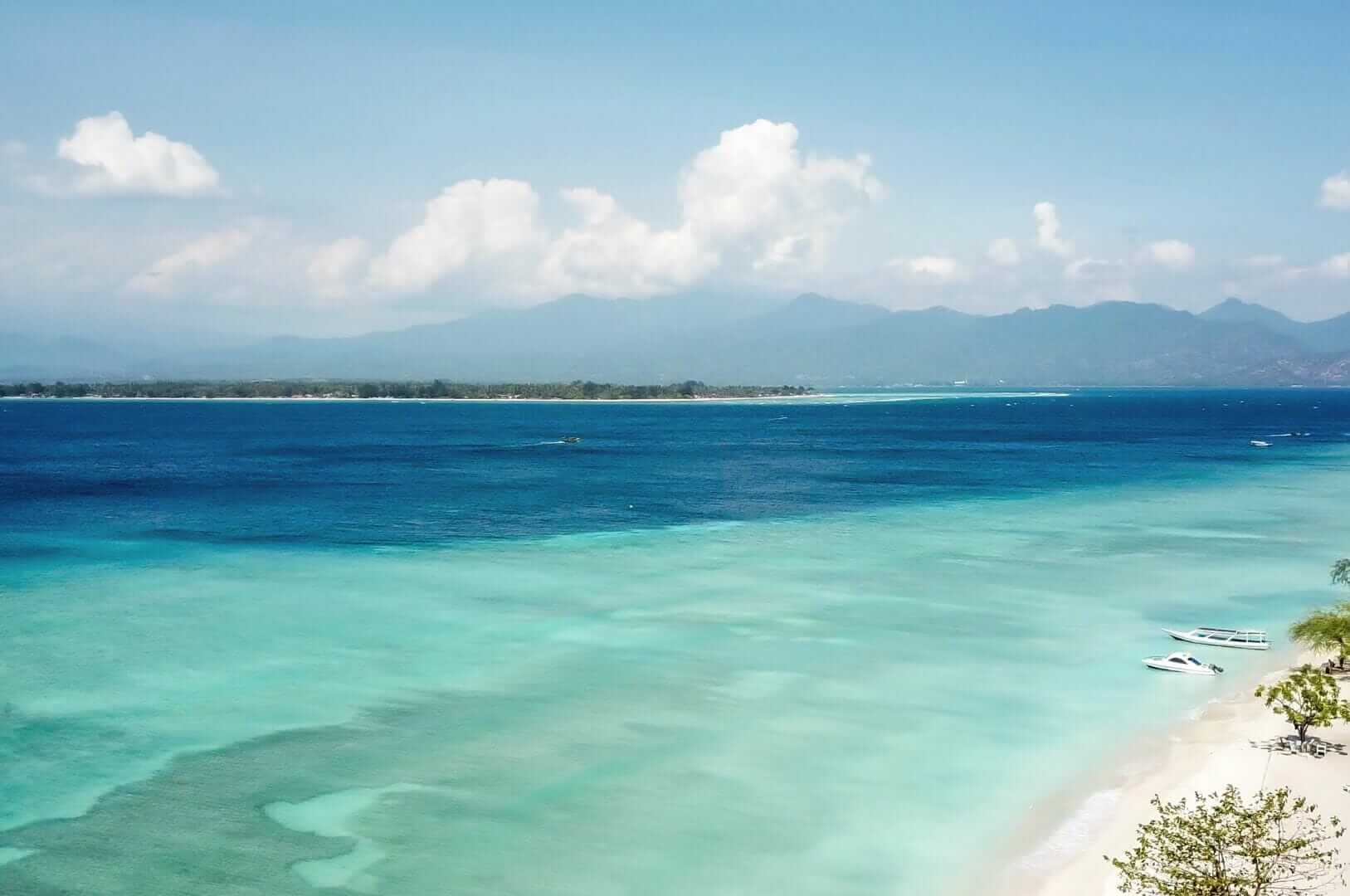 Gili Air, one of the three exquisite Gili Islands just off the coast of Lombok, is a picture-perfect piece of paradise surrounded by white sandy beaches, crystal-clear turquoise waters, and a vibrant underwater world.
It's a must-add to your Bali itinerary. If you're all about the chill, easy-going vibes, Gili Air is your go-to. For those of you who enjoy a lively party scene, we'd recommend Gili Trawangan.
A unique feature of the Gili Islands that sets them apart is the absence of cars. The islands are so compact that you can cycle around the entire island in a breezy 30 minutes.
The preferred modes of transport here are bicycles, electric bikes, or even horse taxis. However, we usually advise against taking horse taxis as there are concerns about their wellbeing.
On Gili Air, it's all about respecting the pace and peace of island life. Enjoy exploring this tiny, tranquil paradise!
8. Enjoy the Beautiful Sunrise View in Munduk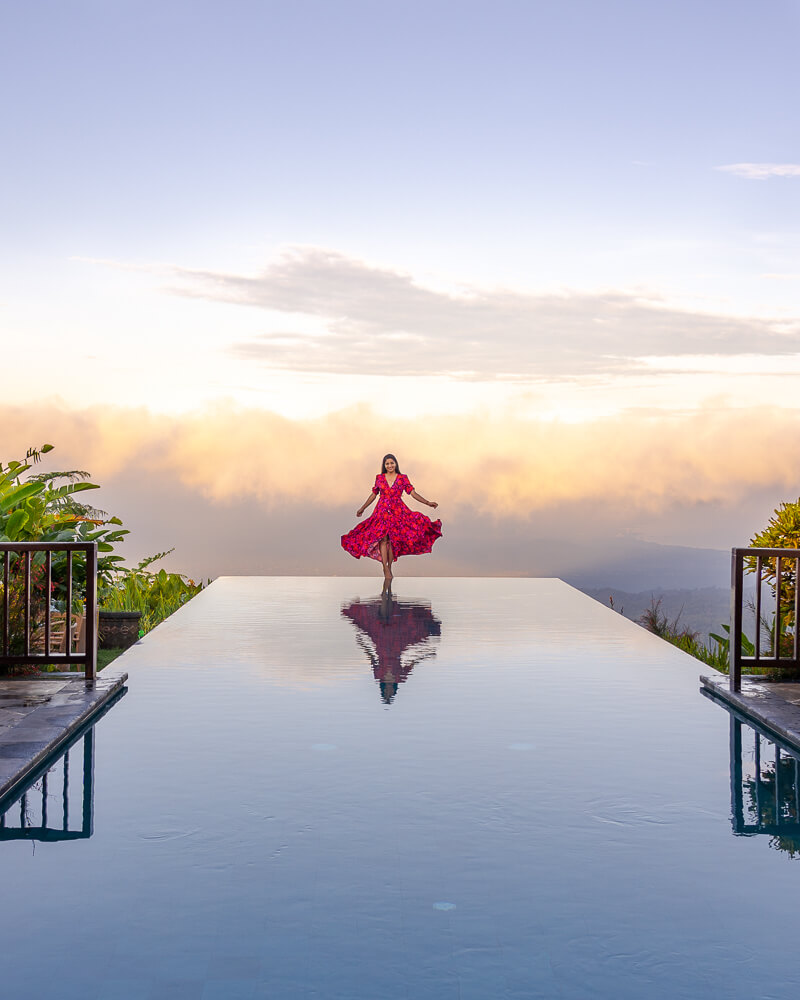 Whether you're an early riser or not, we strongly recommend you experience a sunrise in the lush Munduk region of Bali. It's something truly special.
Don't forget to explore all the incredible things to do in Munduk while you're there!
Located further up north in Bali, Munduk sports a cooler, mistier, and rainier climate, which gifts it a lushness you won't find near the coast.
The stunning pool photo we've shared below was captured at the Munduk Moding Plantation. Take a moment to drink in the verdant beauty of this highland haven – it's a slice of Bali that simply can't be missed!
9. Play with the Monkey in Monkey Forest, Ubud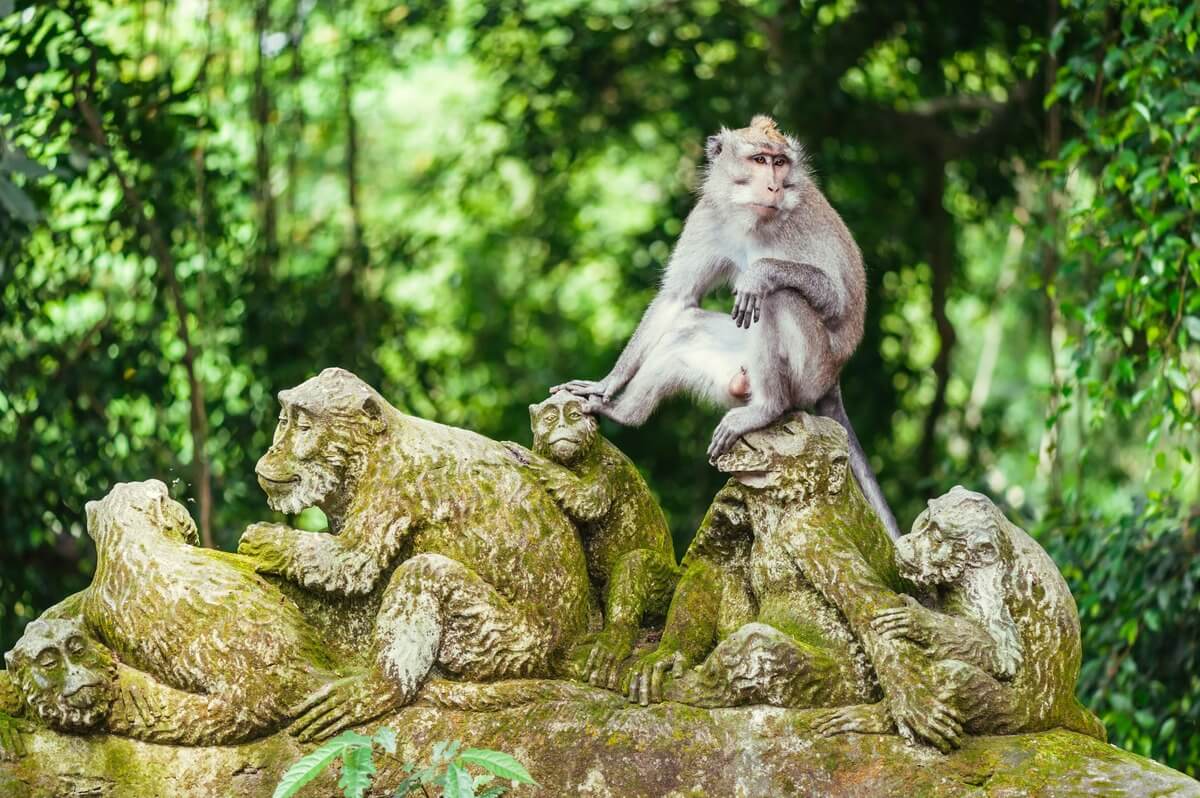 Right in the epicenter of Ubud, there's a forest without borders where monkeys are the rightful inhabitants.
This sprawling, ancient rainforest provides a stunning backdrop for a leisurely stroll. In several spots, you'll spot the monkeys just lounging about, being fed to maintain their calm demeanour.
And if you're concerned about the monkeys getting a little too playful, don't worry! We've got 'monkey police' on hand to ensure everyone has a peaceful, enjoyable experience.
So, come join us in this incredible interaction with nature and our primate pals in their natural habitat!
10. Watch the Balinese Ultimate Attraction: Kecak Fire Dance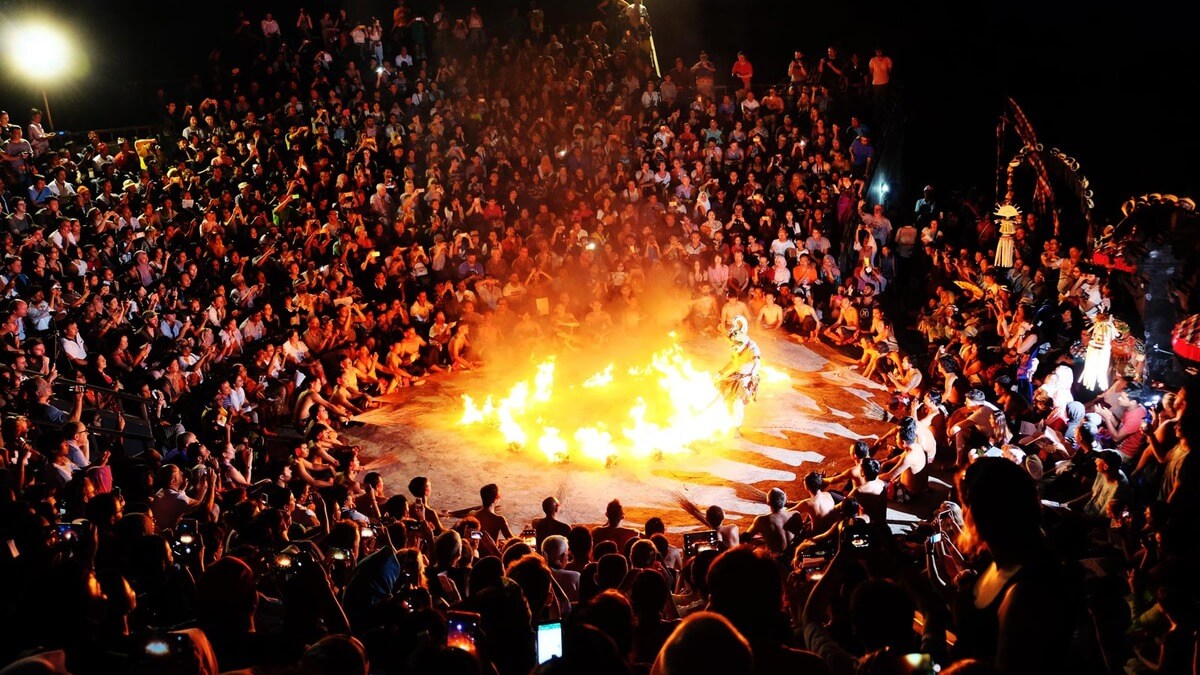 Imagine a mesmerizing dance performance powered by a chorus of over 65 human voices acting as instruments, enhancing a narrative told through captivating movements.
That's the Kecak Fire Dance for you, a Bali must-see! You can marvel at this entrancing spectacle as the sun sets, set against the backdrop of a cliff-top amphitheater at Uluwatu Temple.
Alternatively, you can also catch a performance right in the heart of Ubud town. We guarantee this will be an experience that stays with you long after your Bali adventure comes to an end!
11. Learn to Surf at Some of the Most Popular Spots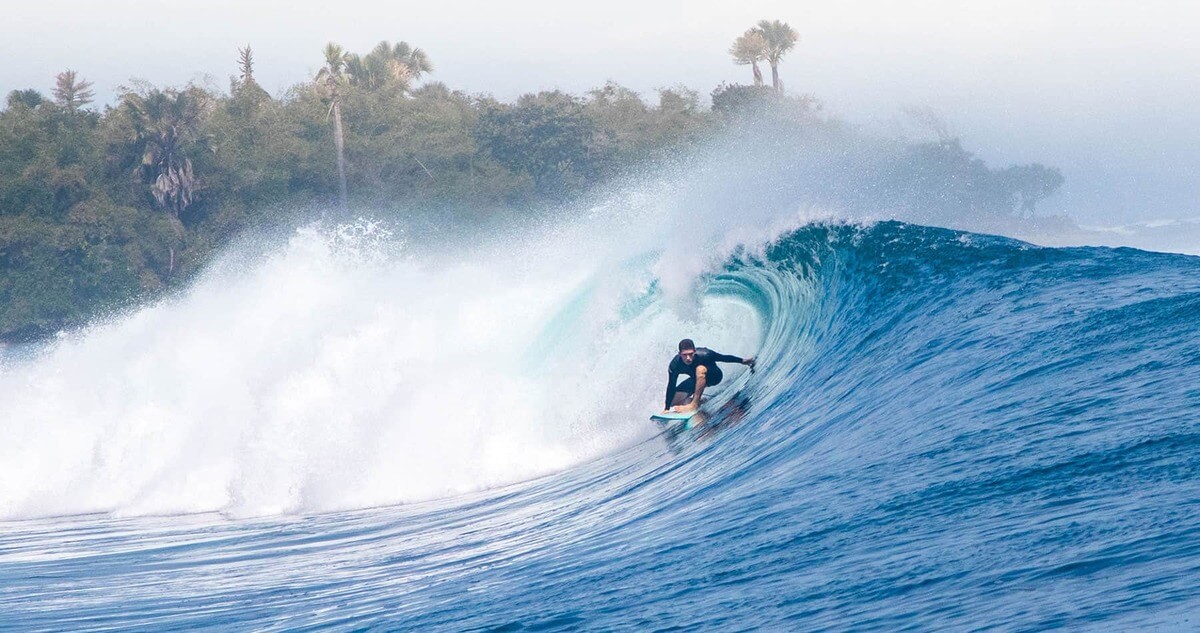 Whether you're stepping onto a surfboard for the very first time or you're a seasoned wave rider, Bali is synonymous with surfing.
For those just starting out, Kuta's gentle waves are ideal. Meanwhile, experienced surfers can challenge themselves at spots like Uluwatu or Canggu. If you're a newbie, don't fret! Grab a surfboard, find a beachside instructor, and you're all set to start catching waves.
It's no secret that Bali's surf is world-renowned. Pros from across the globe flock here just for a chance to ride these unbeatable waves.
The island offers a range of surf breaks to suit every level – from Kuta's welcoming white-wash for those just dipping their toes in, to the thrilling barrels in Uluwatu for the skilled surfers. So, come on in, the water's perfect! Choose your wave and let Bali's surf work its magic.
12. Watch the Ocean View at the Top of Uluwatu Cliff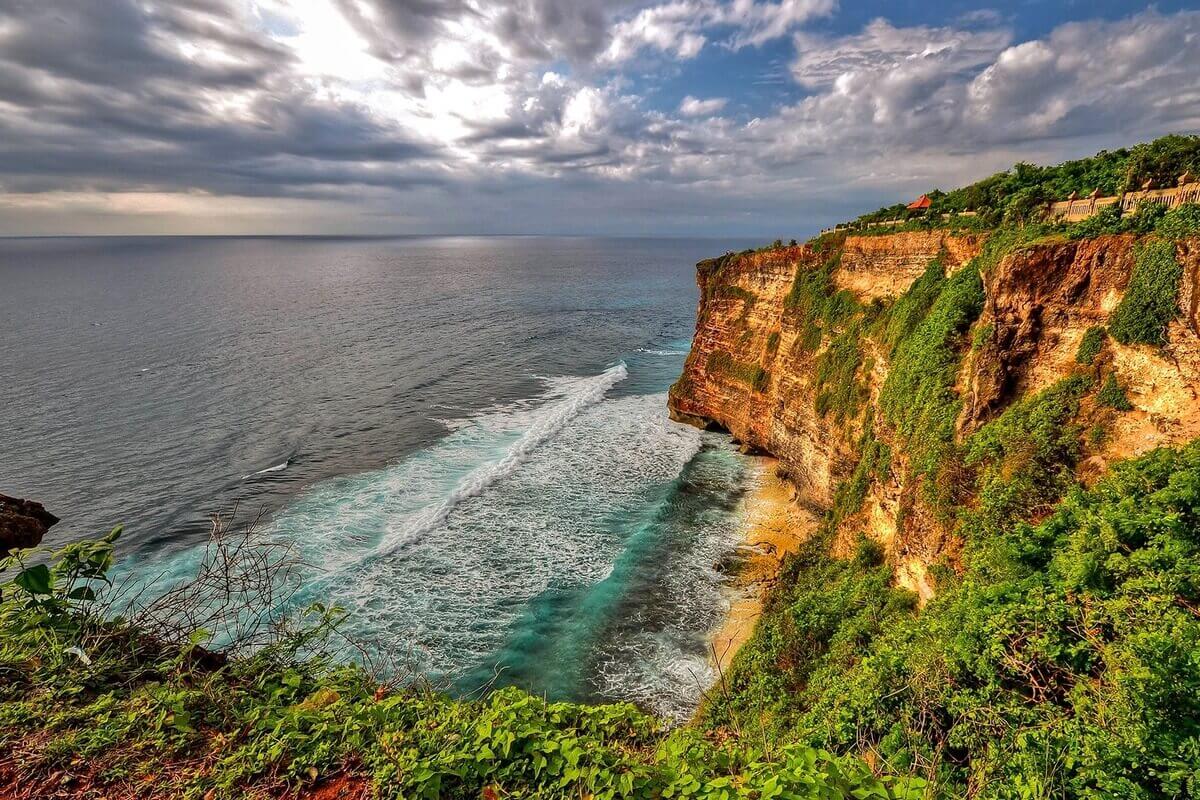 At the farthest southern reaches of Bali, you'll find limestone cliffs that plunge dramatically straight into the ocean.
Standing tall at 70 meters, Uluwatu Cliff, officially known as Karan Boma Cliff, is a sight to behold.
And trust us, the sunset from this vantage point is something you simply must witness when you're in Bali. As the fiery ball dips into the horizon, the skies light up with a riot of colors – it's a show of nature you won't soon forget!
13. Hangout at the Most Popular Beach Clubs Around Canggu and Seminyak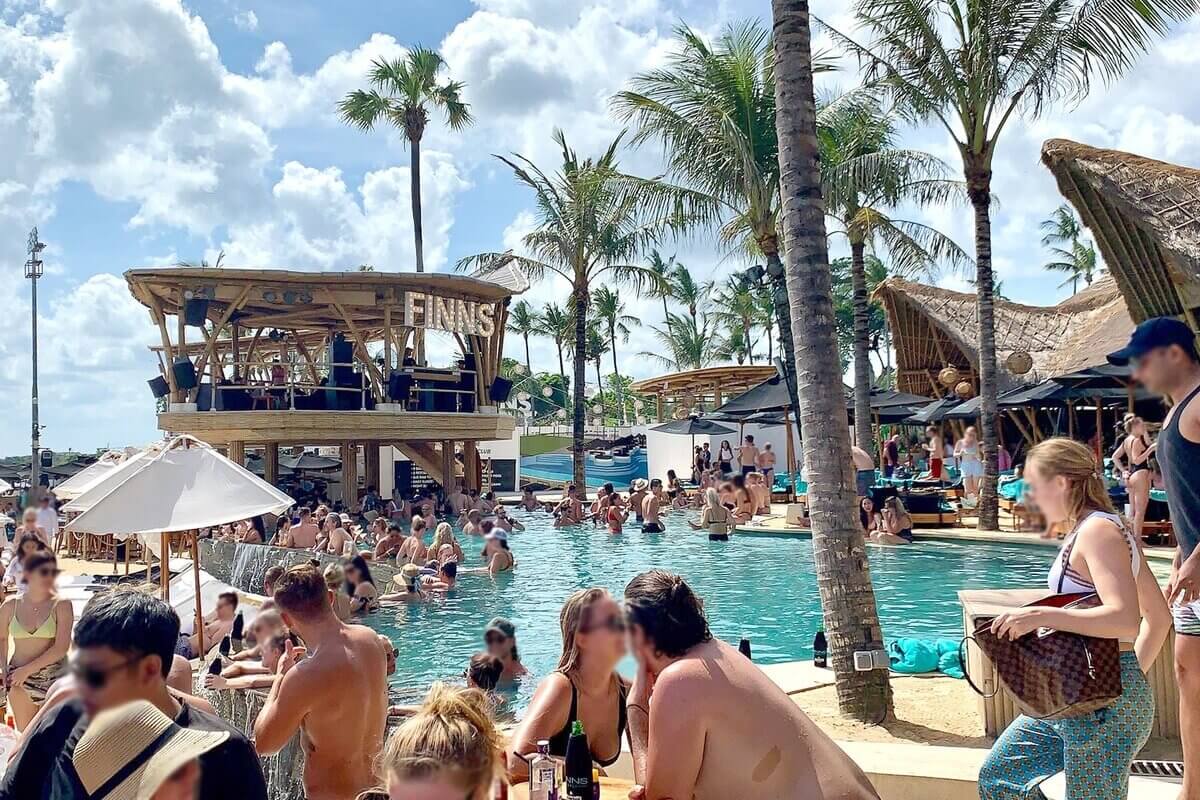 If you're looking for a place to relax, soak up the sun, and maybe even shake a leg, we've got you covered! Canggu and Seminyak are home to some of the most vibrant beach clubs that we absolutely adore.
Imagine lounging on plush sunbeds, sipping on refreshing cocktails, and dipping into sparkling pools, all while the ocean hums in the background.
As the sun sets, the music gets a notch higher, and the fun truly begins. You can't miss hanging out at these popular beach clubs – they add a whole new level of excitement to your Bali experience!
14. Island Hopping to Kelingking Nusa Penida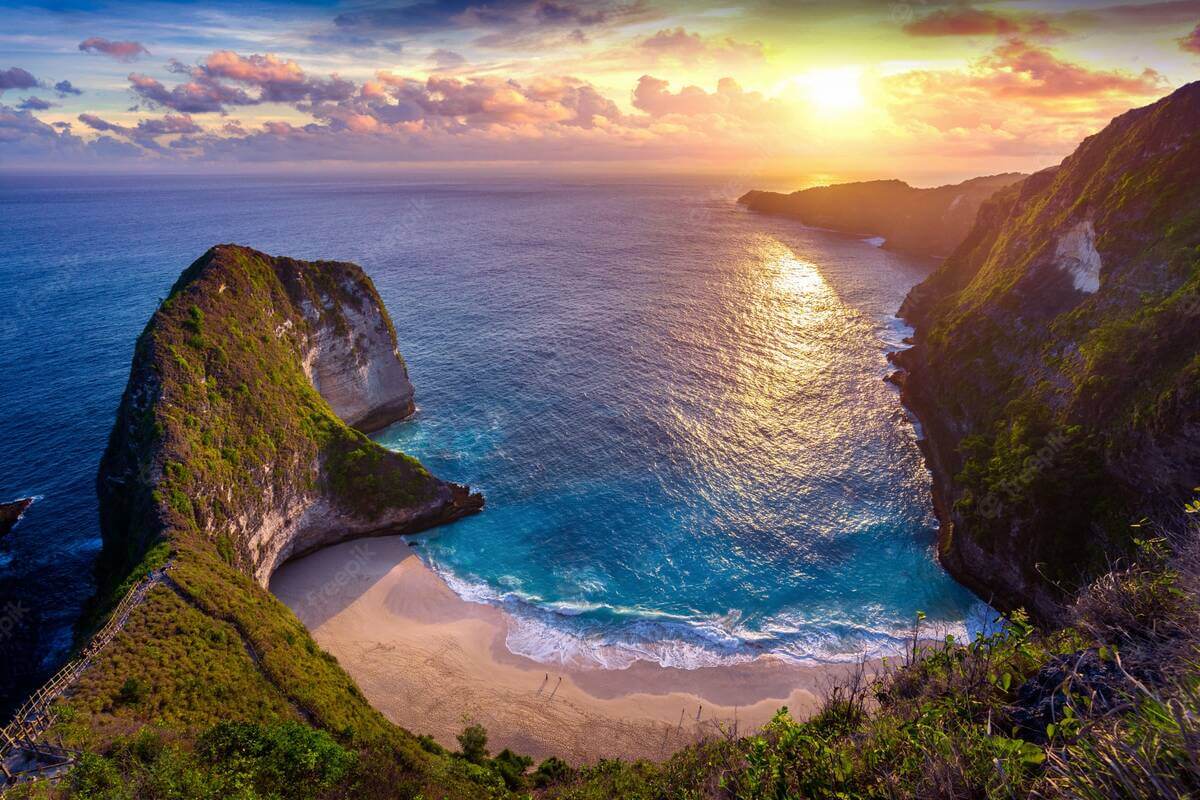 It might sound a tad unusual, but trust us on this one – Nusa Penida is an absolute treasure trove of stunning vistas and natural wonders.
When you're charting out your Bali itinerary, make sure to pencil in a visit to Kelingking on your Nusa Penida trip.
A swift 40-minute boat ride from Sanur harbor will transport you to some of the most spectacular views you'll encounter in the Bali region.
And hey, check out that third photo – can you spot the T-Rex head? It's this blend of natural beauty and fun that makes Nusa Penida such a memorable destination!
15. Embark on a Unique Adventure to Discover Bali's Abandoned Planes
Sounds a bit out there, right? But believe us, it's far from dull! If you're up for a quirky Bali escapade that's off the beaten path, then get ready to hunt for the island's reported eight abandoned planes.
The best part? This activity is absolutely free and doesn't require any pre-booking. All you need is an adventurous spirit, a cooperative driver, and trusty Google Maps on standby!
Now, let's drop some hints to get you started: the top three most popular planes are tucked away in Nyang Nyang, Kerobokan, and midway down Bypass Ngurah Rai. The rest, we'll leave in your capable hands! Happy plane hunting!
16. Get Hit by the Waves and Enjoy the Stunning Sunset View with a Taste of Cocktail at Rock Bar Jimbaran
Bali sure knows its way around a cocktail shaker! The island is home to some truly phenomenal and iconic bars that you just can't afford to miss. The Rock Bar in Jimbaran might ring a bell as it's probably the most famous of them all.
However, if you're looking to dodge the touristy hustle-bustle, we'd suggest trying a clifftop hideaway in Uluwatu, or checking out the local favorite watering holes in Canggu, Seminyak, and even Ubud. Trust us, these spots will serve you a cocktail experience like no other!
17. Explore the 20+ Best Things to do in Sanur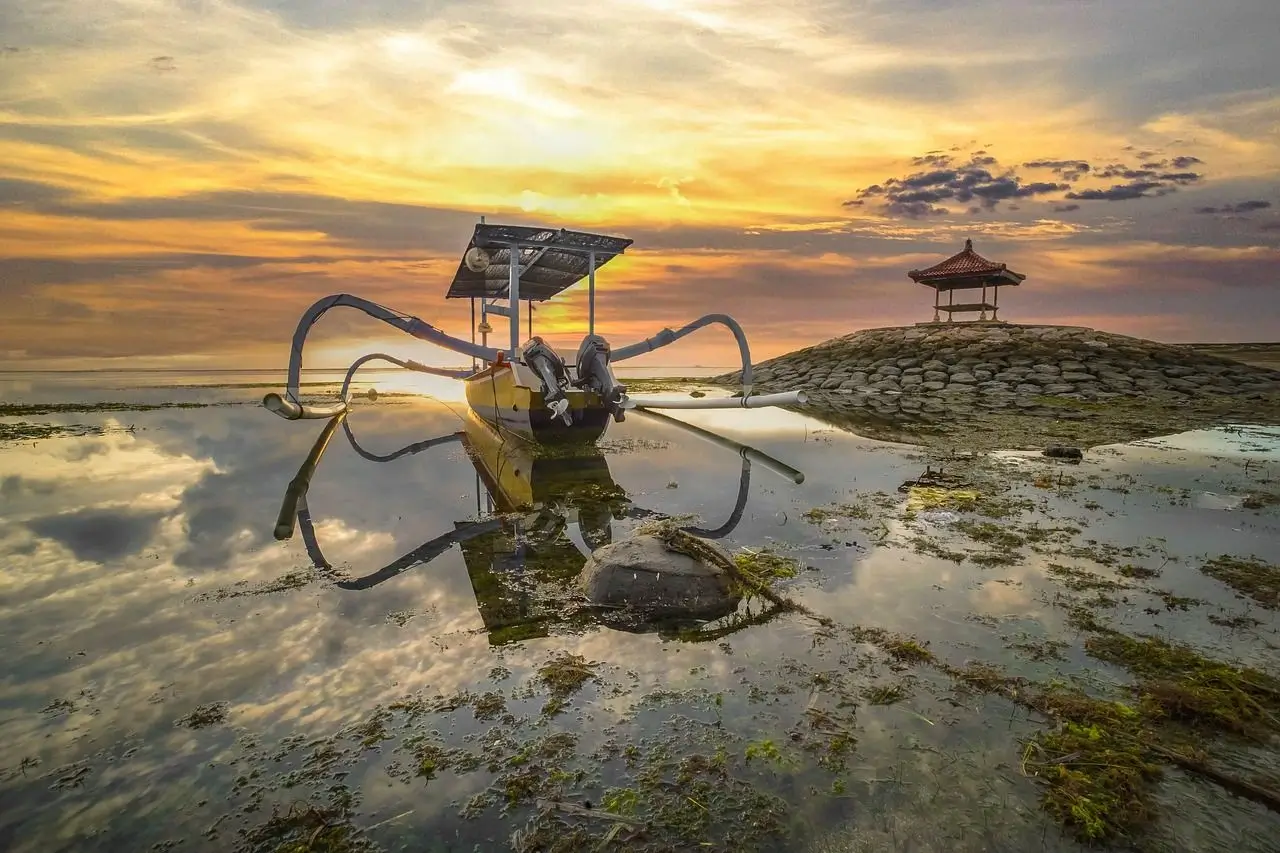 Sanur, nestled in Bali, Indonesia, is a serene haven that's perfect for families and those seeking a laid-back vacation vibe. Renowned for its breathtaking sunrise views, Sanur adds a touch of tranquillity to your holiday.
This charming seaside town on Bali's southeastern coast was among the first to open its arms to tourists.
It continues to charm visitors today with its delightful hotels, enticing shopping options, and a mouthwatering breakfast scene.
When you're with us in Bali, a visit to Sanur is a laid-back adventure you simply must experience!
Luckily, we already have a dedicated post that covers the top things to do in Sanur, Bali, to make your trip more enjoyable: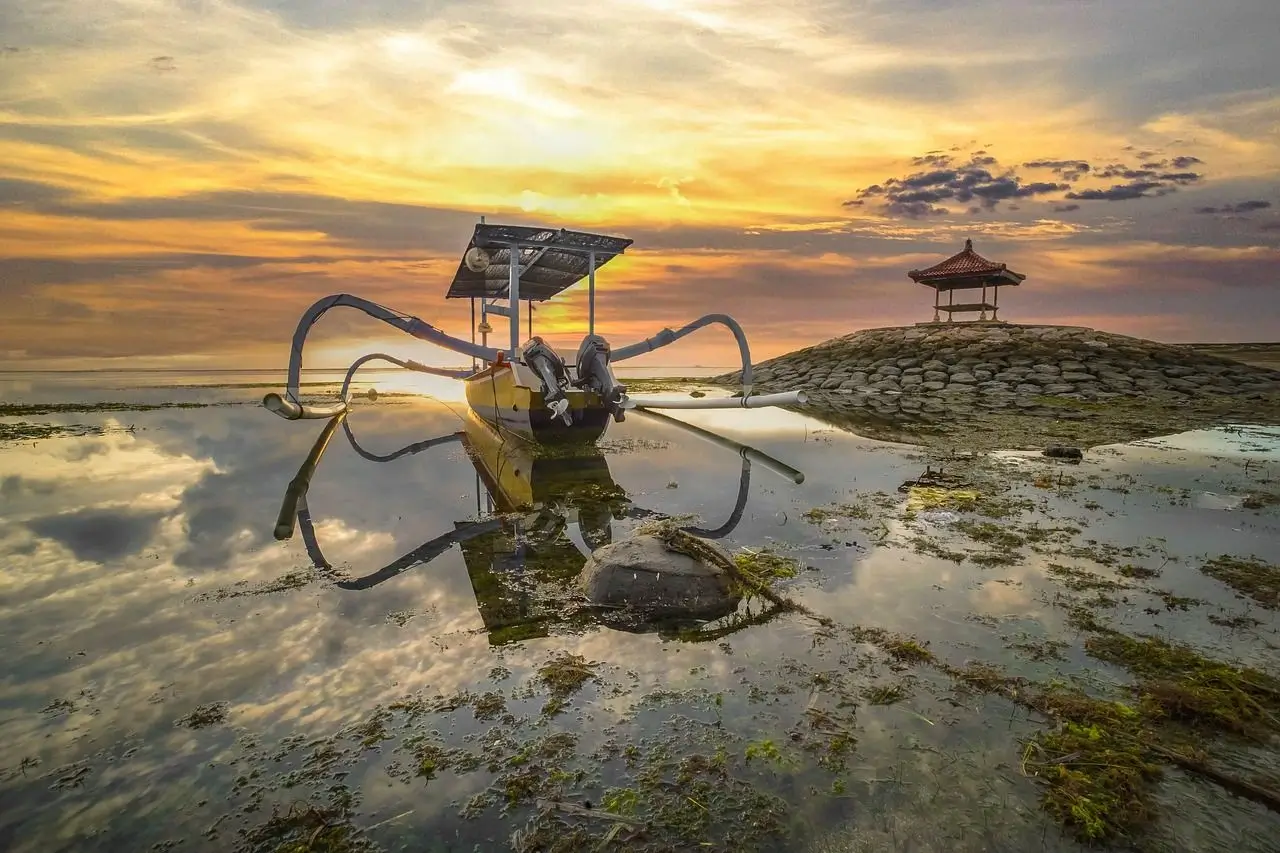 Sanur Bali Travel Guide: 20+ Best Things to do in Sanur
Sanur is a tranquil and family-friendly destination in Bali, Indonesia, renowned for its gorgeous sunrise views and laid-back atmosphere. Table of Contents Show Exploring Sanur: Discover Sanur's... Read more.
---
Where to Stay in Bali?
We have a great list of places or hotels to stay during a trip to Bali.
Or you can also find a dedicated Bali hotels post where we cover the best 15+ hotels to stay in Bali: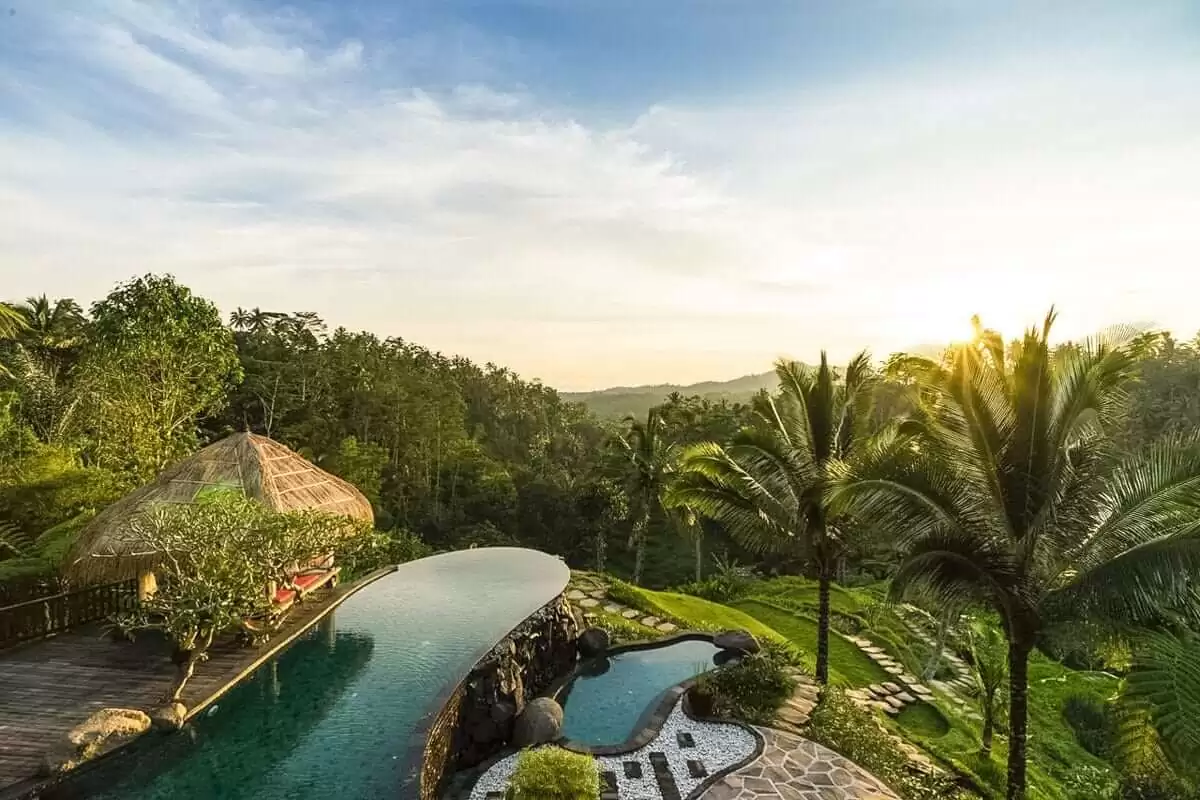 Bali Hotels: 17 Best Places to Stay in Bali, Indonesia
Bali Hotels: 17 Best Places to Stay in Bali, Indonesia – Bali is one of the most popular tourist destinations in the world and of course for so many good reasons. Table of Contents Show Bali is... Read more.
---
Top 30 Most Affordable Hotels to Stay in Bali
---
If you still can't find the most suitable hotel to stay, you can always use the following Booking.com's search engine: