Oslo, Norway's capital, is a city that beckons travelers with its harmonious blend of natural wonders, historical richness, and cultural vibrancy.
If you find yourself drawn to this Scandinavian gem, you're in for a treat! This guide is your passport to everything that makes Oslo a must-visit destination.
Whether you're an outdoor enthusiast, a lover of history, or simply in search of an extraordinary travel escapade, Oslo promises to fulfill your wanderlust.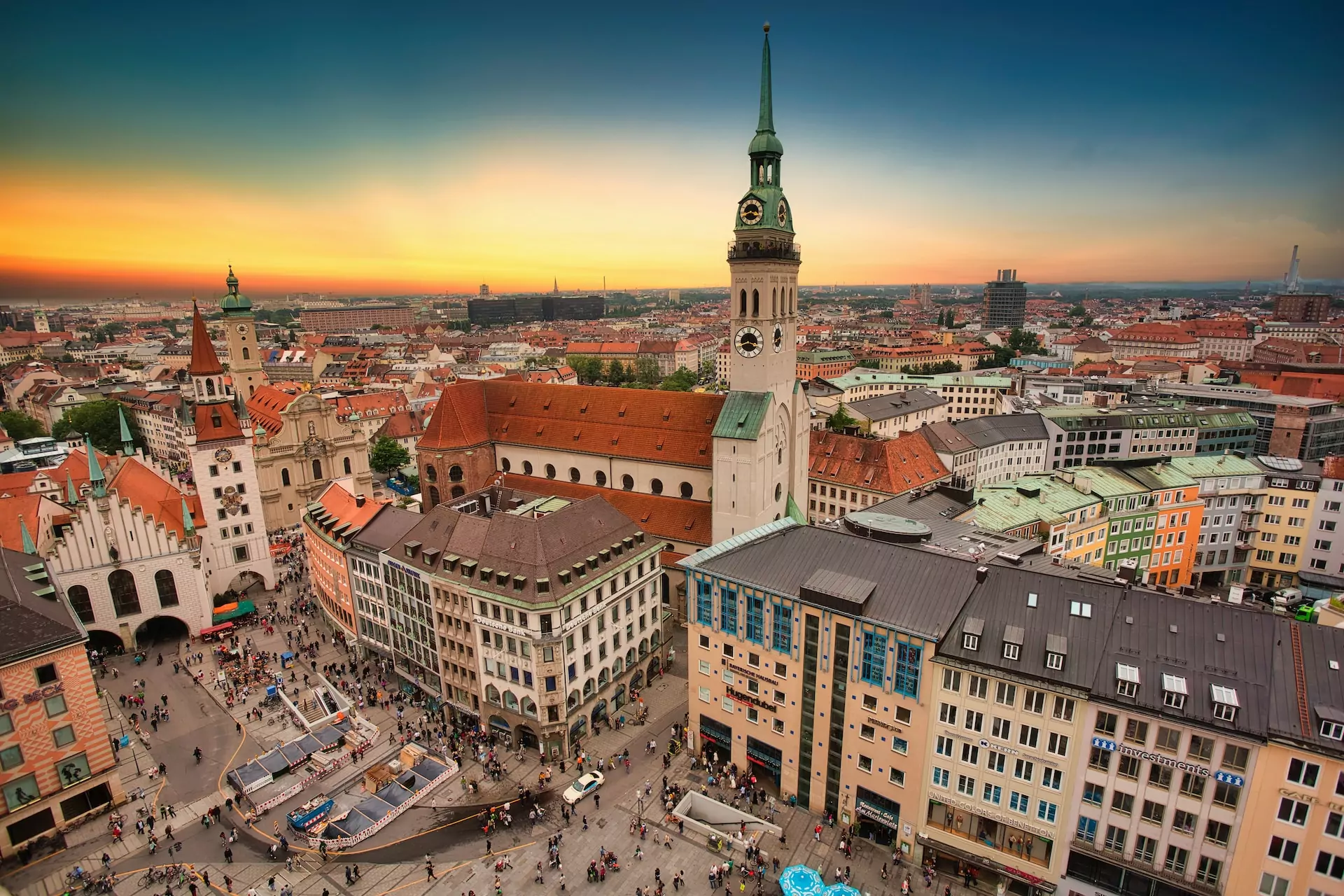 Wanderlust in Munich: Your Complete Munich Travel Guide
Munich, a city where tales of old intertwine with the rhythm of the modern world. If you've set your sights on this Bavarian beauty, you're in for a treat. Table of Contents Show Explore... Read more.
Prepare to be captivated by the city's offerings as we guide you through the wonders of Oslo. From the awe-inspiring fjords that define Norway's rugged coastline to the lush forests that invite exploration, nature's grandeur is at your fingertips.
But that's just the beginning! Delve into Oslo's rich past by visiting its world-class museums, and let your taste buds revel in the unique flavors of Norwegian cuisine.
In the pages that follow, we'll unveil the must-visit landmarks, the hidden treasures only locals know about, and the culinary experiences that will make your trip unforgettable.
Whether it's hiking the scenic trails, exploring the Viking Ship Museum, or savoring a traditional meal, we've got you covered.
Your ultimate guide to discovering Oslo is here, and it's tailored to ensure that your trip is nothing short of spectacular.
So grab your map, lace up your hiking boots, and get ready to explore Oslo like never before!
Discovering Oslo: Your Ultimate Comprehensive Guide
This comprehensive guide will provide you with all the information you need to make the most of your visit to this beautiful Scandinavian city.
From getting around to exploring the city's culture, outdoor activities, and dining options, we've got you covered.
So pack your bags and get ready to embark on an unforgettable adventure in Oslo!
Getting to Oslo
Oslo, the heart of Norway, is a city that's accessible through various means, each offering a unique perspective of the stunning Norwegian landscape.
Whether you're arriving by air, train, or car, the journey to Oslo is part of the adventure, setting the stage for an unforgettable experience.
Here's a detailed look at the different ways to reach this vibrant city.
Arriving by Air
Oslo is served by two major airports: Oslo Gardermoen Airport (OSL) and Oslo Torp Sandefjord Airport (TRF).
Oslo Gardermoen is the largest airport in Norway and is located about 50 kilometers northeast of the city center.
It offers a wide range of international and domestic flights, making it the most convenient option for most travelers. From the airport, you can easily reach the city center by train, bus, or taxi.
Arriving by Train
For those who wish to embrace the picturesque landscapes of Norway, arriving in Oslo by train is a splendid option.
The city is well-connected to other major European cities, and the Oslo Central Station serves as the hub for most train routes in Norway.
The train ride offers breathtaking views of the Norwegian countryside, and once you arrive, the station is conveniently located in the heart of the city, making it easy to explore the rest of Oslo.
Arriving by Car
If the open road calls to you, arriving in Oslo by car provides the freedom to explore at your own pace.
Norway has an excellent road network, and the drive to Oslo can be a beautiful experience, especially if you choose to take the scenic route.
However, keep in mind that parking in the city center can be quite expensive, so it's advisable to research parking options in advance.
---
Exploring the City
Oslo is the city everyone would like to explore.
City layout and districts
Oslo is divided into several districts, each offering its own unique charm and attractions. The city center is compact and easily walkable, making it the perfect starting point for exploring Oslo.
From here, you can visit historical sites such as the Royal Palace and the Nobel Peace Center, or immerse yourself in the vibrant atmosphere of the Aker Brygge waterfront area.
Other districts, such as Grünerløkka and Majorstuen, offer a more local and trendy vibe, with cozy cafes, vintage shops, and beautiful parks.
Must-see attractions
When in Oslo, there are certain attractions that should not be missed. A visit to the Viking Ship Museum is a must, where you can marvel at the well-preserved Viking ships and learn about their fascinating history.
The Oslo Opera House is another must-see, with its stunning architecture and panoramic views over the Oslo Fjord.
For art enthusiasts, a visit to the National Gallery is a must, where you can admire the works of famous Norwegian artists such as Edvard Munch.
While the popular attractions are definitely worth a visit, Oslo also hides some hidden gems that are worth exploring.
Take a stroll through the botanical gardens of the University of Oslo, where you can relax among beautiful flowers and plants.
Visit Mathallen, a food hall where you can indulge in delicious culinary delights from all over the world.
For a unique experience, head to the Vigeland Park, where you can admire over 200 bronze and granite sculptures created by Gustav Vigeland.
Embracing the Outdoors in Oslo
Oslo's natural surroundings are a playground for outdoor enthusiasts, offering a diverse range of activities that allow you to immerse yourself in the beauty of Norway.
From hiking through lush forests to skiing down snowy slopes, the city's outdoor offerings are as varied as they are breathtaking.
Here's a closer look at what awaits you.
Hiking and Nature Trails
Nestled amidst pristine landscapes, Oslo provides a plethora of hiking opportunities that cater to both casual walkers and seasoned hikers.
Just a stone's throw from the city center, you'll discover scenic trails like the renowned Holmenkollen Ski Jump.
For those seeking a more rigorous adventure, the Nordmarka forest beckons with trails leading to the summit of the iconic Grefsenkollen, where panoramic views of the city await.
Skiing and Snowboarding
When winter descends upon Oslo, the city dons a magical cloak of snow, transforming into a haven for skiing and snowboarding.
The Holmenkollen Ski Center, easily accessible from the city, offers slopes for all abilities.
Whether you're taking your first slide or carving expert turns, there's a slope tailored for you. And if you're new to the sport, professional lessons are available to guide you.
Boating and Fishing
Oslo's proximity to the stunning Oslo Fjord makes it a prime spot for boating and fishing. Rent a boat and navigate the fjord's serene waters, or join a guided tour to delve into the region's rich history and culture.
Anglers will find joy in the abundance of fishing spots, with lakes and rivers teeming with fish such as trout and salmon.
Whether you're casting a line or simply enjoying the tranquility of the water, Oslo's aquatic offerings are sure to enchant.
Delving into Oslo's Cultural Tapestry
Oslo's cultural landscape is a rich mosaic of art, history, and tradition.
From world-class museums to historic landmarks and lively festivals, the city offers a myriad of ways to immerse yourself in Norwegian culture.
Here's a guide to some of the cultural experiences that await you in this vibrant city.
Museums and Art Galleries
Art enthusiasts will find themselves spoilt for choice in Oslo, with an array of museums and galleries showcasing both classical and contemporary works.
The National Museum houses an impressive collection of over 400,000 pieces, including masterpieces by legends like Edvard Munch and Pablo Picasso.
The Munch Museum, dedicated solely to Norway's iconic painter, offers a deep dive into his creative genius.
For those with a penchant for modern art, the Astrup Fearnley Museum stands as a beacon of contemporary creativity, featuring works by international artists.
Historic Landmarks
Oslo's history is etched into its architectural landmarks, each telling a unique story. The Akershus Fortress, perched by the Oslo Fjord, stands as a testament to the city's strategic importance, offering guided tours that unravel its historical significance.
The Royal Palace, the regal residence of the Norwegian royal family, invites visitors to explore its elegant gardens and witness the ceremonial changing of the guard.
These landmarks provide a tangible connection to Oslo's rich past.
Traditional Festivals and Events
To truly feel the pulse of Oslo's cultural heartbeat, aligning your visit with one of its traditional festivals or events is a must.
The Oslo Jazz Festival, a celebration held in August, gathers jazz aficionados from around the globe for performances by both local and international talents.
The Oslo Opera Festival is another cultural highlight, offering a feast of operas, ballets, and classical music concerts performed by world-renowned artists.
These events provide a window into the city's artistic soul, allowing you to experience Oslo's cultural vibrancy in a way that resonates long after your visit.
Shopping and Dining
Oslo's shopping venues and offered dining experiences are always great for travelers.
Popular shopping areas
Oslo offers a wide range of shopping opportunities, from high-end designer boutiques to local markets.
The popular shopping street, Karl Johans Gate, is a must-visit for fashion lovers, with its wide range of shops and department stores.
For a more unique shopping experience, head to the trendy neighborhood of Grünerløkka, where you can find quirky boutiques, vintage shops, and independent designers.
Local markets
To immerse yourself in Oslo's local food scene, don't miss out on visiting the city's food markets.
The Mathallen, located in the Vulkan area, is a food lover's paradise, with its wide range of gourmet food stalls and shops.
Here, you can sample local delicacies such as cured meats, cheeses, and artisanal chocolates. The Birkelunden Flea Market is another must-visit, where you can hunt for vintage treasures, antiques, and unique souvenirs.
Cuisine and restaurant recommendations
Oslo offers a diverse culinary scene, with a wide range of restaurants serving both traditional Norwegian dishes and international cuisine.
For a taste of local flavors, try traditional dishes such as lutefisk (dried cod soaked in lye) or rakfisk (fermented fish).
Some popular restaurants to try include Maaemo, a three-Michelin-starred restaurant specializing in innovative Nordic cuisine, and Fru Hagen, a cozy restaurant known for its delicious traditional Norwegian dishes.
Nightlife and Entertainment
Ready to explore the nightlife and any other entertainment? Find out what Oslo has to offer:
Bars and clubs
Oslo has a vibrant nightlife scene, with plenty of bars and clubs to choose from. Whether you're looking for a trendy cocktail bar, a lively pub, or a night of dancing, you'll find it all in Oslo.
The Aker Brygge area is a popular spot for nightlife, with its waterfront setting and a wide range of bars and restaurants.
For live music, head to the legendary venue, Rockefeller Music Hall, or check out one of the city's many jazz clubs.
Live music and performances
If you're a fan of live music and performances, Oslo has something for you. The Oslo Concert Hall is the city's premier venue for classical music concerts and opera performances.
The National Opera and Ballet offer a range of performances throughout the year, showcasing both Norwegian and international talent.
For a more intimate experience, check out the schedule at some of Oslo's smaller music venues and enjoy performances by up-and-coming artists.
Theater and cinema
Oslo boasts a vibrant theater and cinema scene, with a wide range of productions to choose from.
The National Theatre is a must-visit, offering a diverse program of plays and performances throughout the year.
For film enthusiasts, the Cinemateket is a cultural institution, showcasing both classic films and new releases.
The Cinemateket also hosts special events and film festivals, providing a unique cinematic experience.
Oslo, Norway's bustling capital, is a city that welcomes travelers with open arms, offering a myriad of ways to explore, stay, and venture beyond its borders.
Whether you're a solo traveler on a budget or seeking luxury and adventure, Oslo has something tailored just for you.
Here's a comprehensive guide to help you navigate this vibrant city.
Transportation Options
Public Transportation
Oslo's public transportation system is a model of efficiency, with buses, trams, and the metro connecting all major attractions.
The Ruter app is your digital companion, providing real-time updates on routes and fares. Whether you opt for a single ticket or a day pass, getting around the city is a breeze.
Bicycle Rentals
For the eco-conscious traveler, Oslo's bike-sharing program offers a fun way to explore the city. With bike stations conveniently located throughout the city and dedicated bike lanes, cycling in Oslo is both safe and enjoyable.
Taxi and Ride-Sharing Services
For those seeking convenience, taxis and ride-sharing services like Uber and Bolt are readily available. Whether hailed on the street or booked via an app, these options provide flexibility for your travel needs.
Accommodation
Hotels and Resorts
From luxurious international chains to boutique hotels in trendy neighborhoods, Oslo's accommodation options cater to all tastes and budgets.
For a tranquil retreat, consider the spa hotels nestled just outside the city center.
Hostels and Budget Options
Budget travelers will find a warm welcome in Oslo's hostels, offering clean rooms and communal spaces to connect with fellow travelers.
Kitchen facilities add to the appeal, allowing for cost-saving meal preparation.
Alternative Accommodations
For a truly unique stay, explore Oslo's alternative accommodations. From historical bed and breakfasts to cozy countryside cabins, these options provide an authentic Norwegian experience.
Day Trips and Excursions
Scenic Fjord Tours
A journey through Norway's fjords is an essential Oslo experience. Choose from boat or bus tours to explore the breathtaking fjord region, complete with picturesque islands and charming coastal towns.
Exploring Neighboring Towns
Oslo's central location opens doors to neighboring gems like Bergen and Drøbak. These day trips allow you to delve into Norway's rich heritage and scenic beauty.
Adventure Activities Nearby
For the thrill-seekers, Oslo's proximity to adventure awaits. Ski, kayak, or even dog sled in the nearby wilderness for an adrenaline-fueled experience.
Pack Your Bag and Start Exploring Oslo!
Oslo's allure lies in its diversity, offering a rich tapestry of experiences that cater to all travelers. From its natural splendor to its cultural vibrancy,
Oslo invites you to explore, indulge, and adventure in ways that resonate with your travel spirit.
With this comprehensive guide in hand, all that's left is to pack your bags and embark on an unforgettable Norwegian journey. Oslo awaits, and it's ready to enchant you!